What does Hotel Desk, is a North West UK based venue finding company, thinks about working with Salford Business School students?
Hotel Desk is a small medium-sized enterprise (SME) that has a recent experiences of Business School placements students. We have benefited from digital marketing students who made a great contribution to our business.
I am Jo Egan, Managing Director of  Hotel Desk, and here are my top ten reasons why other local organisations and SMEs could also benefit from providing Business School students work placements.
Narrowing the many benefits down to just ten is the tricky bit, but here we go!
1. Award winning business school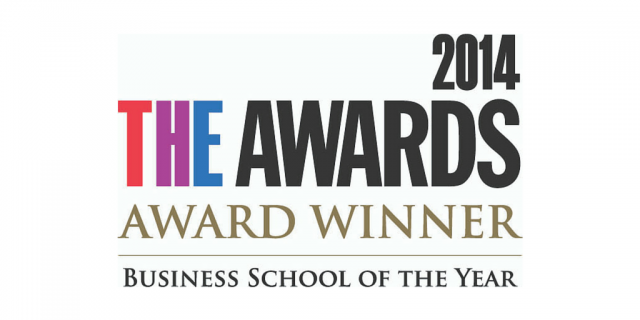 Salford University Business School has recently won the incredibly prestigious Times Higher Education Business School of the Year 2014 Award.
Just think about the standard of academic competition it was competing against.  This  in turn is reflected in the calibre of students graduating from the Business School. How fortunate is Manchester to have this facility on our doorstep?
2. High standard of student professionalism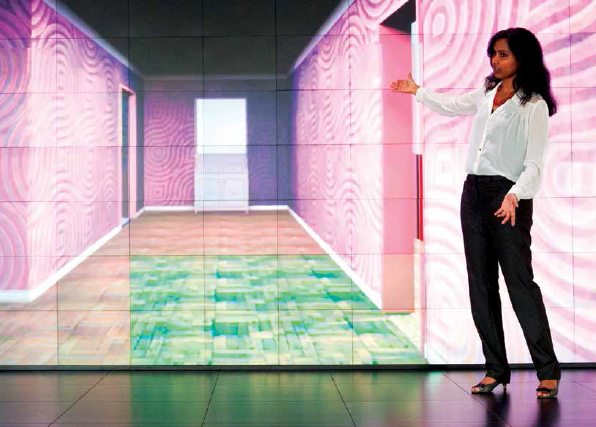 Salford Business School student
Unlike recruiting a temp or a permanent employee you can be assured that the student will do their best to ensure the placement is a success – their degree, reference and entire future career depends upon it.
On the other hand, unlike other forms of recruitment you also have a channel of recourse should your new recruit not work out as planned. The Salford Business School employability hub team are there to help you find the right business internships candidate.
3. Financial savings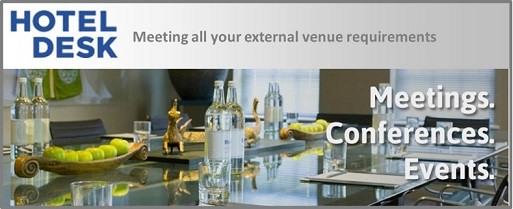 Hotel Desk pays for students travel expenses
Your business will be acquiring another pair of helping hands to you for little (if any) financial outlay. It is up to the student and the company to agree the best way forward especially if there are necessary expenses associated with your business internship.
Hotel Desk's agreement is to pay our students travel expenses, but I believe additional funding opportunities are also available to assist with reimbursement. It is best to speak to the employability hub team and establish your needs at the outset.
4. Recruitment flexibility – short and long term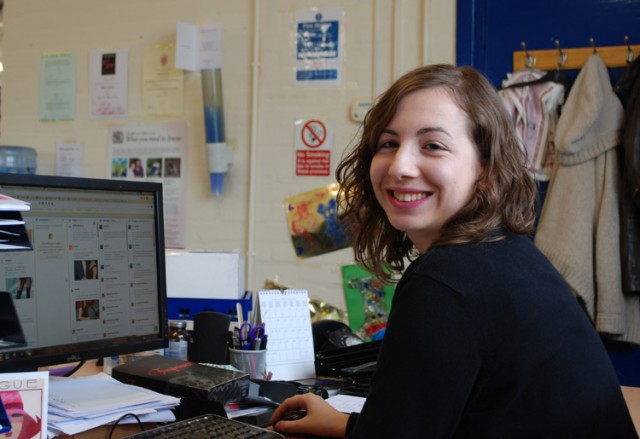 MSc Marketing graduate, Martha Rodriguez in permanent position after a work placement at UKtights
Successful work placement may also lead to permanent recruitment opportunities – who knows?
5. Range of professional disciplines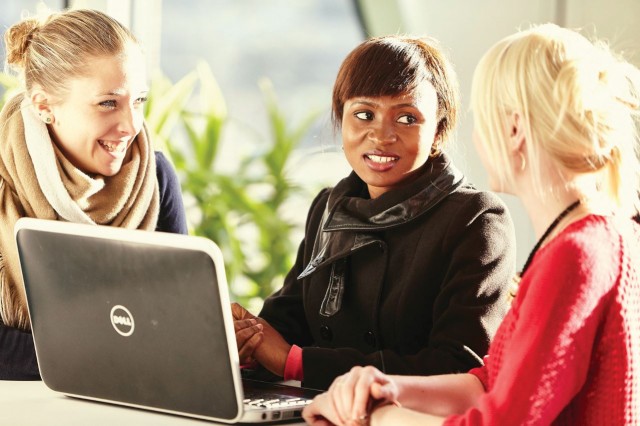 Salford Business School has a range of disciplines
Simply look at the business management courses to see the wide range of subject areas the Business School has to offer.  Should your business require some assistance with HR, finance, purchasing, digital marketing etc. There is a course for most business functions with eager students looking for business internships.
Postgraduate courses also provide specialist in-depth research and consultancy specific to your business – they call it Business Innovation Project. Business Innovation Project (BIP) allows you to set
A research based consultancy which would be part of student's dissertation lasting about 3 months
Business internship – someone working in your business for about 3 months
Student work placement – a paid work experience of about 6 months to 1 year
Live Project – which allows a group of students to work as a team for about 3 months
All of these apart from the year long placement are free and any costs are subject to negotiation and your needs.
6. Benefit from latest innovations and technology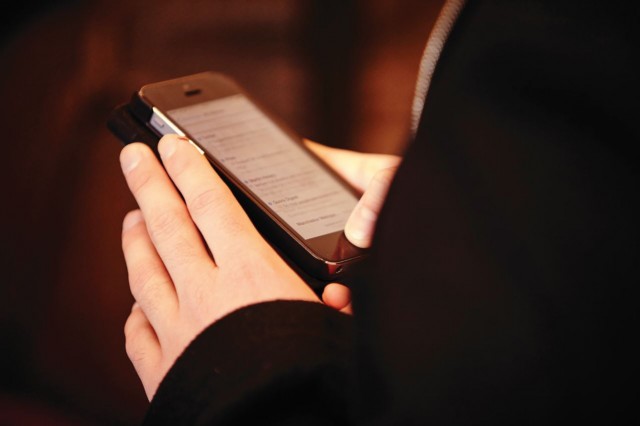 Generation Y and technology
Without a shadow of doubt technology is changing at high speed and businesses that embrace it have a significant competitive edge over those that don't. For those who are on the more mature side, a bit not confident in new technology or just time pressed,  it is incredibly difficult to keep track of all the latest channels, ideas and applications.
Salford Business School also offers courses that help you to develop your digital skills such as the Search and Social Media Marketing evening course. However, technology advancement is a key part of the Generation Y evolution. The speed that today's students can research, test and apply new technology in your business is nothing short of amazing and will provide you with an essential competitive advantage!
7. Access to university facilities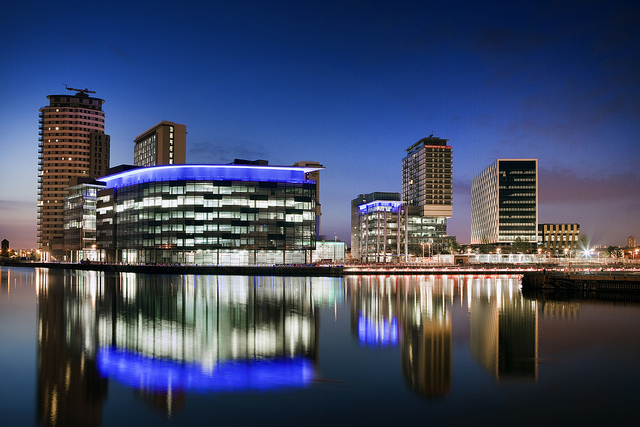 MediaCityUK
The Business School is located in the state of the art MediaCityUK. It is at Salford Quays and has a range of facilities and business services for local businesses to access at reduced rates.
These facilities include a 'green room' for filming that would rival that of its MediaCityUK neighbours, the BBC and ITV and super high definition projection facilities for those digital performances that you might have the need for.
8. Positive  collaboration with local SMEs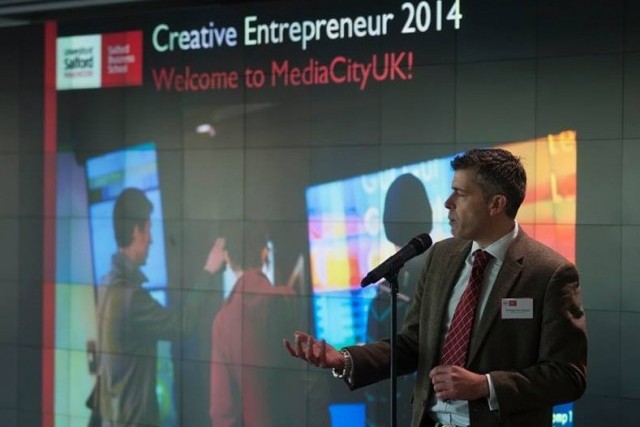 Professor Kurt Allman, at the Creative Entrepreneur Event
The University actively encourages partnerships with local SMEs and promotes creative specialist and emerging skills and resources available via the University that we would not otherwise be able to develop in-house. This was particularly enlightening for me as I presumed such partnerships  opportunities would only be available for the very  large corporate employers in the area.
Through its different partnership initiatives and events there are a range of networking opportunities to meet other forward thinking business.  One event I attended was the Creative Entrepreneur event. At this event there was a range of insightful presentations from other businesses, including corporates such as ASDA, local start-ups and successful SMEs. All sharing their journey and experiences with the latest business techniques, such as social media, YouTube etc.
The day also provided business networking  opportunities, a chance to view the university facilities and hear more about the range of practical business services available, review student projects and business based competitions. A particular bonus for me was the chance to try out Google glasses – wow!
9. A business internship or work placement is so easy to organize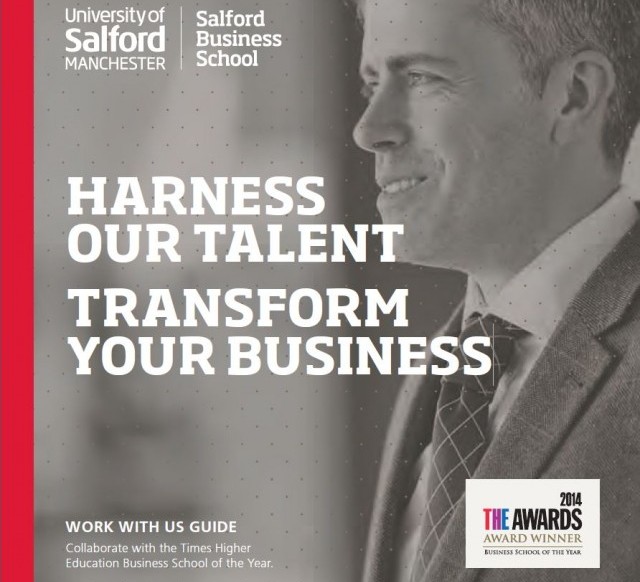 Front cover – Work with us guide
The Business School has a dedicated department to match students up to roles and employers. The delightful Kerry Moores in the placement office makes it all so easy, short-listing suitable candidates for you.
After you have selected a suitable candidate there are a few simple forms to complete and then your student is available to start work for you.
10. Give a little back and gain a lot more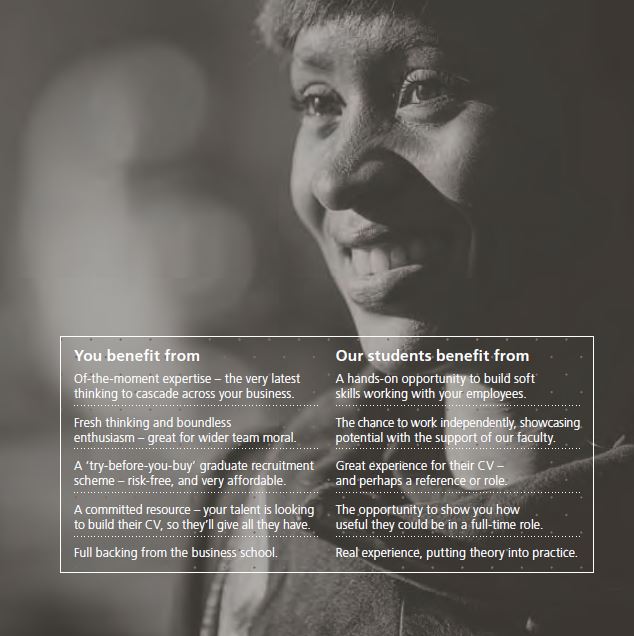 Benefits for SMEs and students
Haven't we all had someone who helped or mentored us early in our careers and helped to mould us into the professionals who we are today?  Where would we be if we hadn't had that critical piece of advice, direction or support when we really needed it?  Think back to these times, return the favour and reap the business benefits as mentioned by the Sweet Mandarin.
Do let me know if you have any questions on this but the Employability Hut team can help you with most questions – contact them directly:
sbs-employabilty@salford.ac.uk
0161 295 61 71
Download Salford Business School Work with Us Guide
1 Comment
---