Inbound Marketing is the latest buzzword when it comes to digital marketing. What is it? How is it changing the way marketeers develop their long term strategies?
On Friday 9 May 2014, an Inbound Marketing Workshop took place at the University of Salford.  The workshop was organised by the Chartered Institute of Marketing (CIM) North West region and the Salford Business School's Centre for Digital Business, which was hosted by Dave Hazlehurst, Director at Ph-Creative.
The workshop covered a wide range of inbound marketing topics including: search marketing, search engine optimisation (SEO), pay-per-click (PPC), display advertising, conversion rate optimisation, social media marketing, content marketing and video marketing.  A diverse range of guests attended the event including postgraduate marketing students, marketeers, academics, and company directors.  So, what is it about inbound marketing that made this audience spend a day at Salford Business School?
Speaker: Dave Hazlehurst, Director Ph-Creative
The event speaker, Dave Hazlehurst, was a confident presenter with lots of passion and up-to-date knowledge regarding  the various topics within inbound marketing.   His excellent presentation skills made the day-long workshop enjoyable and informative.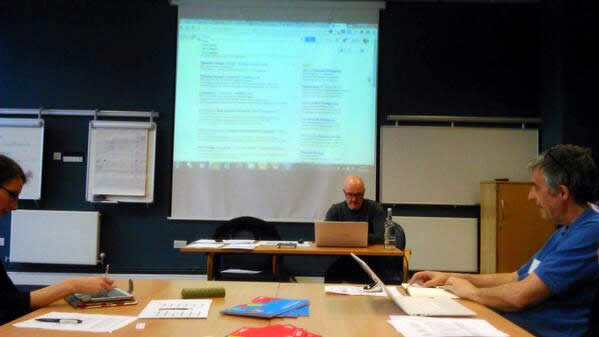 Dave started the presentation by highlighting the importance of customers in today's digital world.  Customers have changed everything and the power is now firmly in their hands. Dave then went on to introduce the concept of "inbound marketing" in contrast to "outbound marketing".
According to Google, inbound marketing is:
"A marketing strategy that places the marketer in front of customers during their discovery and research phase, and throughout the buying cycle."
What does inbound marketing mean in practice?
The workshop went through the online buying cycle of a customer and showed how social networking, SEO, content and services are linked to one another.  The session also touched upon buyer persona determination of potential customers in a specific industry which was particulary interesting.
The importance of social media strategy, particularly for a digital marketer was one of the best lessons of the day; it included social media tools such as Followerwonk, where a marketer can identify who to follow on Twitter.
The See-think-do-smile model was also really interesting.  This model demonstrated how people are attracted to content which connects them rationally or emotionally.  The group also learnt about Hootsuite and Buffer which allow users to schedule posts on multiple social media channels.
The workshop also included a session on Google+ and its importance to our online identity and authorship, which made me think about being more active on Google+.
The whole day was very interactive as Dave kept on asking questions on different topics.  He also showed the group a number of inbound marketing related videos which were hilarious – this only served to make the day even more enjoyable.  The workshop presentation slides are available via http://slidesha.re/1o3g5jY  – there are also a number of other slide decks available via this link if you are interested in exploring Dave's wide range of  marketing strategy presentations.
Inbound marketing lessons learned
As a marketing student who has spent time at the University learning numerous theories, it was great experience to put those theories into practice.
Digital marketing is developing incredibly quickly due to the exponential changes in digital technologies and the growing numbers of online users.
There will be a day when digital marketing or inbound marketing will simply be assumed as the marketing theory.  However, for now, it is worth paying particular attention to developing an understanding of the consumer journey and the role that inbound marketing can play in attracting customers.
Attending events such as the Inbound Marketing Workshop enables marketing students to further develop their skills and knowledge within the latest developments of digital marketing.  This is an excellent way for students to increase their employability.
The workshop was exceptionally useful for the students who attended.  We were able to pick up a number of interesting digital marketing tips and tricks from one of the top inbound marketers in the UK.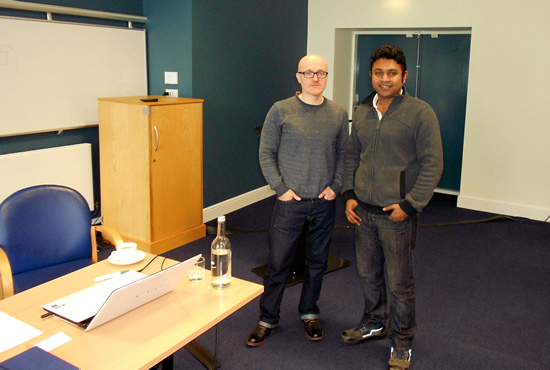 Dave Hazlehurst, Director Ph-Creative and Abhijit Das, Salford MBA student
Is inbound marketing just another buzzword?
What do you think? Is inbound marketing just the latest buzzword in the world of hyper-claims in the ever growing digital marketing world? Is it truly a new way of thinking through your digital marketing strategies? Please use the comments section below to share your views!
This blog post was written by @mojeepo and @abhijitdas
1 Comment
---