With the release of the second issue of Salford Business School's Ignited magazine, the most frequent question that I have been asked is simply, "Why?"
"Why?" is such a provocative question and on so many levels.
This alone is reason enough to respond. The underlying assumption in these enquiries is that everything should be solely digital. A view that, on the surface, appears justified. The Centre for Digital Business recently produced practical advice for SMEs in the form of a "Going Digital" report and the School has been shortlisted in the UK Blog Awards as well as the European Search Awards and the Digital Leaders 100.
In combination, and with other activities, this is an impressive footprint in the world of digital business for any Business School.
Print a magazine: my five lessons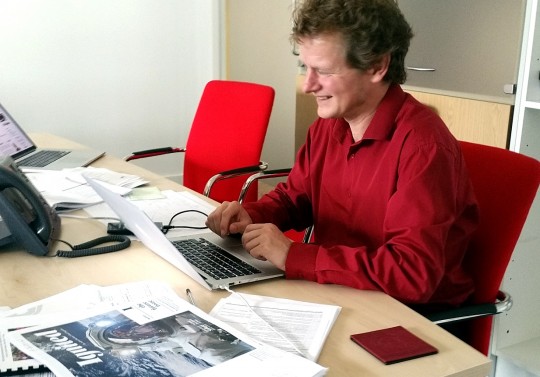 The hint in these probing "why" questions, it would appear, is that nothing is left to be gained by printing the magazine. The implication is that in aiming to be leading in digital this in some way prohibits using traditional media communications. The reality is so much more complex. And this reality is a useful lesson for other organisations attempting to understand what they should, or should not, be continuing to do to reach out and engage their key stakeholders.
1. Print allows you to engage with a diversity of stakeholders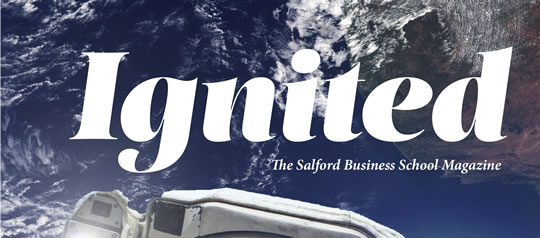 Our first challenge is our diversity of stakeholders. Salford Business School – as with most organisations – has a significant variety of very different stakeholders. Most obviously we work with a range of different students, ranging from 18 year olds newly arrived from colleges around the UK and worldwide to professionals completing a part-time qualification. We also work with an array of organisations from one-person startups to multinational corporations that employ tens of thousands. But this is still only the tip of a complex set of influencers and organisations who we need to stay in regular communication with.
2. Getting rid of the industry jargon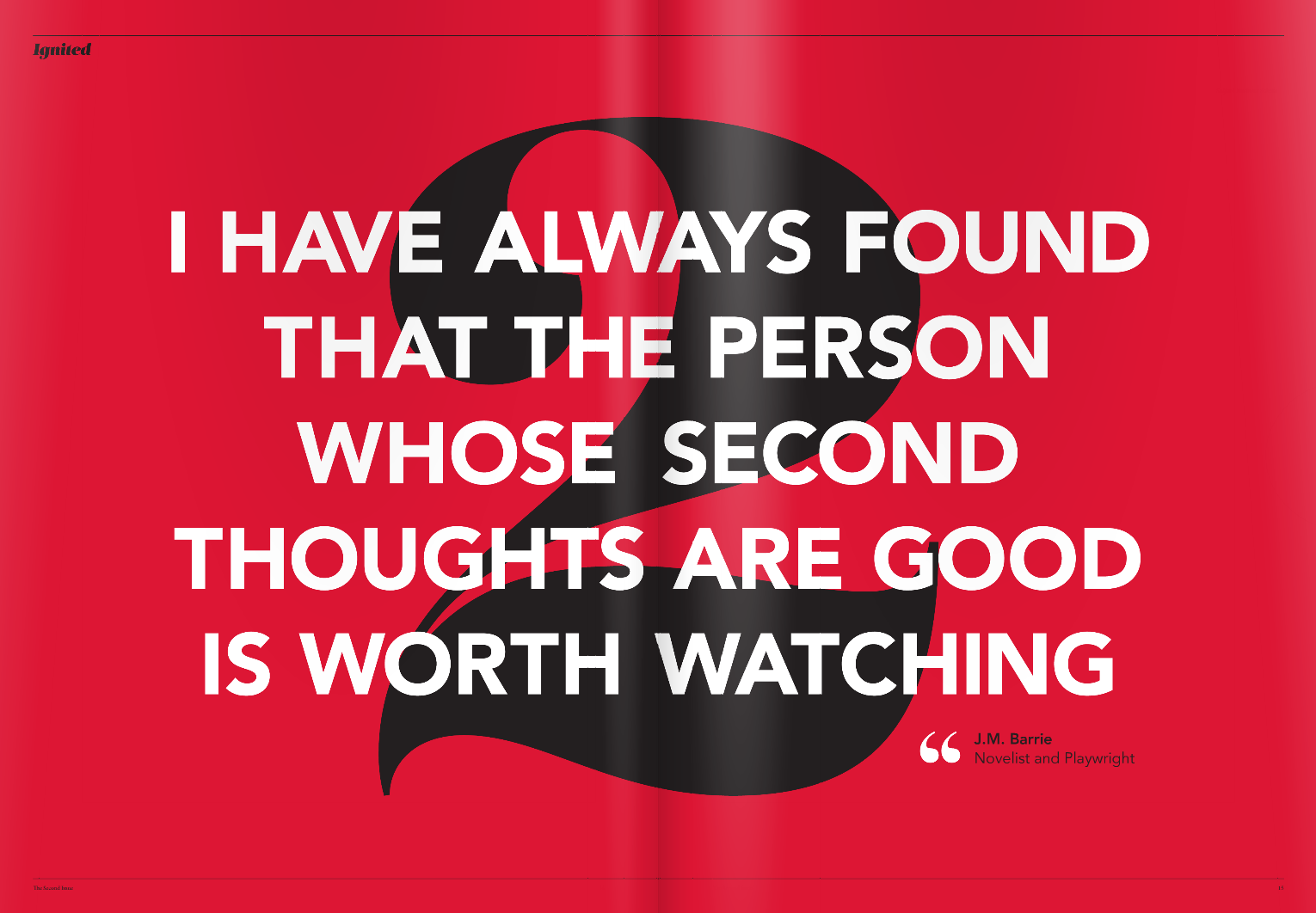 The next challenge faced by academics – and again it is true in many organisations – is that academic research and activities are often complex and difficult to describe to a wider audience.
Many of the US based business schools who produce magazines adopt a very specific tone that presents research in detail with the purpose of addressing other academics (the easiest audience to reach) and subject specialists who are primarily operating in large and complex commercial organisations.
Our approach has been to encourage blog style articles from academics that discuss relevant and key issues of the moment. This brief focuses attention. We then add the twist that each issue has an overall theme. Their article must – somehow and with the widest interpretation possible – fit into the theme. This additional attention creates a more accessible style that works for the majority of our stakeholders and encourages sharing of the magazine within organisations and between influencers.
3. The magazine that binds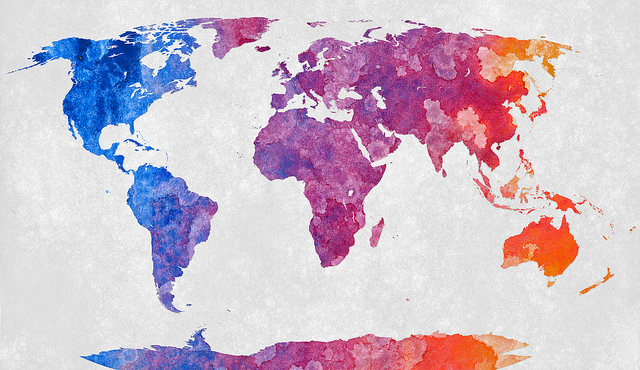 The final challenge is to draw together a diverse range of people around the project. A business school is a mixture of diverse subjects areas. The opportunities for drawing people together and producing coherence are few and far between. A magazine – and in distinction from a blog – is a more general currency that attracts attention and participation from the broadest spectrum of disciplines areas and internal demographics.
There is no barrier or resistance to writing a short magazine article in the way that is sometimes encountered with requests for a blog post. The tangible evidence of a magazine – and especially one that is designed specifically to be vivid and eye-catching – works as well on coffee tables within our organisation as it does in the rest of the world. The physical quality of the magazine encourages it to be given away – the authors of the articles (including myself) share the magazine with family and friends in a way that they would not necessarily do about other aspects of their work.
4. Bringing the organisation together
Of course for those digitally connected amongst us a blog post would be equally shared with family and friends perhaps as an email link or a social media share.
However, producing a magazine brings the organisation together. The traditional distinction made in marketing about being an internal or external stakeholders is overly problematic. Is it really appropriate to think of a student as being somehow 'external'? What of our industrial partners, who also freely offer to do guest lectures or members of our alumni who are also members of the School's advisory board? All of these people – these many different stakeholders – are reading Ignited.
5. Digital meets print, a blog, a magazine
This leads to the key lesson in continuing to print a magazine. The medium may be traditional but increasingly it is our digital marketing strategy, the application of digital marketing concepts and the pursuit of a diverse audience of stakeholders that is guiding the development of the magazine. For example, we consider the shareable qualities of the articles and of the magazine's design in ways that are more common in a digital realm. I recently spotted the centre spread poster from the magazine on the wall of an office in a different part of the University – and regard this as some evidence of the 'viral' qualities of the first issue. The same content is shared on twitter and amplified through likes and re-tweets:
Questions about the reach and impact are also applied (admittedly more imprecisely than digital analytics enable) to the magazine as they would be to a website or blog.
Importantly, the magazine is part of a web of activities that are primarily digital. The magazine can be found on Issuu and some of the articles (or follow up articles) are shared through the school blog. The magazine has the usual social media and contacts listed – this is standard practice –  but each article also highlights a specific hashtag. We encourage the individual authors to listen to these hashtags to encourage conversation with an interested audience.
A well designed and executed magazine engages and can even excite audiences. It is a useful aide memoire and prop for face to face conversations that goes beyond just the exchange of business cards.
As Higher Education changes and evolves into a digital business in its own right it is increasingly evident that creating impact for the work that academics do within the University must be communicated in an accessible way to much wider audiences.
Have you read Igned? Do you have views on its usefulness in the 21st Century? Please share your comments below!
Comments Off

on Five reasons to print a magazine in 2016
---