I graduated! I am now officially a Bachelor of Science (BSc) Business and Management!
I have to say that it is the first ever graduation that I had. I missed Middle and High School graduation due to all sorts of reasons. For me Middle and High School is just the difference between level 17th of hell and 18th of hell. Well, we did not actually have a graduation that made us feel really happy.
My undergraduate graduation at Salford Business School on Friday 18th July is where I felt that my effort during the course has been acknowledged and celebrated.

I have to admit, I really did struggle at the very beginning as I could barely follow what Dr. xxx said in the lecture. I had no friends and my parents were 5600 mile away, basically I got nothing but myself. I started to live a life myself and I think this is all common for all international students, especially Chinese students (due to all sorts of cultural reasons, not quite sure about it).
Beat the Fear
What I did was talk to different people, I started to make friends – this is what I would definitely suggest to you guys if you are an international student. We begin to talk about boys, shopping and of course coursework/exams. It is not just English that I improved, but also the way of thinking.
My Holy Grail to Graduation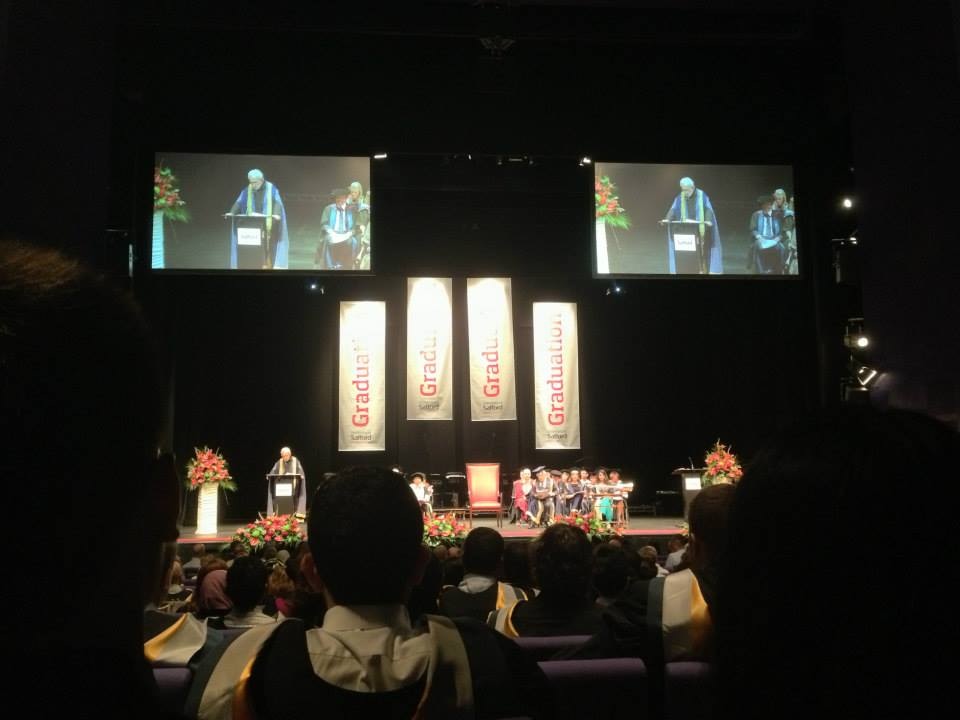 Image: My aim – Salford Business School Graduation ceremony – July 2014
I did Business and Management, which is what I like. I never felt so motivated, in a way that I know what people can push themselves to do in an extreme condition. You never know how many words you can write in three days before an exam (though I am not recommended to do that), but you know what I mean 😉
"I told them to find what they are passionate about and to go for that regardless of what anyone tells them. They can go to school and major in political science and say they want to be a doctor or a lawyer, but unless they're passionate about what they do, they're never really going to be happy or truly successful." – Dana White
Salford Business School Graduation 2015
My parents must be the happiest people apart from me. They never had high expectations on my academic performance, but this time I proved myself to them and I realized that I have grown up to take more responsibilities. I am now a Masters on the MSc Marketing programme,  again studying towards the direction that I am interested in.

The graduation last week really gave me a great leap of faith and I got more confidence not just in academia but also in daily life. Salford Business School graduation 2015 is in my sight now and I am looking forward to the day of graduation.
What is your Salford Business School Ambition?
Do you have similar ambitions to graduate next year? Please do share your tactics below!
If anyone has the same problem as I had when I first came to the UK, I am here to help you as I really don't want to see you guys suffer (though to suffer is one way to grow up). Why not link up on LinkedIn?
Comments Off

on Salford Business School Graduation – Mission Impossible
---