21 April 2021
Thanks go to Wasim Ahmed and Guilherme Guimarães for their contributions to this article.
At Salford Business School we have a strong research network and teaching interests and expertise in social media, the experience economy and sport. When the 'European Super League' concept reared its head again on 18th April 2021, it created an amazing wave of discussion online and offline. If you've been off world, visiting another planet recently, you may have missed the latest round of the biggest football clubs in Europe flexing the might of their brands to try to enact change. That change is essentially the creation of a new European Super League – in this particular incarnation involved 'the big 6' teams from the English Premier League Arsenal, Chelsea, Manchester City, Manchester United and Tottenham Hotspur in a new league with Italy's Inter Milan, AC Milan and Spain's Atlético Madrid, Barcelona, Real Madrid. 
Analysing social media conversations
By Wednesday 21st April, the project was once more metaphorically kicked out of the stadium and into the car park. It just gave fans long enough to have some (sometimes) heated debates about the potential impact of this move and what might happen to the respective leagues, grassroots football and the other clubs when these big clubs with their fan bases and cash withdrew.
Aside from the strongly worded conversations in the pub beer gardens of a newly unlocked England – fans all over the world took to social media to vent their two penneth about the impact of this move. According to a YouGov Poll, 79% of fans were against it, saying it would destroy the league. 83% of UK respondents did not support it. In the US, 43% of fans would boycott it and in the rest of the world, 68%.
This short lived phenomena created an incredible number of international news stories and hundreds of millions of social media posts. We used Twitter and a tool called NodeXL to try and delve more deeply into what fans were saying about the European Superleague on 20th and 21st April 2021. NodeXL is a Microsoft Excel Plugin that can perform social network analysis. It can make sense of and visualise tens of thousands of social media posts on particular topics at one time. It can also help to identify influential users. 
On 20th April, we created a Super League NodeXL network visualization graph. This graph highlighted some interesting things. Firstly, some of the top hashtags and conversational groups frequently referred to highlighted Manchester United and Liverpool in particular as most mentioned. The visualization highlights how virtual crowds gathered on Twitter to actively campaign against the Super League. We previously wrote a journal paper about these two clubs on Instagram and analysing fan comments. They are two highly popular and well discussed brands on social media and really stood out from the other 12 clubs involved in the Super League and in this analysis. Manchester United's Executive Vice Chairman Ed Woodward also featured heavily in conversations and also news stories on the BBC and Sky News because he stepped down from his position amid these developments.  
As the European Superleague concept again began to unravel on 21st April, the Node XL graph continued to show Manchester United and Ed Woodward at the top of the Twitter debate, followed closely by Arsenal as the top influencers. United, Arsenal and Liverpool's official accounts were the top influencers as clubs announced their withdrawal from the European Super League. News outlets like Sky and BBC were less prevalent on 21st, perhaps due to the fact they were initially breaking the stories on the previous day and then the clubs making official statements on the following day. One notable new network influencer was Arsenal player Mezut Ozil who made a number of influential Tweets condemning the new league and gaining a great deal of support, some Tweets reaching over 160,000 likes from fans across the world.
There's only one Super League😉🇹🇷🌎 pic.twitter.com/KKKQWWEUaz

— Mesut Özil (@MesutOzil1088) April 20, 2021
Notably, @utdreport (a fan driven account) was also more influential than the official news outlets in this network as they live Tweeted updates about Manchester United and Ed Woodward in particular. Social media is well documented as giving players and fans a voice and often, that voice is faster, louder and more insightful than the official brand communications. Fan generated content is a critical part of a football club's brand and is impossible to control which makes it such a good topic to explore. 
International reception to European Super League
Our NodeXL analysis highlights in particular English speaking Twitter users, but this story was covered and discussed on social media globally beyond Europe. China is a growing and massive market opportunity for football.  Some Chinese fans felt that the new league would be a bonus because fans were most interested in watching the more popular clubs play each other rather than the lesser known brands.
As part of our ongoing analysis of digital sport in Brazil, we found that media and journalists specialised in international football coverage condemned the initiative and the news spread like wildfire on Instagram in particular. Prone to humour and jokes, memes were shared endlessly. For example, Heineken, with its tongue in cheek critical approach, received accolades and positive feedback from fans.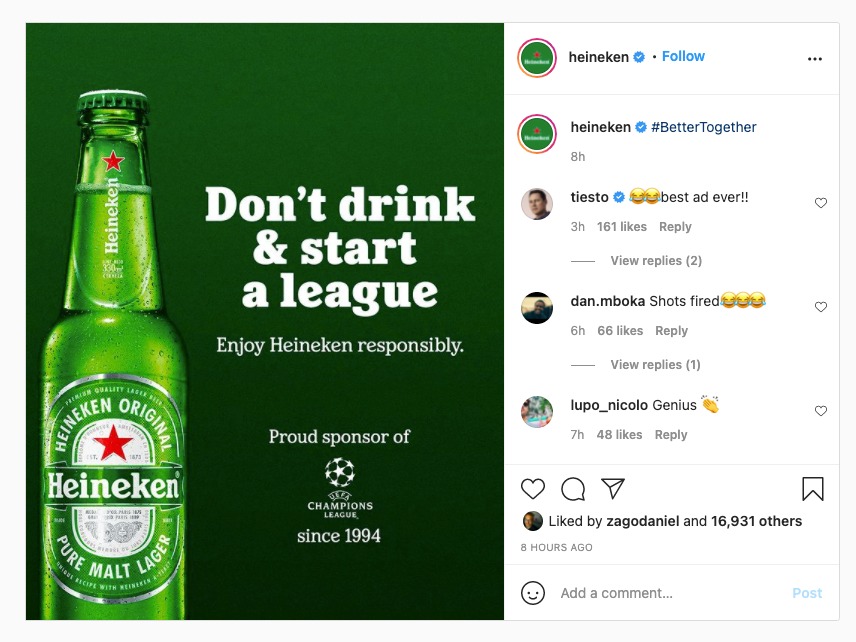 Impact and future – is it all over?
The European Super League concept may have been financially driven and accelerated by the Covid-19. Ultimately, it once again proved to be highly controversial and unpopular with fans. It did however create an incredible worldwide wave of debate on social media. Whilst it's impossible to say for sure what the impact of this league would be and its impact on the other clubs and grassroots football – the subject and debate has gripped the world. We wonder though what damage has been done to the brands that threatened to break away and indeed, when the next attempt will be and what the impact might be. The English Premier League has propelled some clubs to become global brands, but they wish now to go further and create more experiences which international fans love – more of the big match clashes. It's a commercial opportunity and threat that isn't likely to go away and change is eventually inevitable. 
For some fans though that reject the commercialism of football and the money aspect of the game, there is almost a romanticism to return to the days of a more level playing field where football felt more about the fans in the stadium and not the commercial aspects. For now, it seems to be all over, but only time will tell what the next twist in this tale will be. What do you think of the proposed European Super League and what impact would it have? Contact us or share this story on social media.