Have you ever thought about your favourite sports team as a "business"? This Massive Open Online Course (MOOC) takes you through some of the key issues of a sports business. In particular, we will focus on:
Social implications of sports business
Sports business marketing
Social Media in sports business
Do you know how marketing and social media assists sports businesses?
Social Implications of Sports Business
The popularity of sports has increased dramatically over the past few years, in terms of both viewership and participation. A clear example of this rapid growth are found with the TV ratings for the Super Bowl. The worldwide viewing audience for this annual event has increased by around 21 million viewers over the last 10 years.
This has led to a variety of public programs to encourage sports participation by younger and older people. One shared aim of many sports business activities is an emphasis on encouraging people to become actively involved in sport.
Integrating sports and business
There are a range of different ways in which sport and business intersect. At the simplest level the business of selling sports equipment is the traditional activity most commonly associated with sports business. However, the successful management and running of training and competition facilities and even running a sports team are increasingly important forms of sports business.
There is a recognised correlation between sports business and involvement in sports. Consequently, there are positive personal benefits in operating a sports business including:
Encouraging fitness
A healthier society
Creating new hobbies
Increased socialisation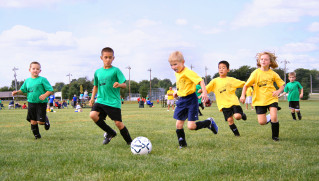 Sports businesses are a way of creating a value-based business that gives back social benefit to the community. Although profitability is generally at the forefront of business considerations, a more ethical and giving social business model is increasingly familiar in sports businesses.
Existing sports businesses like Manchester United have set up a foundation (MU Foundation) that operates with the football club to promote health, education and general charity work within the local community. The Foundation does this through publicly advertised events and other activities that help to engage the community. Other ways of having social impact through a sports business could include:
Running sports days within schools
Providing sporting role models to give public inspirational speeches
An open access communication link to interact with people interested in sports
Another example of a sports business going into the community and encouraging children to engage in sporting activities is Wigan Athletic FC. They have a Youth Zone development project in Wigan, funded by the club's chairman and local businessmen. The £6.3million Wigan project was aimed at enhancing the lives of children in the area and "provides activities for the town's young people seven days a week, 52 weeks a year".
Previous academic studies confirm the beneficial social impacts of sports as well as the boost to physical and mental health that sport can bring. Byrne (1993) claimed that "improved mood is associated with exercise". These benefits present significant leverage for the success of any sports business.
Further reading
Byrne, A. & Byrne, D.G. (1993) "The Effect of Exercise on Depression, Anxiety and Other Mood States: A Review" Journal of Psychosomatic Research, vol. 37, pp. 565-574.
Sports business marketing
Sports marketing is a "form of marketing in which brands use mainstream or alternative sports to connect with both a broad and/or targeted group of consumers." The main reasons for marketing in sports are:
To build positive brand awareness through association
To support the retail and sales aspect of the business
Gain an advantage in the market over competitors
It is important for companies to understand the demographics of their audience, so that advertisements on TV and websites can be targeted at specific groups of people. This relationship is evidenced in the graph regarding the demographics of ESPN's website.
Examples of Marketing in Sports Business
Marketing allows a firm to advertise its products and brands through a variety of tools in order to maximise the sales of a good/service and therefore profitability. Sports businesses are no exception. Marketing in sport has been around for several decades and it has become increasingly important in recent years.
Large corporations such as Nike and Adidas spend vast amounts of money making sure their marketing campaigns are the best. A prime example of this can be seen with Cristiano Ronaldo, one of the world's most well known sports stars. It is reported that he earns more than 6 million euros alone from his Nike sponsorship.
Sport can also act as a platform for other businesses that aren't in the sports industry to market their product or service. An example is the shirt sponsors for major football clubs which is viewed by millions of individuals each time the team plays a game. Nearly every single major sporting team and event is in some sort of contractual agreement with a range of sponsoring and advertising organisations.
Sports marketing also offers a particularly broad range of marketing opportunities. An example of a company that has utilised this approach is Paddy Power. They have taken innovative marketing to a new level in the sports betting industry, with numerous publicity stunts which have arguably been successful or at the very least attention grabbing. One recent stunts involved placing a replica of the current manager outside Manchester United's football ground after the recent controversy regarding the performance of manager David Moyes.
Sports betting is a large and fasting growing sector of online gambling, with consumer expenditure at £600 million in 2011/12 and up from £355 million in 2009/10. There is also a big divide between brands utilising social media and those that are not. Paddy Power and Sky Bet are among the most successful examples of this strategy, through their use of Facebook and Twitter to regularly access the public. This highlights the growing importance of social media across all areas of business.
Further reading
Social Media for Sports Business
Why Social Media?
With the rapid development of digital technologies and the massive popularity of the Internet more and more social media channels are being used by individuals and businesses. The growth of this phenomenon can be directly measured. Facebook counted 1.23 billion monthly active users in December 2013, Twitter had 200 million users in February 2013 and Google+ claimed 540 million users in October 2013. The weight of these numbers emphasises the importance of social media engagement for all businesses including sports businesses.
Uses of Social Media
Social networking channels
Twitter is being used to provide the latest news from journalists and athletes themselves
Facebook is being used as an image gallery by sports teams
Sports businesses like a gym can use Facebook or Twitter to provide latest information, offers, and coupons
Social networks allow fans to directly follow a sports star
Social media provide a way for sports businesses to advertise directly to fans
Video sharing sites
YouTube is a source for video highlights from all sports including those not normally broadcast on conventional television
Many tutorials and training advice can be found on YouTube for all sports.
Examples of Sports businesses using Social Media
Facebook is the most common social network and you can see this in the number of users above. This social network enables the creation of a fan page enabling people to get updates, pictures and as well as chat. A good example is FC Barcelona's Facebook page. Facebook can be also used to promote an offer or to give coupons to your members i.e. Lifestyle Fitness in Manchester is using Facebook for this purpose. Google+ can also be used for a similar purpose.
Having a Twitter account and by gaining followers there is an opportunity to stay close to your customers and fans by giving them information or updates about anything that is related to your business by small posts called 'tweets'. Football teams like FC Barcelona and Manchester United use this technique as are the NBA and Los Angeles Lakers.
A YouTube channel presents memorable excerpts from games or events and as well as interviews. A good example of the use of YouTube to deliver a video gallery to their fans is FC Barcelona's channel.
Big football clubs have fans all over the world so staying connected to the fans may require the creation of more accounts for different social networks. QQ and Weibo are both Chinese social networks that can be consdered the 'Facebook' for China. Football clubs like Manchester United and Arsenal FC make use of these two networks to connect with their Chinese fans.
Other social media networks enable more unusual sharing with fans. SoundCloud is a platform that allows users to record, upload, and share audio. Arsenal FC uses this network to create and share audio content including player interviews, predictions and commentaries of games and goals.
The following video describes some of the statistics of the digital revolution for sports and the ways engaging with a favourite team is changing for sports fans.
Social media is used by many different sport businesses. The ability to deliver a quick and efficient way to engage fans and customers with detailed and specalised information about a business makes the use of social media a compelling proposition for any sports business. Conventional promotion and advertisement is enhanced through these communications.
Additional Media
Tim Gavel from ABC Sport, a veteran journalist, broadcaster and sports commentator provides an interview about social media and the way it is impacting on sports journalism.
Tim Gavel's Interview about Social Media in Sports (Part 1)
Tim Gavel's Interview about Social Media in Sports (Part 1)
Tim Gavel's Interview about Social Media in Sports (Part 2)
Tim Gavel's Interview about Social Media in Sports (Part 2)
Further reading
Do you now understand how your favourite sport could be developed as a business for you or your club? Let us know in the comments section below what you think if every sport could be considered as a business?
1 Comment
---