A digital Business uses technology to gain advantage over competitors in all aspects of its operation. This free online course is developed by Business Information Technology students and will teach you :
how a business can create a digital strategy,
improve current digital presence or
create a new one.
Building a digital business involves a range of analytical tools that are explored in this Massive Open Online Course (MOOC).
Most companies are now – in some way – digital. With information technology ever present as mobile phones, tablets and embedded in other devices some businesses may be digital without recognising the fact. Making the commitment to go digital is becoming a necessity for companies; to expand markets, find new customers and to improve their operational efficiency.
The most common use of digital for businesses is as a way of creating individualised relationships with current and future customers.
Background Reading
Digital Strategy white paper from Red Ant
The importance of digital
The internet has changed the ways that we interact socially, how we do business and how we consume a products and services.
Importance of Digital Business
Why should a business develop its digital presence?
Leveller: A small physical business will struggle against larger competitors on the high street but online a well-structured digital strategy backed up with strong service can reduce the difference of the two retailers.
Save money: Going digital allows a business to substitute some or all of the costs of traditional advertising
Business information and decisions tools: A business can quickly measure business performance conducted through its digital activities in a range of ways
Brand awareness: A range of opportunities exist in the digital space to promote and increase awareness of a brand
International exposure: A digital business can be accessed from almost anywhere worldwide through search
Customer engagement: Social media tools allow a business to conduct ongoing sustainable one-to-one conversations with customers
Background reading
Digital Strategy
A digital strategy is a plan that defines how a company can benefit from the use of digital technology. The strategy includes vision, goals, opportunities and initiatives and maximise the benefits of the company going digital. A digital strategy also allows a business to measure risks and can be used to improve an existing digital business. Developing a digital strategy is completed using recognisable business analysis tools such as…
SWOT Analysis
PESTLE Analysis
PORTER'S 5 Forces
Social Media Tools
Micro & Macro Scanning
Creating a digital strategy
There are many different aspects to creating a digital strategy including using analytical tools such as SWOT and PESTLE. A digital strategy will allow businesses to outline current problems and strengths and future possibilities that can come from implementing a digital plan.
There are four stages to creating a digital strategy; planning, creation, actualisation and evaluation.
Planning
The planning involves analysing the current situation of the company and the environmnet – including competitors. The aims and objectives of the strategy and its expected returns are defined. The potential audience for the digital strategy should be segmented for greater precision.
Creation
This stage involves operationalisation of the plan. Based on the analysis from the planning stage the strategy's key performance indicators are defined.
Actualisation
This stage focusses on the delivery of the strategy. During this stage the activities are recorded and documented to enable later evaluation.
Evaluation
This stage incorporates learning lessons from the operationalised strategy including evaluation of the key performance indicators.
Activity
What are the benefits of creating a digital strategy?
How can analytical tools help develop a digital strategy?
Background reading
SWOT analysis
A SWOT analysis looks at a business's current strengths, weaknesses, opportunities and threats. Analysis of this type can be done for a product, place or industry. A SWOT helps to specify the objective of the strategy. The template below provides the basic framework for creating a SWOT Analysis.
SWOT template
Strengths: 

In the strength section of the table the company that wishes to improve or take their business digital will outline their strengths to going digital. This will involve things such as;

Advantages of the idea?
Capabilities?
Advantages over the competition?
Company resources that can be used.

Weaknesses: 

This section the weaknesses are outlined this will involve;

Disadvantages of the idea?
What you aren't capable of achieving?
Your competitions advantages?
Vulnerabilities?

Opportunities:

This section the opportunities are outlined this will involve;

New marketing opportunities?
Is your competition vulnerable?
Development in technology?
Global opportunity?

Threats: 

This section the weaknesses are outlined this will involve;

Market demand?
Political effects?
Legislative effects?
SWOT analysis completion
After the SWOT analysis has been completed the business can focus on taking advantage of the positives and setting out to address the negatives. The best way to do this is to select the item in each category that is the most critical and is most likely to have a large impact on your organisation.
How can the company use their strengths to take advantage of their biggest opportunities?
How can the company use their strengths to overcome their biggest threats?
How can the company turn their weaknesses into strengths so they are able to take advantage of their opportunities?
How can weaknesses be minimised and allow the company to be in a better position to overcome their threats?
Activity
Create a SWOT analysis for a business that isn't currently digital

How could the business use the analysis to become digital?
Background reading
PESTLE Analysis
A PESTLE Analysis helps you consider external factors and think about their impacts on a business. By understanding the environment, you can take advantage of the opportunities and try minimising possible threats.
PESTLE stands for Political, Economic, Sociological, Technological, Legal, and Environmental.
Political


These factors decide the extent to which a government might affect the economy or a certain industry. For a digital business this may include:

Copy right laws
Tax policies

Economic


These factors are elements of an economy's performance that directly impacts a company. The economic factors which could affect a digital business include:

Inflation rates
Interest rates

Sociological


This step examines the social environment of the market. The elements measured which can affect a digital business are:

Cultural trends
Demographics
Population

Technological


This aspect relates to new innovations in technology and determine whether this have an impact on the specific industry and market positively or critically. This involves:

Research and development
Technological awareness that a market holds.

Legal


Legal factors refer to both the internal and external features. For example:

Consumer laws
Safety standards
Labour laws

Environmental


Environmental analysis involves issues that determine or influence the surrounding of an environment. For a digital business this may include factors such as:

Climate
Geographical location
Global climate changes
Environmental counterbalances
Activity
What does the acronym Pestle stand for?
How would a digital business benefit from undertaking a Pestle analysis?
Background reading
What is Porter's 5 Forces
Porter's 5 Forces evaluates profitability in an industry and measures market stability.
Porters 5 Forces Model visualised: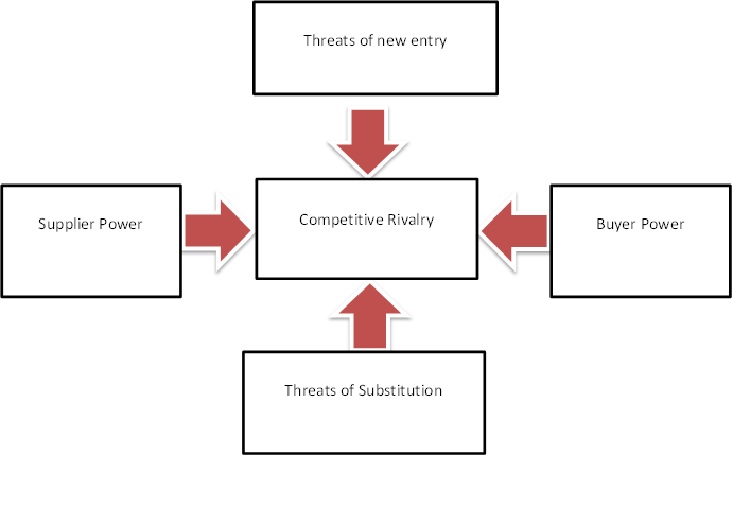 Understanding The Tools:
Force 1 – The Threat of New Entry:
New competitors can enter the market easily if they can make good profits resulting in decreasing other competitor's prices.

How easy is it for a business to set up in your sector?
Threats of business starting in your sector?
Specialist knowledge.
Time and cost of entry.

Force 2 – Buyer Power:
Powers of customers to decrease your prices.

Amount of customers?
Are customers powerful enough to drive prices down?
Costs of changing.

Force 3 – The Threat of Substitution:
The diverse levels various businesses offer to replace others.

Is there an alternate business offering similar products or services you are providing.
Cost of change.

Force 4 – Supplier Power:
Power of suppliers increases the price of inputs.

How many suppliers are there in your business sector?
Are the suppliers unique?
Do the suppliers have the power or are there alternate options?

Force 5 – Competitive Rivalry:
Strengths of competition of other businesses.

How many competitors are there in your target business sector?
Are there quality differences between rivals?
Customer loyalty.
Porters 5 Forces Model example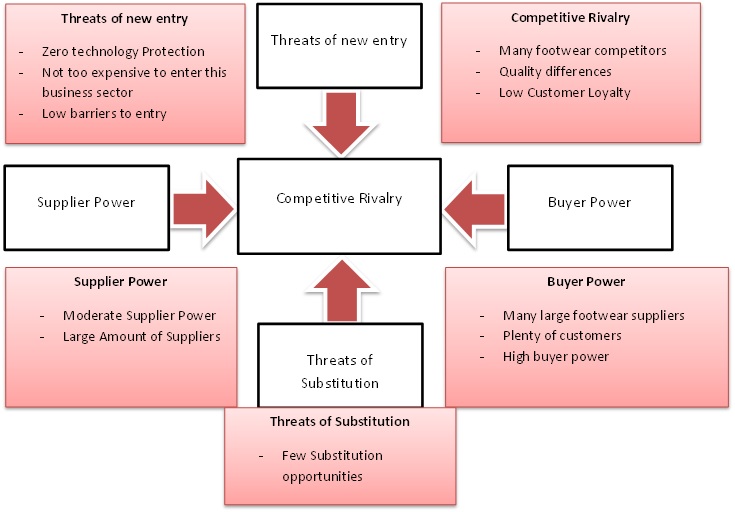 Findings:
Threats of new entry:  This is high which means it is easy for competition to enter this business sector. Therefore if the business seems to be making a profit competitors can easily enter the industry to reduce profits.
Competitive Rivalry: This is very high meaning that if one business raises the price of their products they will be undercut by competition.
Buyer Power: Strong buyer power. They can dictate terms to suppliers because of volumes ordered.
Threats of substitution: There are very little substitution opportunities available.
Activity
Think of a business of your choice and consider what factors are relevant for this business to go digital
Place each factor under the relevant force
Summarise each force to identify whether the factors favour the business or not
If you find your business is in a weak position Porters 5 Forces will help to show how to make your position as a business stronger.
Background reading
Tools that can be used to aid digital business
One of the main digital technologies that allows you to use most of the social media platforms is something that is called cloud computing. Cloud computing can also be used for a number of other business processes for example if you are using Google Docs for collaborative document preparations or Google Drive or Dropbox for file sharing and back up.
When becoming digital the impact of social media tools on a business is significant. There are many different types of social media platforms that can help maintain contact with customers and create efficiencies. These are social media platforms such as Twitter, Facebook, LinkedIn and various blogging platforms include WordPress and Tumblr. These are just some of the social media platforms that can be accessed online that can benefit a business.
Twitter
Twitter is a micro-blogging service which can be accessed by everyone who has access to the internet. Many people make use of this to stay in contact with friends, family and stay up to date with recent news. Twitter allows users to follow people who they like to stay updated and it allows you to tweet with a restriction of 140 characters. This can be beneficial to a business as this will allow them to stay in contact with customers and provide links and updates to new products.
Facebook
Facebook allows people to stay in contact with each other and offers the opportunity to share. If Facebook was a country it would have the third largest population in the world. Businesses can benefit from using Facebook as a free marketing tool with new posts of new product ideas with links to purchase the product.
LinkedIn
This is a professional network that the business could use to publish white papers or share business intelligence. This could then lead to opportunities with other companies who wish to carry out research or work together.
Blogging platforms
These tools assist the company gain a presence online. Blogs let a company post updates of their activities including new product ideas.
Activity
Why should a digital business involve itself with social media?
As a digital business what content would be appropriate for Facebook?
Micro- and Macro-Scanning
Micro Environment
The micro environment consists of all the people and organisations that are involved closely with the company and directly impact the customer experience. Micro environment examples include…
The business
Suppliers
Markets with which the business trades
Rival companies
A company's competitors are considered to be a part of the micro environment as they are influenced by the business and have interest in it. The micro environment is moderately manageable as the actions of the company can influence these stakeholders.
A significant force in the micro environment for a business is the suppliers of the business as they supply inputs such as raw materials. Customers are also another key  feature for the micro environment of a business as one of a company's essential tasks are to create and sustain customers so with the customers the business will not be able to operate.
Macro environment
The macro environment is considered as a less controllable environment. The macro environment takes in larger and broader influences from global society. Aspects such as culture, political issues, technology, natural environment, economic issues and demographic are related to the macro environment.
Macro environment will impact a business however most of the features that are considered to affect the business are uncontrollable and out of the business's hands. Factors that could affect a digital business include the influence of varying globe interest and exchange rates and the impact on the pricing of their products. Legal regulations vary around the world and this is another factor a digital business must consider. When macro environment factors become overpowering the success of the company depends on its adaptability to the current state of the environment.
Activity
What factors of the micro environment can a digital business most readily influence (in comparison to conventional business)?

If a business was to go digital how could the macro environment influence their strategic decisions?
Background Reading
Credits
This MOOC was created by students on the BSc (Hons) Business Information Technology programme at the University of Salford:
Carlton Street
Cameron Cummins
Gursewek Singh
4 Comments
---