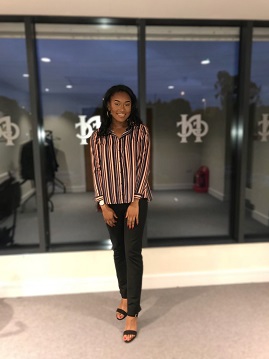 My name is Shenitta and I am a 1st year Undergraduate Single Honours Psychology student at the University of Salford.
From observing the diverse and multicultural society, I have developed an interest in mental health disorders and how environmental factors such as nutrition can affect gene sequences and hormones which can result in a change in mental health. To further my interests in the field of mental health disorders I previously volunteered for the Young Adults Services and Projects (YASP) my main role as a mental health mentor was to increase people's well-being and set appropriate goals in order to improve their mental health.
I have worked alongside multiple research projects such as Manchester's Psychology Research Team for one of the top Russel group universities in the United Kingdom. Also, as a Member of the Young People's Advisory Group in Healthcare research in order to increase young people's interests in developing research. During this role I reviewed applications for research whilst considering possible research areas relevant to young people's development.
Whilst attending Sixth form college where I studied A level Biology, Sociology and Psychology I became aware of the problems within academia with regards to ethnic minority parents and children's issues faced in the Education system. I was delighted to be a part of the Parent's Pupil's Educational Network which was funded by a local Russell group university. My role as a member involved contacting the local council if parents had any issues with school places whilst offering support to parents on issues about discrimination of their children, vaccinations and bullying schemes.
I then developed an interest in analysing how ethnic minority children develop and how bilingual students are affected during their educational success. I became a Saturday School Maths teacher to ethnic minority primary school students.
As a Research Assistant at the University of Salford Cognitive Development Lab and an aspiring Clinical Psychiatrist I aim to provide research experience whilst understanding the impact digital media has on children's development. I assist with testing children in the lab using eye tracker and I help with data coding for the eye tracker study. I also help with the transcriptions of the language from children's books.
---