I'm a 1st y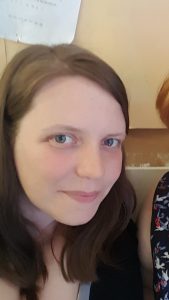 ear Psychology and Counselling student at the University of Salford.
I'm the middle child of five, when I was growing up my mum was a childminder and I loved helping her with the children she looked after. I have always wanted to work with children and once I finished high school I went to college to complete a diploma in childcare and education.  After college I worked as a qualified early years educator for 13 years, working with children under the age of 5. While working in nurseries I took on different roles, first senior, then Every Child a Talker (ECAT) champion, and finally Special Educational Needs Co-ordinator (SENCO).
During my ECAT training I heard about 'The 30-million-word gap' a difference in the words spoken by children from the wealthiest and poorest families by the age of three. "Simply in words heard, the average child on welfare was having half as much experience per hour (616 words per hour) as the average working-class child (1,251 words per hour) and less than one-third that of the average child in a professional family (2,153 words per hour)" (Hart & Risley, 2003, p.8). This caught my attention and made me want to find new ways of helping children to learn. This, as well as my love for helping children with special educational needs, made me decide that I would need to further my education at university. 
Becoming a Research Assistant working with Dr Gemma Taylor was very exciting for me, especially knowing the first study I'll be working on with her is investigating 'The role of digital reinforcement'. The ages that children are using different types of media are getting younger. The Early Years Foundation Stage (EYFS) even states that children should know that information can be retrieved from computers by 30-50 months. I find this so interesting and often wonder how it will impact on their overall development.
As a Research Assistant I will be working closely with parents, nurseries, and children helping collect data and coding it.
Reference
Hart, B., & Risley, T. R. (2003). The early catastrophe: The 30 million word gap by age 3. American educator, 27(1), 4-9.
Follow Kat @Kajohnson104
---