In the new episode of our podcast Joanna Kolak talks to Dr Katie Twomey, a lecturer from the University of Manchester and an expert in language and cognitive development. Katie explains how children's learning is driven by curiosity, based on various experiments to date with infants and toddlers. Can children's curiosity prompt their word learning? How can we help children explore the world around them? Listen to the podcast to find out!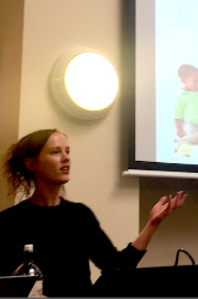 Here are some of the papers that Katie mentioned during our conversation:
How do you learn to walk? Thousands of steps and dozens of falls per day.
The Goldilocks effect: Human infants allocate attention to visual sequences that are neither too simple nor too complex.
---