Working with Manchester City Council and TfGM, the Manchester Urban Observatory have deployed various traffic and air quality monitoring equipment in Levenshulme (Figure 1) as part of the Levenshulme and Burnage Active Neighbourhood Scheme. Delayed initially by the COVID-19 lockdown, data collection by the monitoring equipment began on the 12th of August 2020.
Using the traffic count data this blog reviews changes in car, pedestrian and cycle counts on weekdays between 7am and 9am, comparing counts for term-time and school holidays. Traffic sensors provide data for Errwood Road, Crossley Road, Chapel Street, Rostron Street and Chapel Street – outside Chapel Street Primary School (Figure 1).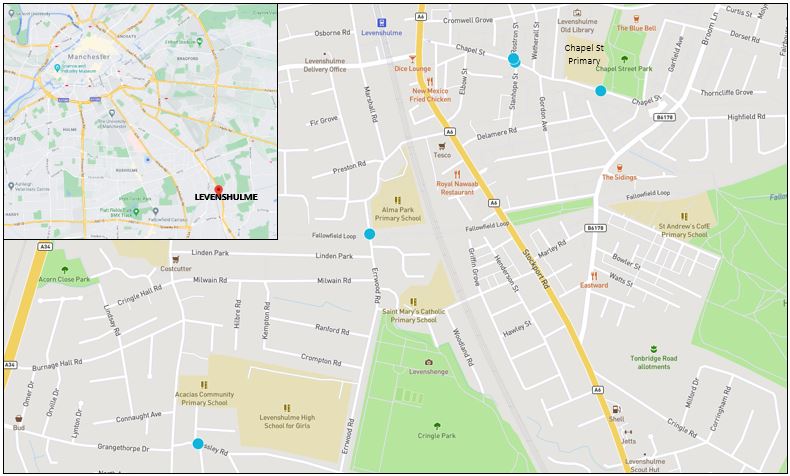 Figure 2 shows the total car, pedestrian and cycle counts across all five sensor locations, for weekdays 7am-9am from 12th August – 25th September. It also shows the average total car, pedestrian and cycle counts for all sensor locations for weekdays 7am-9am, split between the school holiday and term-time.
What Figure 2 shows very clearly is the growth in both pedestrian and car counts over time, with a massive leap in average pedestrian and car counts in term-time compared to outside of term-time. Whilst growth in car numbers can perhaps be caveated with calls for workers to return to offices, the line graphs clearly show that these leaps occur on the day that schools reopened. Data analysed for each individual sensor location is provided in Annex 1 below.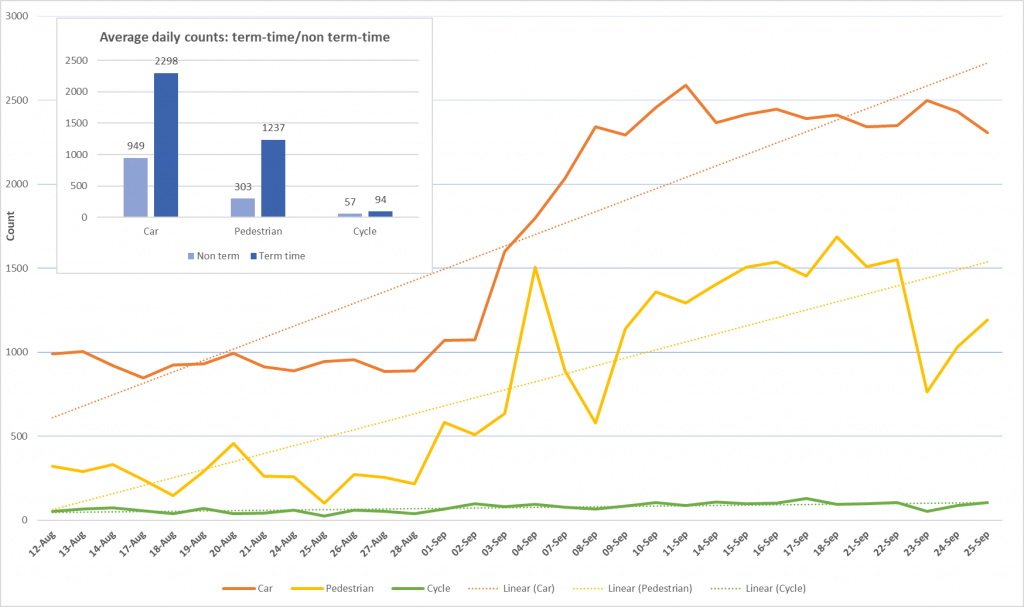 Within the context of coronavirus and with public travel restrictions, and parents and guardians voicing significant concerns regarding road safety, Sustrans and Living Streets were concerned that car travel would be considered as the safest way to get children to school. However, this poses the risk of exchanging one health crisis for another, with the potential for increased school-related traffic to exacerbate pollution levels.
Prior to schools reopening many active travel organisations, including Sustrans and Living Streets, called for the implementation of 'School Streets'. These are temporary restrictions on motorised traffic on roads outside schools at drop-off and pick-up times, applying to both school traffic (exempting blue-badge holders) and through traffic.
No School Streets have yet been implemented in Greater Manchester and it would be interesting to know how their implementation could impact upon modes of school travel. Reflecting this the Healthy Active Cities team at the University of Salford are organising an online seminar (22nd October, 12.30-14.00) to discuss 'School Streets: What can they do?'. The seminar is open to everyone and free to attend, with more information and tickets available on the Eventbrite page.
This work was supported by the UKCRIC Manchester Urban Observatory (University of Manchester) (grant number: EP/P016782/1). The analysis is part of a new Healthy Active Cities project looking at low traffic neighbourhoods.
Annex 1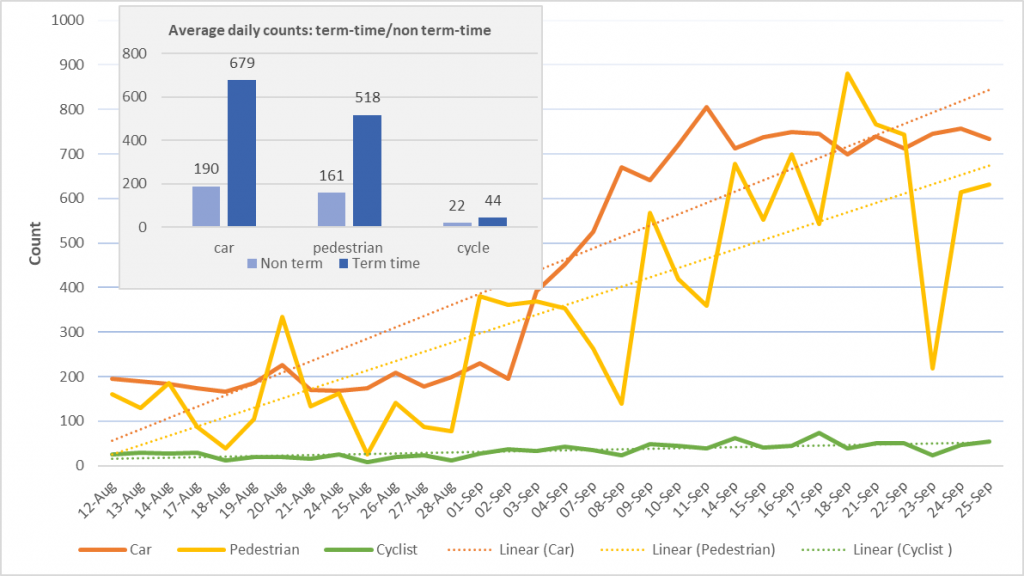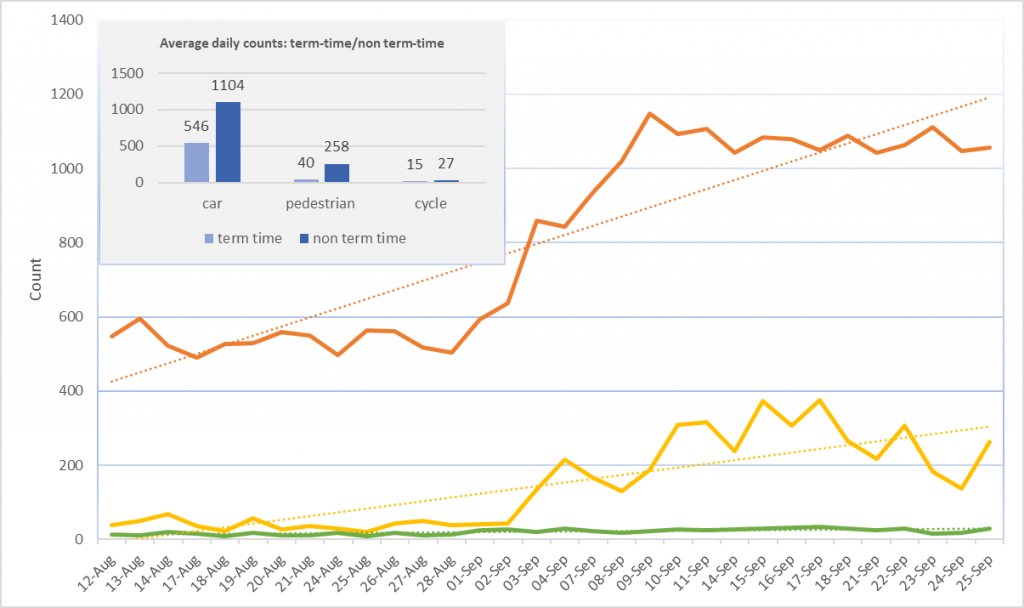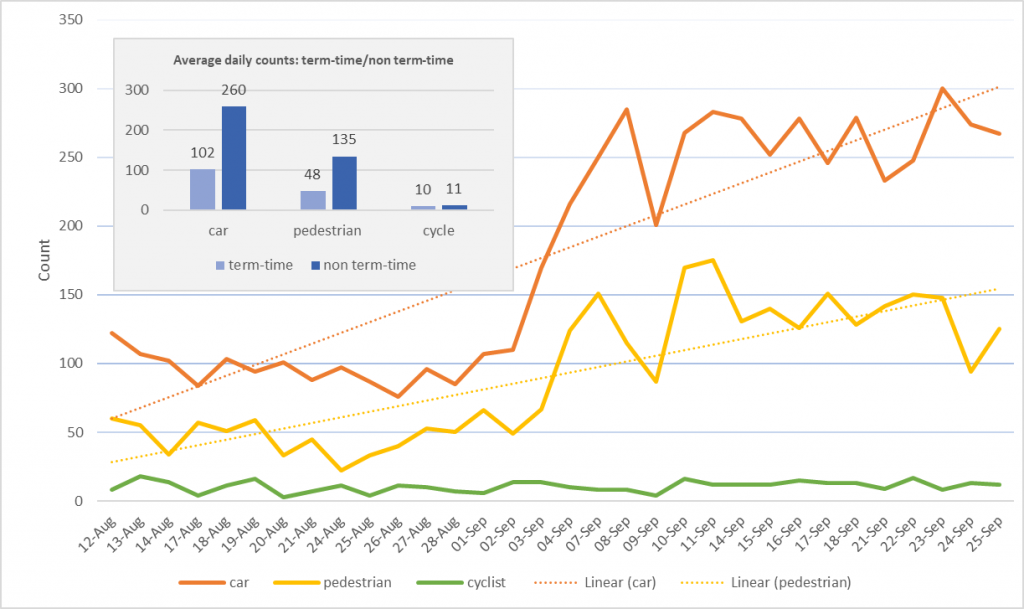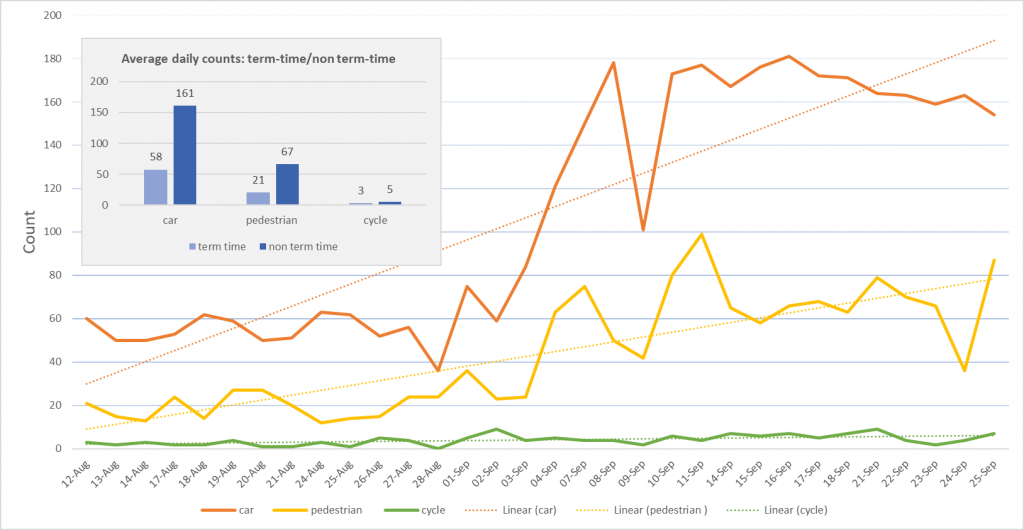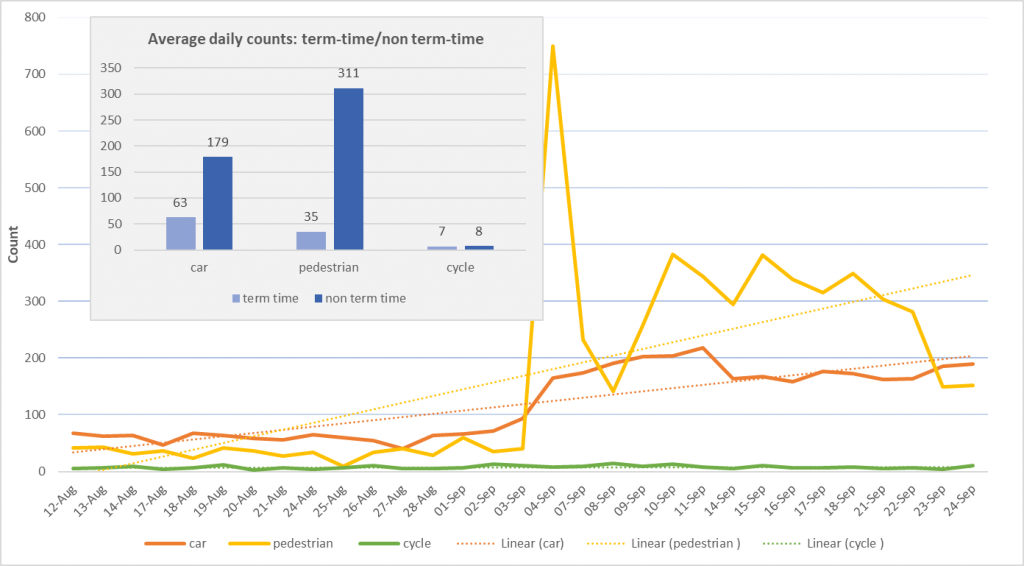 Leave a comment
---