Smart Travel – Can big data save our cities?
Date – 27th May 2019, 12:30-2pm
Location – The Old Fire Station, University of Salford
Seminar Report
This seminar was the sixth in our series and marked the end of our first year of seminars. We enjoyed a good turnout with four engaging speakers talking about the role of big data in construction, traffic management, transport systems, design, and ultimately the future sustainability of our cities.
Zeeshan Aziz is a Senior Lecturer at the University of Salford and spoke about the major trends shaping the construction sector and how these might meet the requirement for a changing society. The biggest question is: Are we collecting the right data? There is so much data across so many different platforms, there needs to be a finer process of selection when it comes to what kind of data we are using. Zeeshan also spoke about the wider construction process being a challenge – not just the technology itself. For example, road workers often tend to have low productivity rates for a range of reasons, and therefore the challenges of technology and process can often go hand in hand. The improvement of one can often help benefit the other.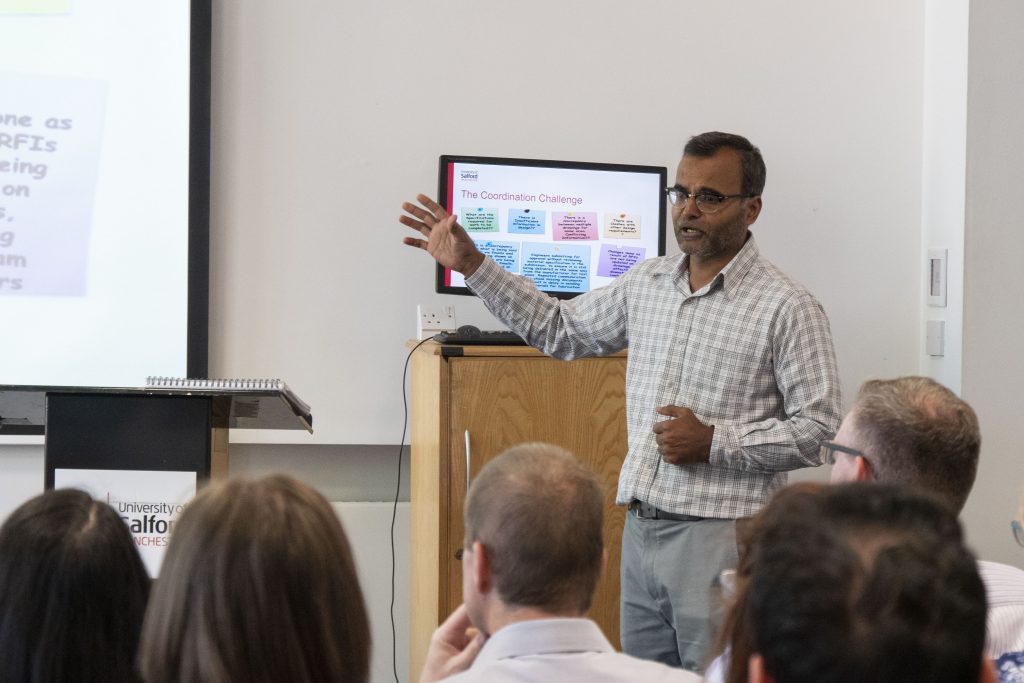 Dr Richard Nickson is the Account Director at Elgin, who provide roadworks.org – the most comprehensive source of roadworks and other traffic disruption information in the UK. Richard was interested in how you can take a tool like roadworks.org and syndicate it so that it helps the public make better travel decisions. How this information can be communicated to the vehicle is also an important question, as there are currently so many propriety systems used in the UK (multiple local authority systems, and consumer apps such as Google Maps, Waze, TomTom, etc.), we are running the risk of silo mentality between these data driven systems. In addition to this, the question of how this information can be aggregated and communicated seamlessly to autonomous vehicles so that the vehicle can make the smartest decision while on the road, was raised.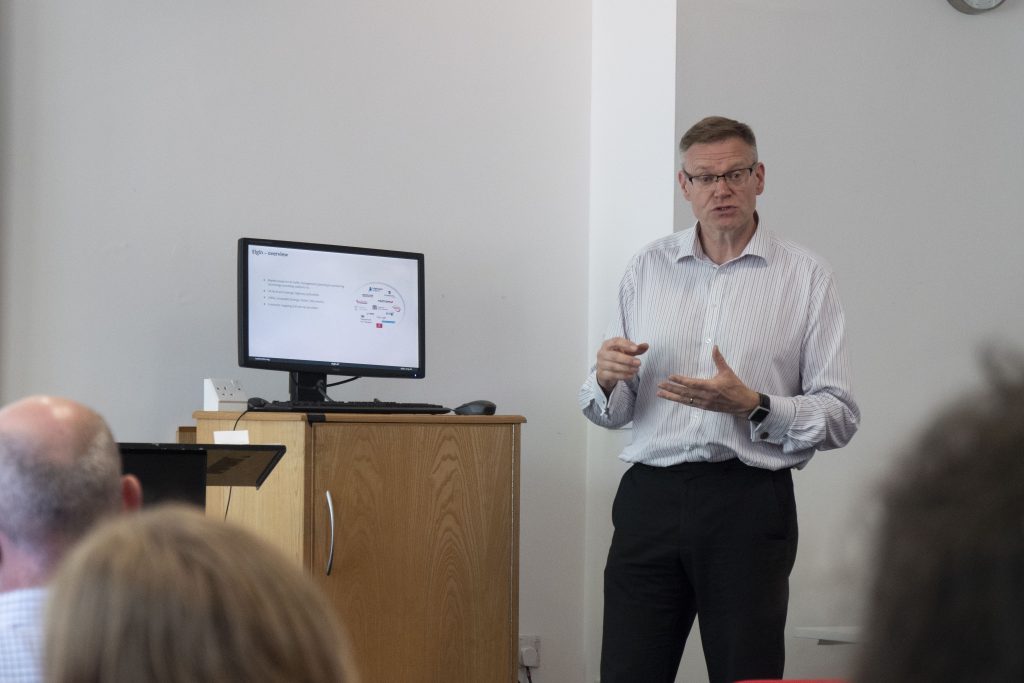 Adrian Slatcher is a Principal Resource and Programmes Officer at Manchester City Council and discussed the opportunity of smart cities. Cities around the world share the same challenges, particularly around sustainability and CO2 targets, and this gives us the opportunity to learn from each other. London is the closest we currently have to a smart city, but there are pockets of practice in Bristol and Manchester. Our projects include Synchronicity Triangulum and CityVerve, which are all looking at using big data in more creative and smarter ways – doing more with less. Synchronicity includes a pilot with the See.Sense smart bike light, which uses GPS to track your journey. These are being trialled on 200 bikes across the city to be used alongside highways data to consider road condition monitoring. Finally, the sudden arrival of Mobike made it apparent that local authorities need to work closer with these companies to gain access to the data and work together to design and implement these projects effectively.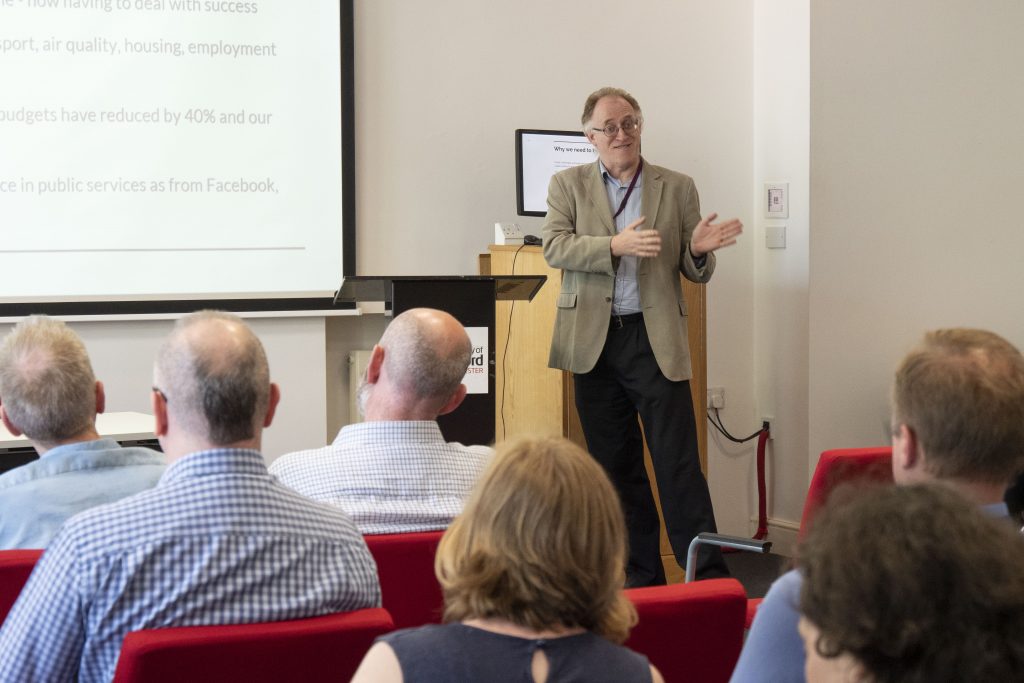 Conor Chaplin is an Innovation Researcher at Transport for Greater Manchester and gave an overview of the impact of big data on mobility in Greater Manchester. Currently one third of all journeys under 1km are made by car, and congestion costs Greater Manchester £1.3 billion per year. Transport for Greater Manchester's vision for 2040 is that 50% of all journeys are made by sustainable modes such as walking, cycling and public transport. There are multiple projects being trialled and implemented to make public transport smarter and turn this vision into a reality. CitySpire is looking at how we can aggregate data to dynamically react to changes in demand and provide an efficient tailored service. GM Data Hive is a UK funded project to open up Urban Traffic Control (UTC) data, which uses data from vehicle detectors to optimise traffic signal settings to improve traffic flow. Working with local academics, data scientists and developers, the project aims to better understand what kind of data people want. One potential key to future success is open data – and that maybe we need to make it a condition in Greater Manchester that operators share their data to make travel easier.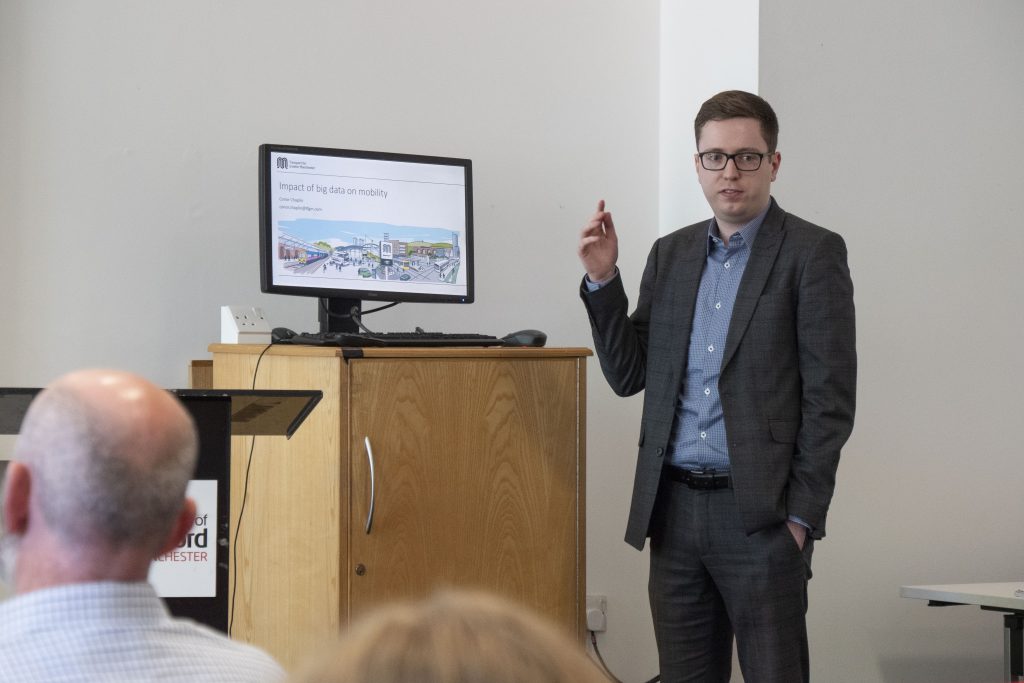 The Q&A was lively, with questions ranging from data sharing and data standards to personal privacy. The discussion of data sharing between public and private sectors raised the right to be concerned, as there is always going to be some cost with open data somewhere along the value chain, and that it is unrealistic to just make data available to everyone. The idea of having an overarching standard for all data is still a long way from becoming reality, as there is just so much data about so many different things, and one of the challenges is how we aggregate it. Aggregators have sets of adaptors that transfer the structure of data into usable form, and this might mean there is no need for a standard data form.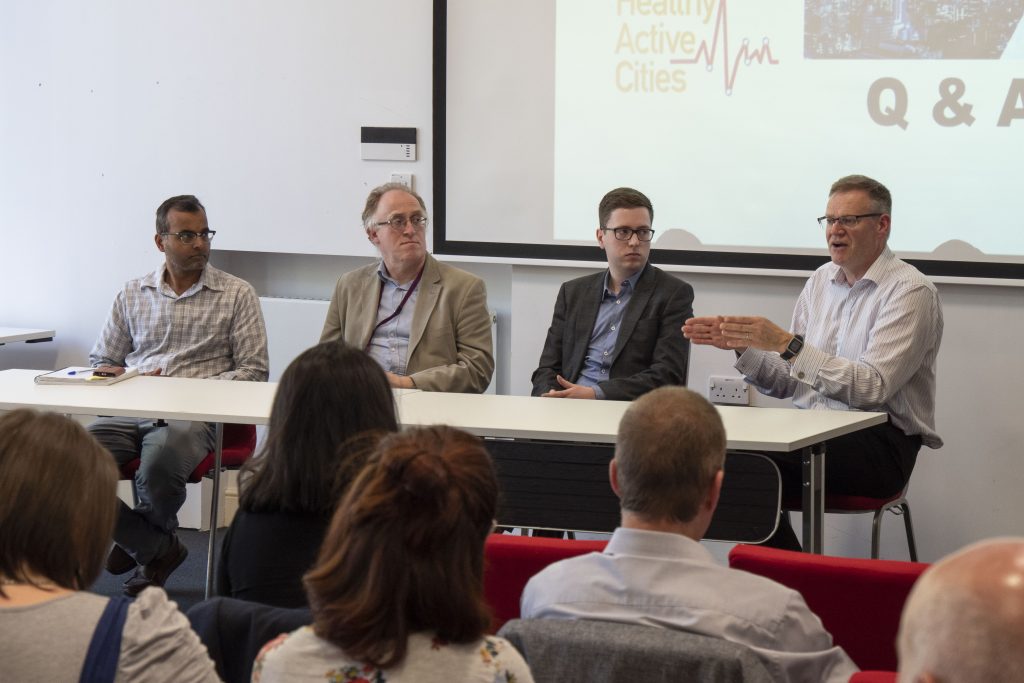 However, there is lot of progress being made in standardising parking data. Privacy and how individuals are tracked was also raised as a concern, but the panel discussed how safeguards are put in place and GDPA ensures 'Security by Design' significantly reduces the risk of these types of projects.

Presentations from the seminar

Audience Voting Tool
Richard Nickson opened his presentation with a question about barriers to achieving smart mobility. It was interesting to note that the audience perceived the biggest barriers to smart mobility being associated with organisational and cultural challenges, with technology actually receiving the fewest votes.