Claire George is a BSc Physiotherapy student at the University of Salford who spent time in Uganda this summer working with disabled children. She spoke to us about her course, the trip, and her plans for the future.
Can you tell us about your course?
The course is fantastic. There is a great balance of lectures, practical labs and placements. Placements cover all areas of physiotherapy including MSK, neuro, respiratory, rehabilitation, women's health, sports rehabilitation, intermediate care and intensive care. It's our opportunity to put into practice what we have learnt at university and develop our clinical skills.
The first year of the course we studied the basics such as anatomy and physiology and then built on this knowledge throughout the next two years. Assessments are a mix of practical vivas, essays, presentations and placements.
The course has a wide range of students from a variety of backgrounds. In my year there are some very fresh-faced 18 year olds who have just completed their A-levels, all the way to someone in her 40s who was an ex-professional ballet dancer. There are people who have families and international students too.
Our year group is relatively small with around 50 students, so we all get to know each other very well. The course encourages working together as this is a skill we will need when we graduate and start working as physiotherapists.
What are the physiotherapy lecturers like?
The teaching staff on the course are amazing. They are all experts in their respective areas and extremely supportive. Each year several of them consistently get nominated in the Salford University Students' Union teaching awards.
What's been your favourite part of the course?
The great friends I've made. I'm very confident in saying that we will still be in touch for years to come. This is very useful in the physiotherapy profession as it's important that we can share and learn from the experiences of others.
We also have fantastic support from the teaching staff. The opportunity to use the simulation lab in the Mary Seacole building, where we can gain confidence in dealing with high pressure situations also turned out to be very relevant for situations I encountered in Uganda.
Would you recommend the University's physiotherapy course to prospective students?
Of course! Mainly due to the great teaching staff and the support they give. There is also a great mix of students of all ages and from a variety of backgrounds.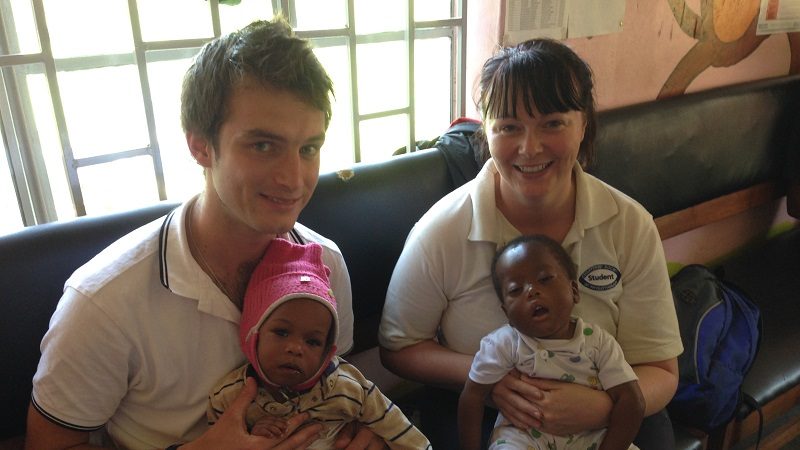 How did you arrange your opportunity in Uganda?
It was a north-west scheme run by and promoted by the University of Salford with funding from the NHS called Knowledge for Change. It was a fantastic opportunity to work alongside, and share knowledge with other health professionals – both those who are qualified and those still studying.
What did you do in your time in Uganda?
As a student physiotherapist, I was based at the Kyaninga Child Development Centre. The majority of children visiting this centre suffered from cerebral palsy which can be caused by asphyxia, a birth complication.
The centre was set up by a British and Ugandan couple in aid of their son, Sidney. Sidney, 5, has cerebral palsy and it became apparent very early on in his life that there were limited treatment options in Fort Portal for children with his condition. Early intervention is paramount for children with this condition to enable them to lead as functioning a life as possible.
A typical day would be driving with the winter's sun beaming in through the windows, for what seemed like forever, down an unsealed dirt road, with the lush, green and fertile banana trees lining the way into the deep Rwenzori Mountains, to visit patients who cannot physically access the centre.
What was your motivation to travel to Uganda and help there?
I always seize any opportunity to travel and experience new cultures. I've lived and worked all over the world, however I had never been to Africa. I have learnt so many life skills from my travels, and I believe it develops me as a person. I also wanted the opportunity to 'give back' to families and communities who are less fortunate.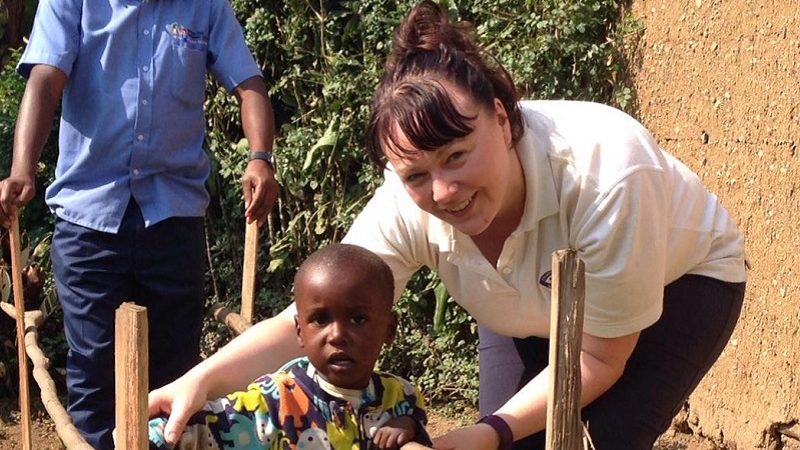 How did you apply what you learned on your course to your time spent in Uganda?
Kobusobozi, 16, who has hydrocephalus and limited function of her legs, has never been to school. She is unable to leave her house due to the steep and narrow mud path to her house. Kobusobozi's wheelchair broke a few months previously, therefore she now gets around her house by crawling. I taught her some upper limb strengthening exercises with the aim of enabling her to move around more easily.
Conor, the other volunteer physiotherapist, treated Kobusobozi's mum, as she had herniated a disc in her back since the wheelchair broke from repeatedly bending down to pick her daughter up. A friend heard we were visiting and brought along her son Lucky, 3, for an assessment as she was concerned about her son's inability to sit unsupported.
We ran a very successful training day for Ugandan staff and students. The aim of the day was to increase basic awareness of avoidable birth complications. People who attended the day learnt about the signs of sepsis, CPR for adults and newborns, pre-eclampsia, and delivery of breech babies. The day was hugely rewarding for everyone involved and was a great opportunity to share knowledge with a variety of healthcare professionals.
What do you want to do after leaving the University of Salford?
I still have one more year left to make my mind up. At the moment I am very much keeping my options open. I'm considering doing the master's programme straight after as I am interested in teaching physiotherapy at a later date, as I used to teach before doing this course. Otherwise I will probably look for a rotational job within the NHS. I am also interested in the sporting side of physiotherapy and have been gaining some experience with local sports clubs, using the sports massage and sports taping qualification I have gained alongside my physiotherapy degree.