Danielle McNab is a third year BA Journalism (Multimedia) student who took an amazing opportunity to spend a semester studying at Middle Tennessee State University. We had a conversation with Danielle about the time she spent in America and her plans for the future.
Tell us about your American adventure.
I'd heard about the opportunity to study abroad last September. I decided America was where I wanted to go, so I sent off the application then got an interview! I came out of the interview and thought, "That didn't go well, I wanted to say that and forgot to say it, I should have said this." You know when you come out and you're negative about it?
We do.
So I told all my friends it went badly. Then I got an email saying, "You've been given a place, you've got 24 hours to pick between Tennessee in America or Vancouver in Canada." I rang my mum straight away, I was upstairs in MediaCityUK, she was at work about to go into a meeting and she said, "I can't talk about this, I didn't even know it was going to happen!". I rang my dad to say, "Can you help me pick?" but he was working too so my auntie looked up MTSU which was the one I ended up going to. I looked at the one in Vancouver and we just compared them both. I decided to go for Tennessee.
Did you have any help from the University?
Yeah, Tessa and Kirsty who work for the Study Abroad team helped me a lot. Sometimes I felt like I needed a bit more time, I was really stressed over Christmas. My VISA wasn't in place so I couldn't book a flight in December! It was worth it in the end when I got out there though!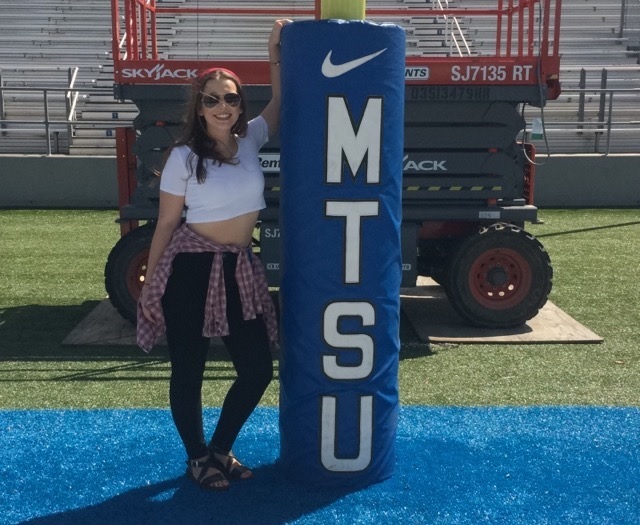 We heard you got a 4.0 GPA? Which we're pretty sure is American for perfect marks.
Yeah! Don't ask how, I'm not sure how that happened.
Presumably you're really good at journalism.
Must be! Out there you study four subjects, rather than three per semester like in the UK. In America you had to do at least four but you could do more. I decided I was going to do four and do them well rather than pick six and maybe mess some of them up. When I found out at the end that I'd got four A's I was really pleased. I worked really hard and stayed in a bit more.
Good advice for any student!
Yeah, I'm a bit of a social butterfly. I like going out.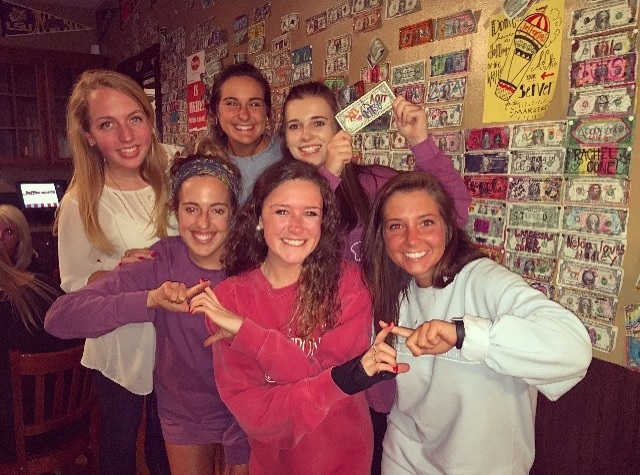 What was your favourite part of the experience?
All of it! I made friends with a really nice group of people who introduced me to their families. I did Easter with an American family so I took part in their traditions because they all go home for Easter. Spring Break was another good one, we all went to Florida! The campus was great there as well, I lived on campus which was something I didn't do at Salford. It was quite big, it could take 10 or 20 minutes to walk to the other side. The campus had everything we needed so you could easily have dinner on campus in one of the restaurants. It had just been done up so it was really modern and new.
A wow moment? Probably when I got my results, I'd definitely say that was, "wow!". I was also taught by Whitney Matheson, she worked for USA Today. She came into class one day five minutes late and said, "Sorry I'm late, I've just been interviewing Ashton Kutcher." You know, as you do!
Tell us about your course at Salford?
This semester I'm actually doing Journalism and I'm doing Spanish alongside it. But right now on my actual course I'm doing Journalism Practice. At the moment we're doing some theory and that's leading up to the Newsdays which we'll be doing near Christmas time. I'm also doing Magazine Journalism, so in a few weeks I'll hopefully have created a 16 page magazine. Fingers crossed that goes well!
Newsdays are so much fun!
Are they? We've got sixteen newsdays, 9-5 Monday to Friday. We've got the month of work experience the whole month of November and then I come back just before Christmas and we've got newsdays, newsdays, newsdays! I'm quite excited about them!
How have the lecturers been on your course?
They're very supportive. I feel like I know all of them now, even the ones that teach Sports Journalism which I never even did, I've been introduced to all of them at some point or they've taught me for one lecture. They're lovely, they're all so nice.
What about your experiences in your first two years?
It all went well, surprisingly! My first year was about settling in because I'm actually from the other side of Manchester but I lived at Salford so it was more about making friends and getting to know everything. Because I wanted to study abroad, that's why I tried hard to aim for a 2:1 or a first in first year. Second year when I came back I was a bit more settled in, I knew what I was doing and I knew all the lecturers by then. I had my friends and had my group. Second year was a lot more comfortable, then obviously I went to study abroad which threw me out of my comfort zone again!
What's the future for Danielle McNab?
I'll hopefully graduate, ideally with a first, but with a 2:1 if not. Then I'm going to have a year out and maybe go to Spain to teach English. I don't want to jump into anything now, so I think having a year out so I can see what my options are is good. I probably will stay at Salford and do my Masters here, see where that takes me in two years.
What would you say to anyone considering studying at Salford?
Do it.
Do it?
Being at MediaCityUK, I was saying to my friend yesterday that we don't realise how lucky we are with the connections you make with the BBC and ITV, and with the surroundings it's just so nice here. It's weird now seeing the first years coming in. I want to be back doing it all over again!