Host of our 2018 Create Student Awards, comedian and presenter Lee Peart is also a alumni of the University of Salford, graduating in 2012 with a degree in Performing Arts. Lee is currently freelancing at ITV in London as a warm-up act for the audience at Loose Women, amongst many other things!
I was lucky enough to speak to Lee about his varied career, his time at Salford, and what he's most looking forward to about the Awards.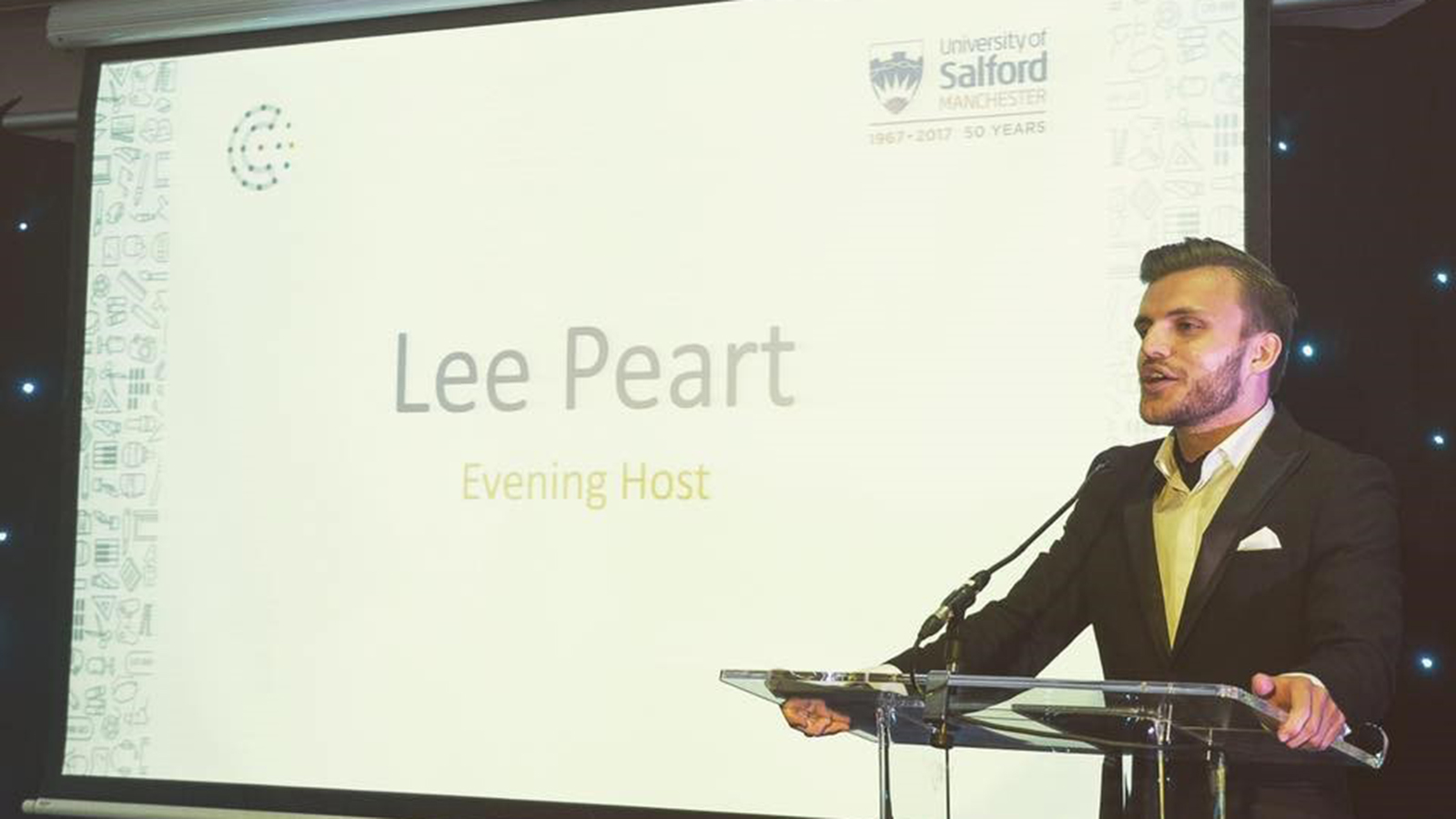 How does it feel to be coming back to Salford to host the Create Student Awards?
Really good! It's my second year hosting the awards, and last year I had so much fun. I got to be quite cheeky, which is why I was under the impression they wouldn't ask me back, so I'm very honoured and surprised. It was a really great evening last year, so I have no doubt this year will be just as fantastic.
Why do you think events like these are important?
Creatives are very important to our society, so much of our entertainment is derived from people in the creative fields, which is why it's really nice that we get the chance to recognise those who have done well. It's fantastic to be able to show off people's work, and remind them that their achievements haven't fallen under the radar.
How do you think studying at Salford has benefited your career?
One thing that I loved about studying at Salford was that I was allowed to take my studies off in different directions. With my Performing Arts degree, you could have a go at comedy, presenting, radio, whatever you felt like trying. In that respect, for me it was a much more freeing option than choosing a formal drama school, as I was able to find out for myself what I was good at. Also, geographically you're in a very vibrant hub for culture and arts, which was so important to my time at uni. I was privileged enough to learn about all sorts of different backgrounds, which is fantastic.
https://www.instagram.com/p/BhfEKR3gKnt/
What has been your career highlight so far?
That's a hard one. I would say there are two highlights that stick out for me. I do enjoy working in live TV, so in terms of my CV, that's great and as a job, I still find it completely surreal. The second has to be Manchester Pride. I host Pride every year on the main stage, and that for me is just fantastic, the candle-lit vigil has to be one of the most amazing experiences of my career to date.
What advice would you give to Salford students?
My top word of advice has always been to just be nice. Be pleasant and easy to get on with, and it will return you so many favours. In close-knit creative industries, everyone knows everyone, and often it's the nice people who are easy to work with who gain success. A lot of creative jobs are freelance, so it's key to remember that being in people's good books is crucial. I'd similarly also say know your worth, don't agree to do everything, because in an industry like television, people could quite easily take advantage, and you could end up working for free producing some great work.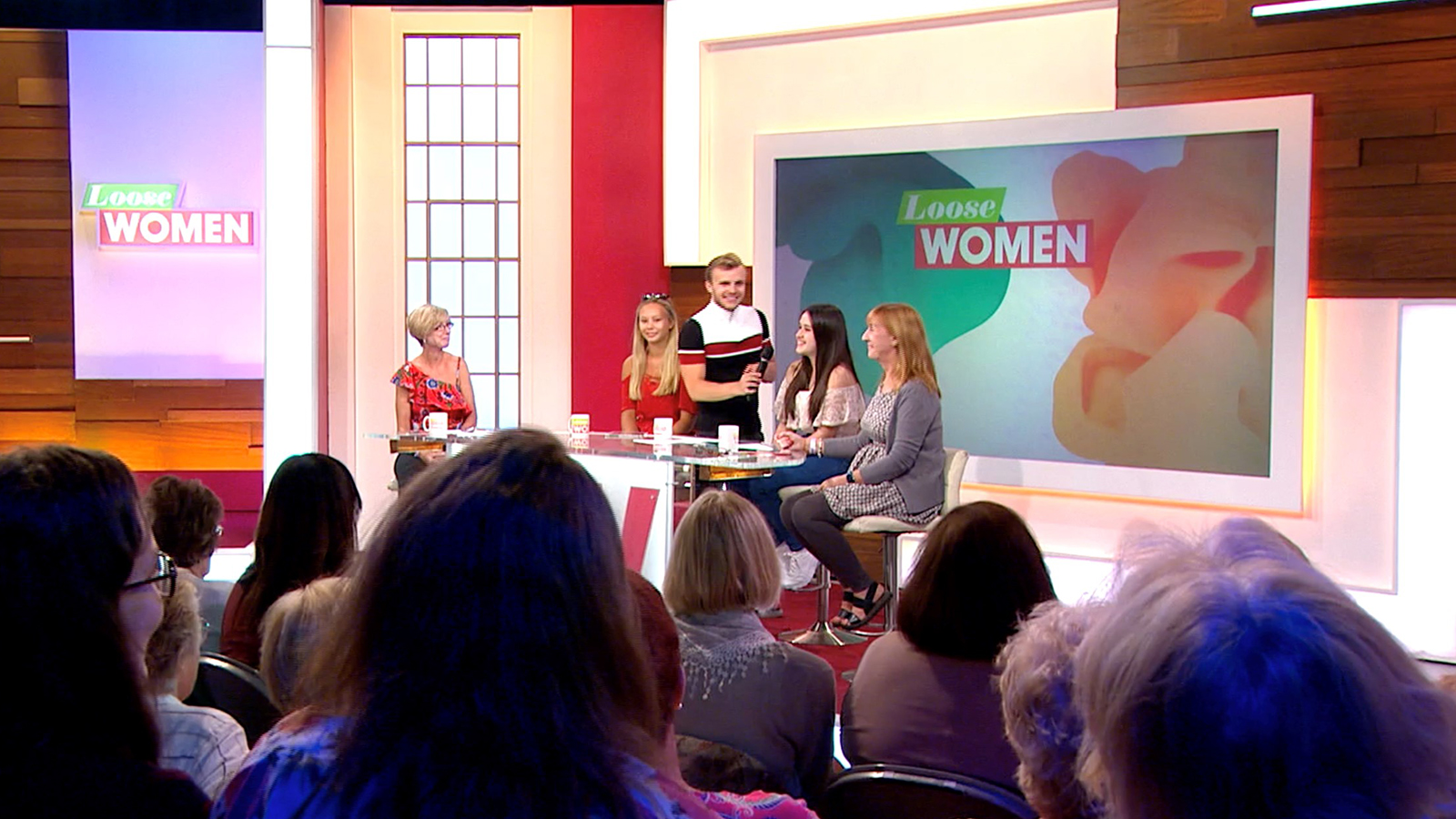 Lee warming up the audience of Loose Women, before a live broadcast.
What's next for you, Lee?
Do you know what, I'm just enjoying where I am right now. I'm off to Ibiza in a couple of weeks to have a little bit of fun, which should be good! I'm also back at this year's Manchester Pride which I can't wait for, as well as working on the release of a web show I'm starring in called Insignificant Other. Among all of that, just generally loving life.
Finally, who is your favourite 'Loose Woman'?
It's really hard to say. I get on with them really well, so I find it really hard to give a definitive answer. I do have a real soft spot for Stacey [Solomon] though, and I think that's down to us being the same age, we've been out for coffee which is really nice. I'd also have to say that professionally, I admire Ruth [Langsford] an awful lot. Also, if I'm ever short of laughter, Coleen [Nolan] always has me in stitches, she is just brilliant. I have to say as well, Linda Robson and Andrea McLean are two of the kindest people in telly, so again I do have a real soft spot for them.
Huge thanks to Lee for taking the time to speak to me, and I'm sure this year's School of Arts and Media graduates will go on to be just as successful!