BA Journalism with Public Relations was introduced to our School of Arts and Media for the first time this September. As a BA Broadcast Journalism student, I wanted to know what life as a student was like on the course and see whether I could learn anything from chatting with our debuting class. From the selection of pioneering PR-crazed students, I met Olivia. We'd previously met after taking part in an interview for BBC 5 Live, and straight away got the impression that she was a talent to watch. Chatting with Olivia, it became clear that her approach to this competitive industry will bare her only success.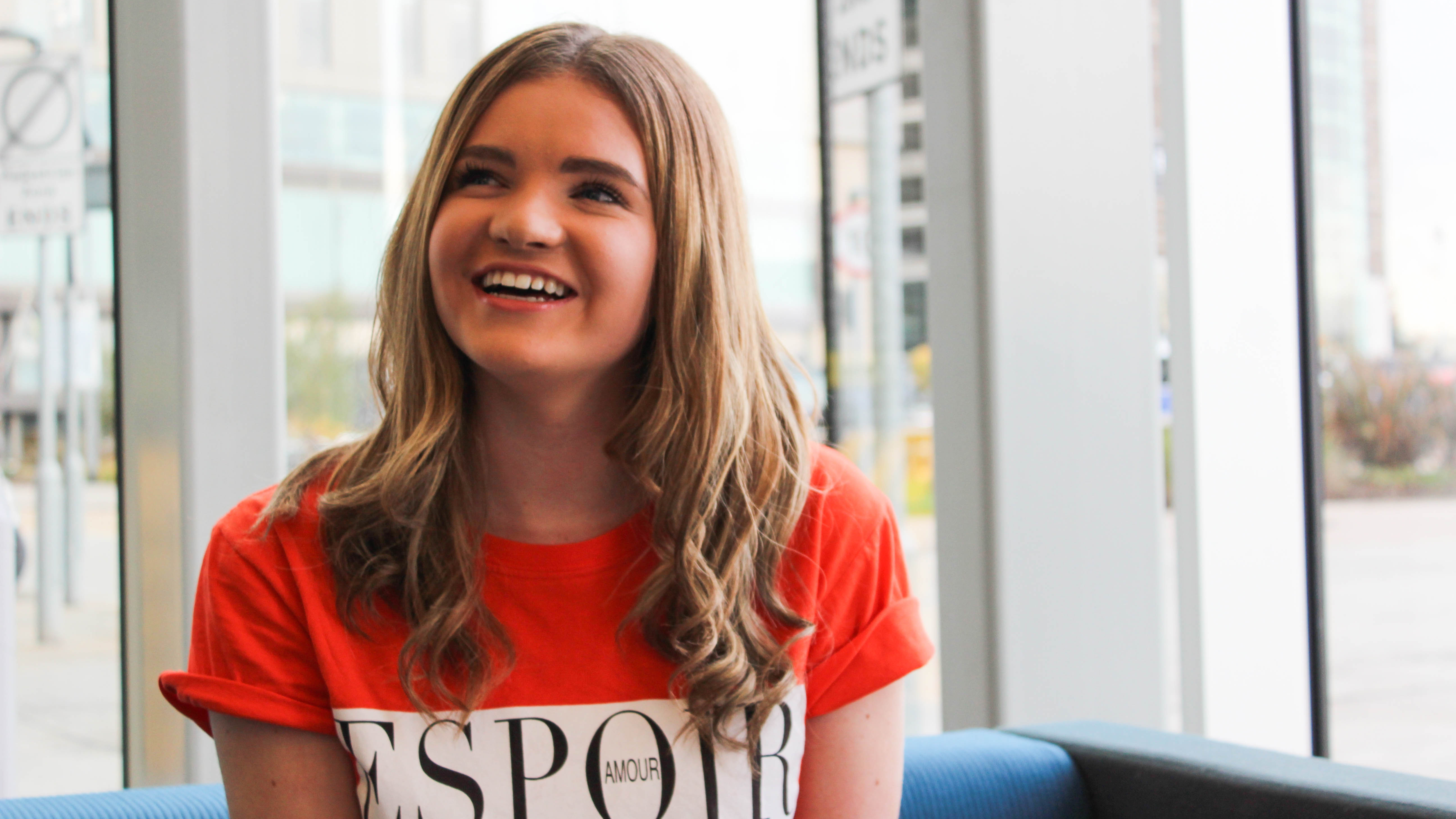 What first attracted you to Journalism with Public Relations?
Without a doubt MediaCityUK. The facilities on our campus here are the best I've seen from any university. I've already gotten involved in so many cool things like being on BBC 5 Live with Martin Lewis which has been phenomenal, and that's all because of the location.
How are you finding the course?
I'm loving it. By now I think people will know whether you've made the right decision, and I know that I definitely have. I love that I get to experience the Journalism side of the course, as well as building skills in Public Relations, as it means that I have a wide scope on where I can take my career. For someone like me, who doesn't know whether they want to be a Journalist or go into PR, I can just go with the flow, and that's exactly what I'm doing.
What is the Journalism/PR ratio with your course modules?
I spend three of my nine hours weekly contact time on my Public Relations modules, and the other six on journalism. As far as modules go, I'm loving all of them. At the moment, I'm still studying Trimester One modules, a key one being Introduction to Journalism, where we have to profile successful journalism. As well as this, I'm currently mid-way through quite a lengthy compare and contrast of two publicity campaigns.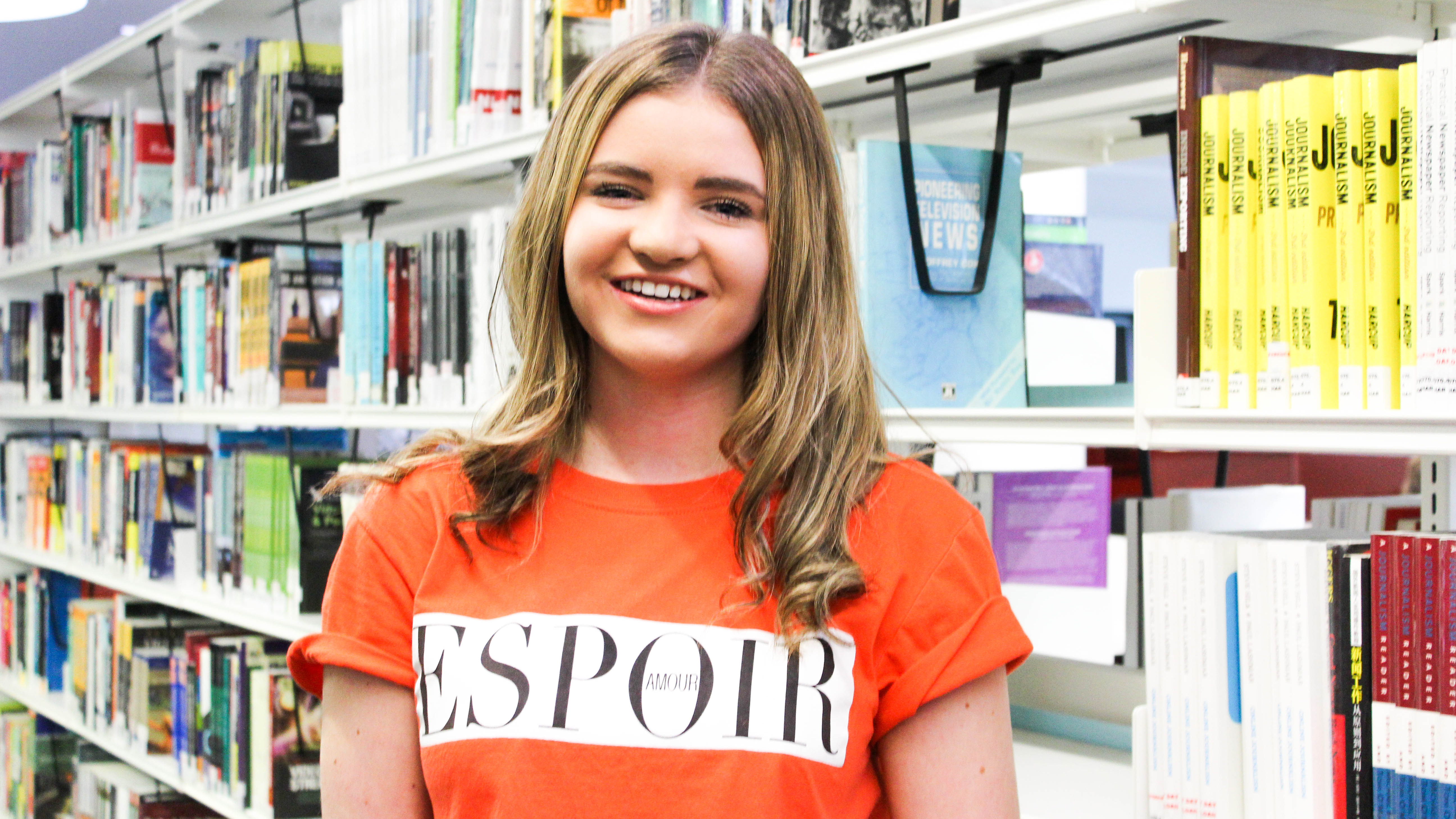 How is student life for you?
It's unreal! I've moved from Nottingham to Peel Park Quarter and its going great. The apartments you live in are so nice, I remember being told at an Applicant Visit Day that they'd been rated third best student accommodation in the country and now I get why. I did think that I was going to get a bit home sick if I'm honest with you, and of course I do miss it as I'm a real home bird, but I've been so busy that I've not had the chance to miss it. I remember getting my red notepad from Salford with the motto 'And So the Adventure Begins' and it's so true, the whole experience has been an adventure.
Could you explain what a day in university for you may be like?
I get the free 50 bus from our Peel Park Campus, which is great because it practically takes me from door-to-door. Once I get to our MediaCityUK Campus, I usually have a lecture first where we're taught any academic information we need to complete the assignments we're working on. My lectures are usually followed by a seminar, where the class will sit with our lecturer and discuss anything we weren't sure on or need to go over a little more. This is great because nobody is expected to take in everything the first time round, plus it's a good time to share your opinions of certain topics. I usually get involved with some extra-curricular activities too, like hosting a Shock Radio show, which takes some planning and acting as one of the course's Student Representative.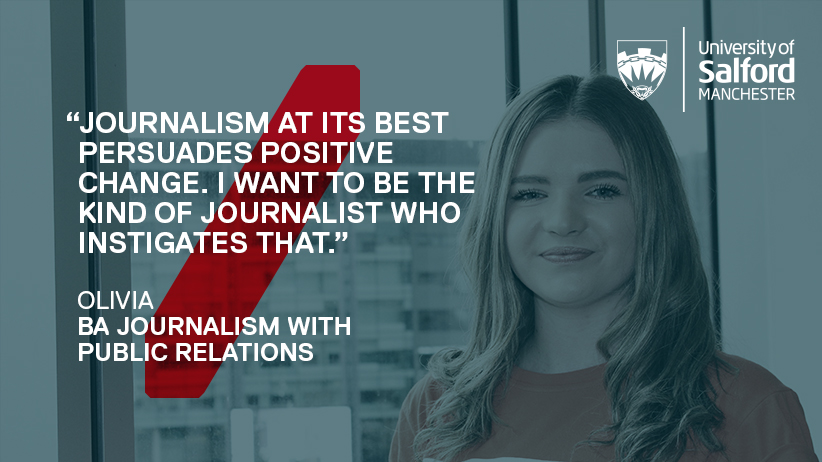 Was it easy to settle into your course?
I have to say, all the lecturers instantaneously built a great rapport with everyone on my course. There isn't one member of staff who I couldn't go and talk to if I had a problem, and I'm exceptionally grateful to be able to say that. With people on my course, it's one of those where everyone's a bit nervous to start with, so in the beginning I didn't really have a lot to talk about with the others, but you learn very quickly that we're all in the same situation, and you all actually have a lot in common. Now, a couple of months into the course, I'm really good friends with everyone, and it's weird to think that we've not know each other for very long.
Do you have any advice for someone who's looking to apply for Journalism with Public Relations?
I'm still relatively new to the course, but from my experiences so far, I'd say throw yourself into anything and everything, because you never know where the opportunity will lead to. I'd also stress that if you don't understand something, just ask, because you'll never be penalised for not knowing straight away. Oh and also have fun!
Is there anyone in the industry to aspire to be like?
I wouldn't say there's someone in particular who I want to be like, but I'd love to be recognised for my achievements as a journalist. Journalism at its best persuades positive change, and I want to be the kind of journalist who instigates that.
Is there a dream job that you're aiming for?
I'm going with the flow at the moment, and that's cool with me. I don't know whether I want to go into this industry as a freelancer, or whether I'll go for a PR job, but I guess that's what is great about this degree, that you're not shoehorned into either. I do like celebrity journalism though, even though I wouldn't want to be a celebrity, I have this fascination with celebrity life.
What's you go-to student meal?
I should say Pot Noodle, but I'd have to say a good stir-fry. I don't mind either rice or noodles, both are good and so quick. To be honest, the first few weeks I was nervous of cooking chicken, but I've conquered this now!