We caught up with Greek student, Anestis Sitmalidis, who's been offered a job at Salford Energy House testing facility just before completing his BSc Computer Science with Cyber Security. The Energy House is the world's first full-sized brick terraced house with two bedrooms, which allows for state-of-the-art testing, to improve the energy efficiency of our homes – cool right? Find out more about Anestis's experience below.
Hi Anestis, we imagine living so far from home must have been exciting but difficult at times, why did you choose the UK to study?
Moving into a different country is indeed a tough decision. However, seeing the infrastructure of UK universities and the quality of the courses on offer made my decision to come here an easy one.
What did you enjoy most about your course?
What I enjoyed the most about my BSc Computer Science with Cyber Security was the broad range of learning opportunities on offer, alongside the standard lectures. For example, I was often able to network with industry professionals, and this is exactly how I met the staff at the Energy House here at the university! I was able to showcase my abilities to them, and eventually this led to a job offer!
What are your responsibilities in your current role?
On a daily basis, I have a plethora of different activities and duties and they change periodically depending on the projects we have to work on.
Some of the tasks could include having to configure sensors, test them, and integrate them in our database system. I am also responsible for creating customised software solutions and managing part of our cloud infrastructure. When working in such an environment, you need to be able to adapt a lot, be ready to work with different systems and clients, and create new software to help the research team.
You secured this role even before graduating, did you feel ready?
Yes, my studies have helped significantly in preparing me for this role. Having to write actual software, develop my own website by figuring out the requirements myself and then implementing the best solution, helped me advance my programming skills throughout the duration of my course. These experiences massively developed my problem-solving skills as well as my ability to work in teams and communicate effectively. These are the skills I'm using every day in my job.
I can confidently say that my course enabled me to gain all the necessary skills to become successful in any field of computer science. I learnt how to manage my time, take on complex tasks and most importantly, I became a lifelong learner by being able to learn independently. I also feel I can now work with any technologies no matter how old or how cutting edge they are.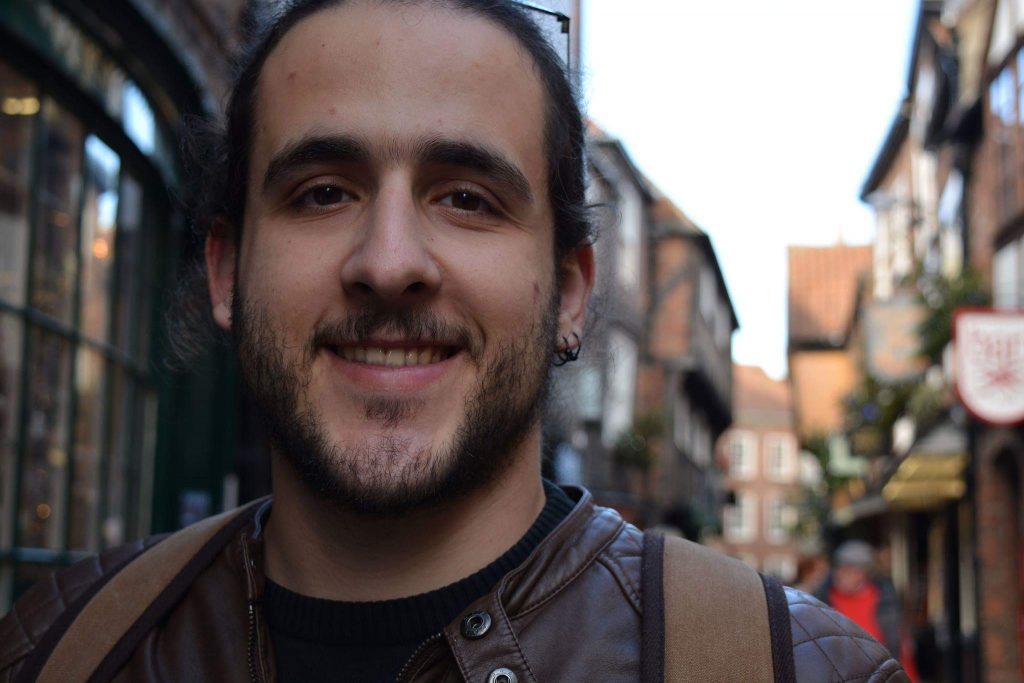 You also won the Hack Manchester competition. What was that experience like for you?
My team and I won the #HackManchester University Challenge competition during my second year (2018-2019). This was a two-day challenge in which various teams were asked to build a software and present their progress and final product to a panel. Our team designed a software that would enable parents to inspect their children's behaviour online, with privacy in mind of course, and spark more open conversations between parents and children with the aim of fighting online bullying and wrong behaviours.
It was a great experience and after that, I was often invited to present at various events organised by the Computing Society here at the University of Salford. This included the Cyber Security event where I delivered a presentation around cybersecurity awareness alongside a Cyber Security tutor and a master's student.
What advice would you give to other international students who are considering studying in the UK and specifically at the University of Salford?
Just do it. It will be one of the best experiences of your life. Meeting new people from so many different backgrounds and having to live away from your home country will help you grow as a person. Also, the University of Salford can give you the tools you need to progress in your field. They have many industry connections that can help you in your future career progression. And finally, the support from my tutors and the passion they have for their respective fields is simply amazing and they can pass it on to you. Make sure you speak to them as often as you need to, use their support, they are there to guide you, and trust me you will soon realise that you are becoming a better learner and growing as a person.
Thanks a lot, Anestis. I'm sure your story will inspire many students out there.
Find out more about our BSc Computer Science with Cyber Security