MSc Drug Design and Discovery student, Ataa, tells us about her role at Salford NanoLAB, the Sci-Art installation as part of the NanoLAB research outreach in the Science and Industry Museum, and her 'Best Performance' award.
Hi Ataa, what was the name of your course and what did you enjoy most?
I studied a Master of Science in Drug Design and Discovery which included eight full-time taught modules over two trimesters and a 60-credit research project module in trimester three. Our classes were a mix of lectures, seminars, and lab practicals that were designed to train us to assess real-life situations and enable us to improve our practical skills. As a student at Salford, I really enjoyed acquiring both research and technical skills.
The opportunity to use the cutting-edge Bodmer Lab and its industry-standard equipment allowed us to put into practice all the theoretical notions acquired during the lectures. I also discovered a hidden passion for nanotechnology in cancer diagnosis and therapy by undertaking a research project in trimester three.
We imagine living so far from home must have been exciting but difficult at times, what made you feel welcome?
The University of Salford is a friendly place and many of the students I met were very outgoing and keen to meet new people. When I arrived, I was greeted and welcomed by the lecturers and the students who were attending the same course. With their help, I was able to get to know the campus very well. We also spent time together exploring new places and attending festivals in the local area. Thanks to them I was able to create my own social network and feel more connected to people and fully immersed in my new life abroad.
How did you find out about the University of Salford and the course you picked?
After graduating in Pharmacy, I felt that my learning journey was not over yet, and I dreamed of pursuing a master's degree in the UK which is classed as one of the best countries for education in the world. I spotted this course at the University of Salford and the information about it looked rather interesting. I felt it was different than what I had seen until then, quite unique actually. I thought it was the right choice for me as it was designed to nurture the next generation of bioscientists wishing to work at the interface between biology and chemistry by applying pharmaceutical and analytical knowledge to improve the quality of life.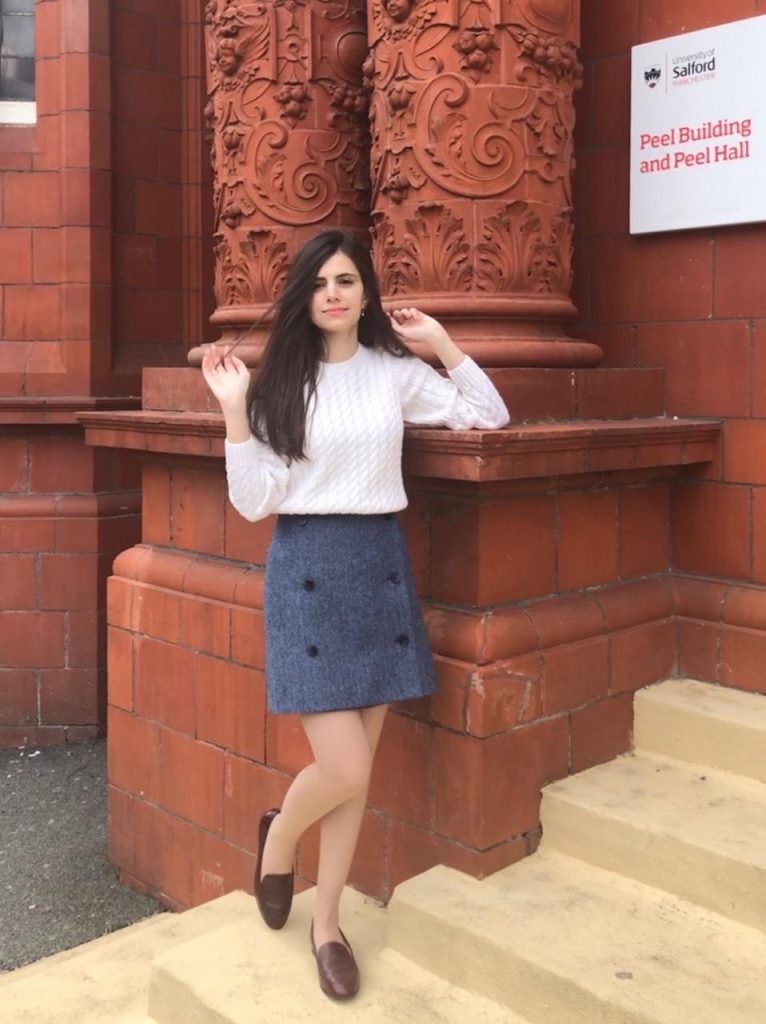 Did you undertake a work placement or industry project as part of your studies at Salford? If so, what skills and experience did you acquire?
Yes, we worked on client-based projects, for example, AstraZeneca and Kidscan as part of the course. I was assigned to a group of seven. This experience helped me develop my ability to interact with real-world professional clients and provided me with the opportunity to consolidate and apply the knowledge developed during classes to a team-based approach to real problems. Specifically, our team learnt negotiation skills and how to meet clients' needs and manage the project in a timely and efficient way. Personally, working on this project helped me gain a better understanding of my strengths and skills I need to work on further in the future.
Can you tell us about your role at Salford NanoLAB and the Sci-Art installation as part of the NanoLAB research outreach in the Science and Industry Museum?
In May 2019, I joined Salford NanoLAB as a research visitor to gain a technical and theoretical insight in this field in order to proceed with my master's research project which was focused on the design of gold nanomedicine for targeted cancer therapy under the supervision of Dr. Zeljka Krpetic. As part of the NanoLAB research outreach, we hosted a series of workshops about green energy in the Science and Industry Museum. I was there with other NanoLAB members to host a special nanotechnology station which looked at light-bending nanoparticles with the aim of making the subject more easily intelligible to a lay audience.
The NanoLAB research outreach provided me with an idea of how science and scientists work, which is quite different from how science is shown in many TV shows, and it also helped me meet and interact with people from different careers and backgrounds, a useful skill when discussing your work with new colleagues or with scientists outside of your field and listening to their questions and concerns.
How did your studies at Salford make you ready to become a specialist in your field?
My master's programme was delivered by an academic team of extraordinary professional and research experience who helped me develop strong skills in drug synthesis and analytical methods, natural product chemistry, molecular target-based drug discovery and molecular modelling, hence it perfectly complemented my Pharmacy bachelor degree and added an extremely valuable qualification to my resume.
In addition, the University of Salford offered a modern learning environment with great lecture theatres and AV-equipped classrooms and laboratories, computing suites and multimedia libraries, with access to industry journals, databases, and simulation software which all made me a very strong candidate for career progression into research, academia and related employment fields of interest.
Have you noticed any differences in the studying environment between the UK and your home country, Iraq?
Perhaps the most notable difference between studying in the UK and my home country is the time it takes to complete a degree. In general, degree programmes in Iraq take about one year longer than those in the UK. Courses are shorter in the UK because they are generally much more focused and specific. Regarding postgraduate programmes in the UK, I think there is a lot more flexibility in terms of the range of subjects to choose from. Moreover, UK universities offer the best resources and facilities with full access to new technologies in order to support the student's learning process.
What advice would you give to other international students who are considering studying in the UK and specifically at the University of Salford?
Be bold, embrace the opportunity to be overseas, take the risk, and see what amazing things come your way. Enjoy this opportunity to experience something different, learn a language, develop a new passion, a hobby, do good.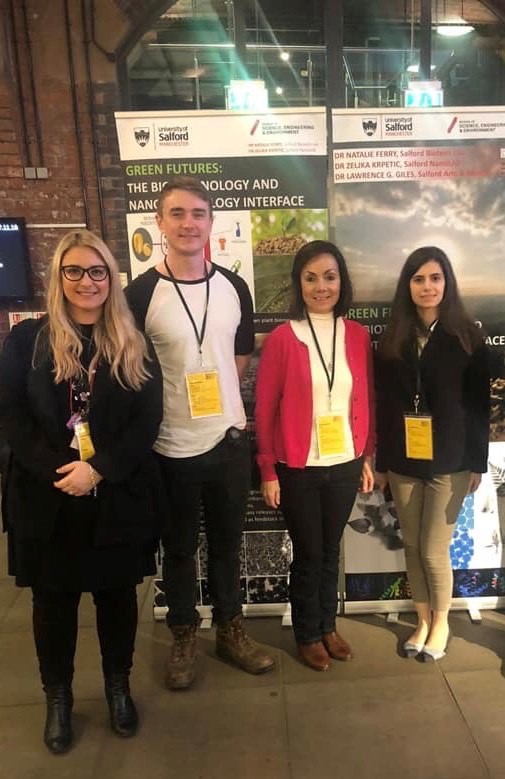 Have you felt supported during your studies? Have you benefited from any specific support services?
Regular meetings with my personal tutor, Dr. Zeljka Krpetic, and other lecturers were more than enough for me to receive a range of information and support that helped me get the most out of my time at Salford. In addition, the Salford askUS Wellbeing and Counselling services were available to help students succeed in their life and studies by giving crucial tips for taking care of ourselves and our peers, especially during the Covid-19 pandemic.
How would you summarise your time at Salford?
Looking back to my journey at Salford, I can't believe how much I've learnt and experienced! My time at Salford brought out my independent nature and provided me with a greater understanding of the world. The biggest highlight of studying at Salford was receiving the prize for Best Performance on a postgraduate Bioscience programme. I am extremely proud and honoured that my dedication has been acknowledged, and now I can proudly say that I have officially fulfilled a dream that always felt above my capabilities.
What are your plans for the future?
Currently, I am keeping my options open for the future while looking into various opportunities to advance my scientific knowledge further in cancer research and drug development to improve the quality of life.
Interested in studying MSc Drug Design and Discovery? Find out more.