Your mental health is important. As you prepare to either join us for the first time or re-join us for another academic year, we want you to remember that. Sometimes, your experience at university isn't always what you might have expected or you might feel a little like you're struggling. We totally understand and we're here for you. We've compiled a list of the best ways to look after your mental health whilst studying with us – including a list of various support services and resources available to you when you need them.
Your support network
Take some time out to socialise
It's important to have a balance in your university life, and that includes making sure you're socialising and seeing close friends when you can. Relax and have a laugh. Get away from the house or uni and spend some time with friends or coursemates. Make plans to go out and stay in with your housemates. Head to an event run by the Students' Union or a society. Spending downtime with those you hold dear is great for your serotonin levels and for your own wellbeing in general. You don't need to spend all your time studying.
Talk to your peers
Besides your close friends and classmates, we all sometimes need a little extra peer support. It can really help to have an objective ear listen as you talk through your problems. Rafiki Peer Support is the Students' Union's peer support listening service led by students, for students. If you're experiencing any problems while you're at university, you can talk to their student volunteers who offer peer support. They can also signpost you to support services on campus or externally which can help. Rafiki is a drop-in service, so you don't need an appointment. Rafiki reopens in September 2021 and is based in University House. If you have any questions about Rafiki, you can email them here.
If you have moved away from home for uni, plan trips home (if that's an option)
If you're really missing home, you shouldn't feel as if you're trapped at university. Make sure that you're returning home at weekends, holidays and whenever you aren't in lectures. Spending quality time with your loved ones is essential to mental wellbeing and will make you feel more rejuvenated when you return to university.
Extra support if you're estranged from your family
Studying without a family or parental support network can be really tough, which can impact significantly on your wellbeing. If you're an estranged student or care leaver that's studying without family support, our askUS Specialist Advisers can help support you. By registering as an estranged student, the team can advise you on collecting evidence for estrangement, act as your third party for student finance if necessary and refer you to additional internal and external support. For more guidance around estrangement during higher education, you can also visit the Student Support Portal at StandAlone.
Be aware of our Wellbeing team and Counselling service
Our Wellbeing and Counselling teams are on hand to offer support or point you in the right direction when you feel you need some support. Don't be afraid to ask for help, they are on hand to help you to get back on track with your wellbeing. You can make an appointment by filling out their online referral form.
There are times when you may have reached a point that feels hopeless or urgent. The Wellbeing & Counselling team have compiled crisis information where you can see all the avenues of support open to you. Find this information on the askUS website.
Sign up to our on-campus GP
There are loads of great ways to make sure you're doing your health favours when you're with us, like making sure you're registered with our on campus GP. It's a good idea to do this in any case, as they're on hand for prescriptions and offer a number of online services in case you're ever feeling under the weather. Once registered with the GP, you can access the full range of health and wellbeing support that is on offer; face to face, telephone, video and online consultations. If you're are away from Salford, the NHS staff will still be able to provide you with healthcare.
Routines and healthy habits
Learn how to manage your money
Coming to university is a big financial commitment and it's important to manage your money carefully. Money can have a huge impact on your mental health. If you have financial problems, there are many organisations that offer free and independent debt advice over the telephone or face to face. They can help you work out the best way to deal with your debts and answer any questions you have. While we aren't licensed to provide debt advice, we can guide you in the right direction. Contact the Money Advice & Funds Service through email or by booking a one-to-one appointment by contacting askUS.
Invest in yourself with some healthy living
Taking care of yourself and maintaining a healthy, balanced lifestyle is a great way to look after yourself both physically and mentally. Eat as many healthy, high-energy foods as you can and drink plenty of water. Eating a balanced diet, along with exercise and a solid six to nine hours of sleep each night will enhance your chances of feeling rested, happy and exuberant. For ideas on where to begin with cooking healthy yet delicious meals, websites like Tesco, BBC Good Food and even student-dedicated recipe sites have lots of recipes for different preferences and budgets, and they all take being a student in mind.
Physical exercise is also a premium method of releasing endorphins and improving your mental health, with even small amounts working wonders for your body and mind. Check out the Sports Centre for some exercise classes, what sport opportunities the Students' Union offer or some of the more physically active societies you can join to keep your body moving.
Keep an eye on your alcohol consumption
We often drink alcohol to change our mood. Drinking may subdue our feelings of anxiety and stress, but the effect is only temporary. Drinking is not a sensible way of managing difficult feelings, and excess drinking and hangovers will make you feel even worse. This isn't to say you can't let your hair down from time-to-time, but make sure that any excess drinking is done in moderation. The thing to remember here is balance: you don't need to be teetotal to take care of your mental health, but alcohol can have more of an effect than you realise.
Set up a study routine
Getting into a study routine is a great way of keeping on top of your mental health. Cramming all of your revision into the final days and weeks is a guaranteed stress-inducer, but by making an early start on your reading list, research or glancing over revision notes, you're putting yourself in prime position for sustained mental wellbeing. Creating a study routine that allows you spread out the stress into smaller, manageable chunks will also put you on track to academic success. Pick up some study skills with the Library.
Learn new skills
This one may seem a little obscure but learning new skill(s) is also a proven way of improving your mental wellbeing. Extensive research shows that learning a new skill will boost your self-confidence, help you to build a sense of purpose and help you connect with others. Balancing studying with all other aspects of academic life is very time-consuming, but there are lots of different ways to incorporate learning new skills into your life – even simple things like cooking a new dish, writing a blog or taking up a new sport. Take a look at LinkedIn Learning to see if you want to try developing a new digital skill. You can access it for free with your uni account (as long as you log in through the page we just linked to).
Go outdoors
This isn't a reminder to go and pop by the local 'Go Outdoors' shop (sorry folks), this is a reminder to go outside and spend some time in our great outdoors! Salford, along with Greater Manchester as a whole, has plenty of green spaces for you to explore. Salford itself is around 60% green space (don't forget the beautiful Peel Park on campus!), so there are plenty of places to relax by grabbing some fresh air. Autumn in Salford isn't exactly notorious for bright blue skies but getting a healthy dose of fresh air surrounded by nature is scientifically proven to enhance your mental wellbeing. If you are able to catch some sun, vitamin D allows our brains to release chemicals that improve our mood, like endorphins and serotonin. Just make sure that if you are catching those sun rays, you've got sunglasses and sunscreen on hand.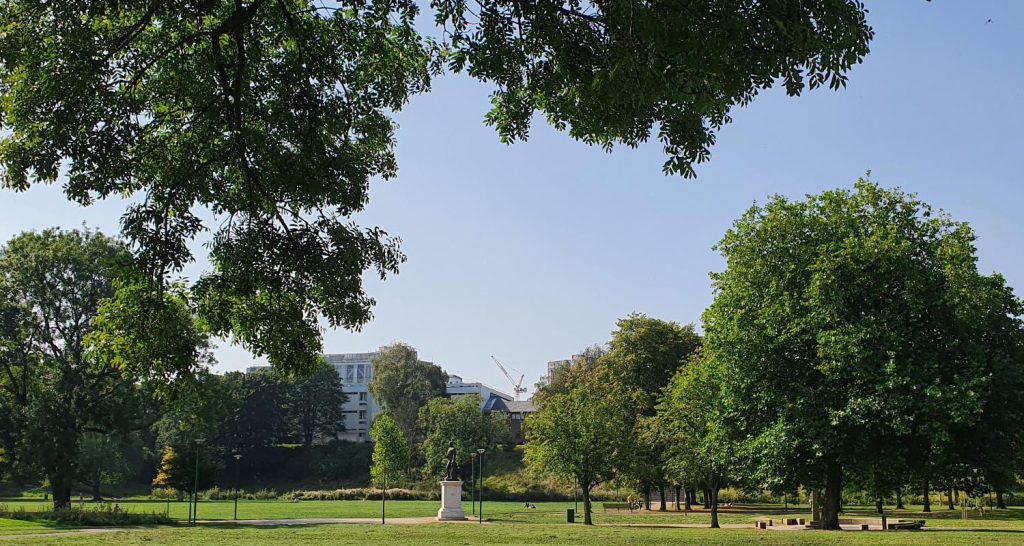 Be in the present
Paying more attention to the present moment can improve your mental wellbeing. This includes your thoughts and feelings, your body and the world around you. This awareness is otherwise known as "mindfulness". Mindfulness can help you enjoy life more and understand yourself better. It can positively change the way you feel about life and how you approach challenges. Being in the present will allow you to address the challenges that matter now, and reduce anxieties about uncertain situations in the future. If the future is unpredictable, it's counter-productive to spend time overly worrying about it.