Travelling around Manchester couldn't be easier thanks to its excellent transport links! From tram services to cycle paths, outstanding rail links to local buses, there are many ways you can get from A to B without breaking the bank!
Below we'll look at several affordable ways you can travel around the city while on a student budget.
Walking
Walking to your required destination is not only a great way to keep fit and healthy, but it's also completely free.
The main campus is only a short walk away from Manchester city centre. It takes approximately 20 minutes to reach Spinningfields on foot from Peel Park, which makes it a great way to get those steps in!
Travelling on foot is also a greener way to get around. It helps reduce carbon emissions produced by other modes of transport such as cars and buses.
Cycling
Cycling is an excellent way to travel to your destination and can also be a fun, active way to explore the city. Introducing cycling into your daily life can help decrease stress levels and improve your health. There are numerous cycle routes across the city that can be used for commuting and a leisurely ride. Check out the TfGM Manchester cycle network map to help plan your journey.
If you plan on cycling to campus, we have over 350 spaces to store your bike. Most of our spaces are contained within secured shelters that can be easily accessed using your student ID card. Check out the full list of our cycle parking facilities.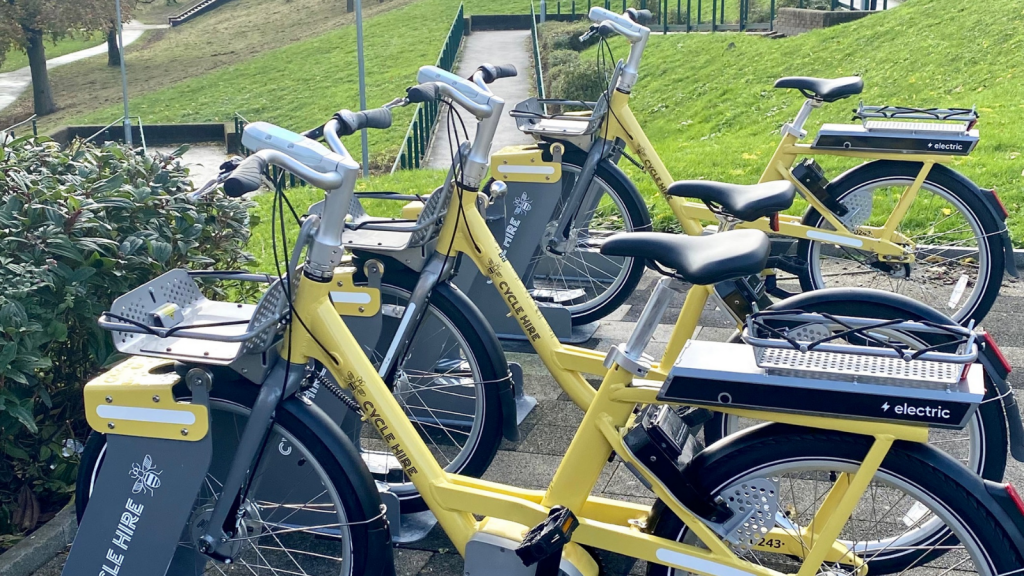 Not got your own bike? Not to worry as you can use Bee Network pedal and e-bikes whenever you like. Pedal bikes cost just 50p to unlock and 5p per minute to ride. E-bikes cost £1 to unlock and 10p per minute to ride.
There are bikes across our Peel Park, Frederick Road and MediaCity campuses, providing you with an affordable, convenient and quick way to travel that will contribute to the broader goals of decarbonisation and tackling Climate change.
Scooters
Alternatively, Lime electric scooters are also available at our Peel Park and Frederick Road campuses. Each ride costs £1 to unlock and is 15p per minute to use. You will need a full or a provisional driving license, which will be validated through the app when you sign up.
Tram
The Greater Manchester Metrolink tram network stretches across the city centre and beyond, with lines from Bury to Altringham and from Rochdale to Manchester Airport.
There is also a tram stop located directly opposite the entrance to our MediaCity campus, which makes it extremely convenient to travel there by tram. The stop has direct services from and to Eccles and Manchester city centre.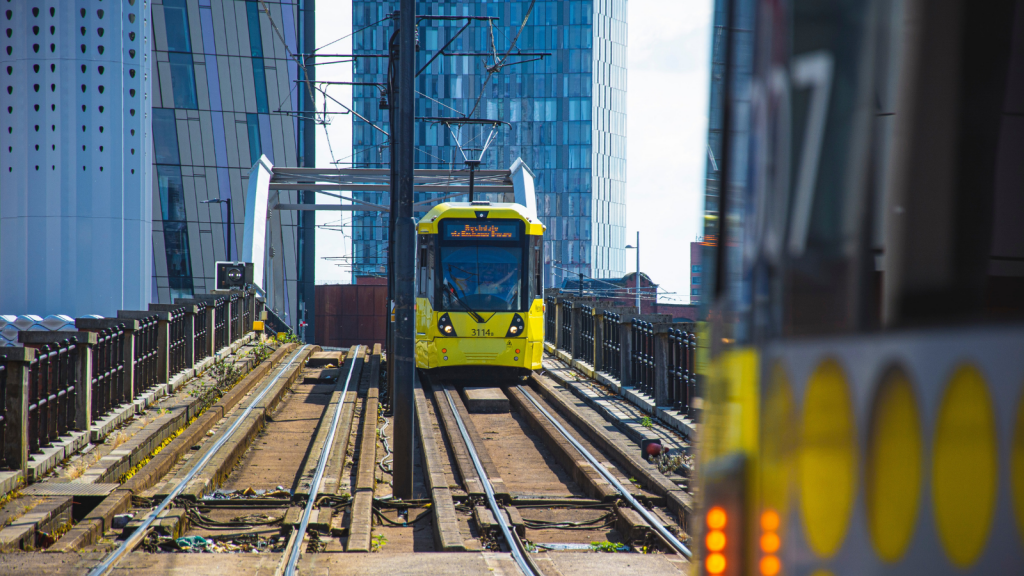 If you're travelling to MediaCity, it is located in zone 2 of the Metrolink travel zones and with a one-day travel ticket starting from £4.30. The tram is an excellent choice for affordable travel across the city.
For help with planning your journey, live updates and information on tickets and pricing, visit the Transport for Greater Manchester website.
Train
There are four main train stations in the city centre – Manchester Piccadilly, Manchester Victoria, Manchester Oxford Road and Manchester Deansgate. Each station can take you to towns and cities across the country.
Conveniently we also have our own on-campus station, Salford Crescent, located between Peel Park and Frederick Road. Trains from Salford to Manchester central stations are frequent, with journey times taking less than 10 minutes.
The best way to check train times and purchase tickets is by downloading the Trainline or Northern Rail app. Ticket prices are cheaper if you book in advance. So, if you can, purchase your ticket sooner rather than later.
Another way to save money on trains is buying a Railcard. If you're aged between 16-25 or 26-30, you can purchase a Railcard to receive 1/3 off standard ticket prices. The card costs £30 for one year or £70 for three years. You can use it for travel across Great Britain, helping you save money on those weekend trips and everyday commuting.
Bus
The Greater Manchester bus routes can take you around the city and beyond. Several bus companies are operating throughout the city, all with reasonably priced tickets.
The University has its fair share of high frequent bus routes for you to hop on and off, predominantly stopping along the Crescent and outside our MediaCity campus over at Salford Quays.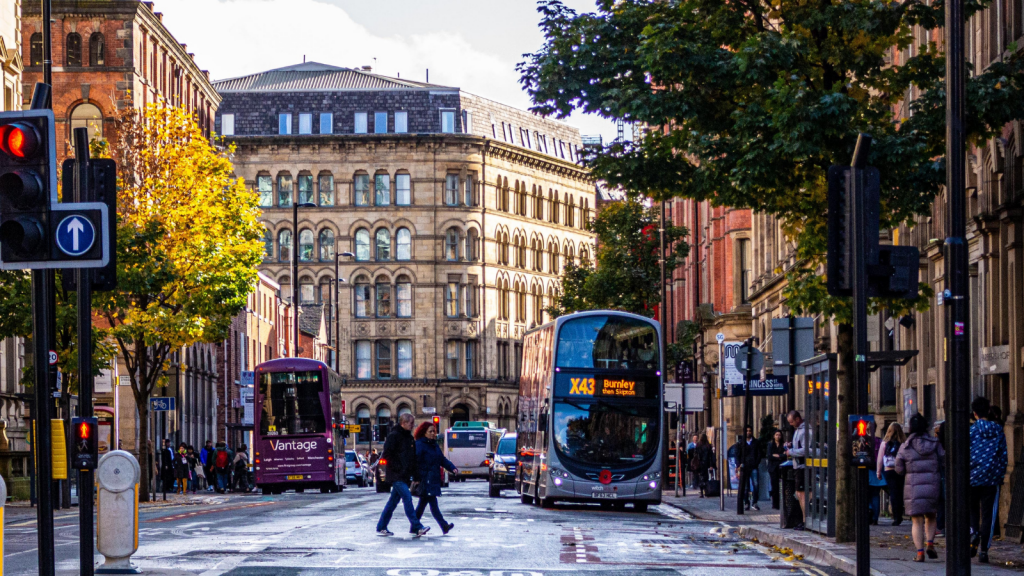 The Stagecoach 50 bus service (also known as the 50 bus), links you from Manchester and Salford to MediaCity. You can travel for free between Adelphi Street/Oldfield Road and MediaCity on this bus – just show your student ID card to the driver.
You can check out TfGM's journey planning site to find more information on bus stops, timetables and ticket prices.