New year, new Trimester, new blog! Before we entered 2023, we asked you over on Instagram what your New Year's resolutions were and we had some great (and some interesting!) responses. If you've not decided on your goals for this year or are struggling with the one's you've set, we've put together some of our favourite resolutions from our followers, along with some top tips to help you make the most of 2023. Keep reading!
"Make new friends"
Putting yourself out there and meeting new people can be daunting, especially if you aren't the most extroverted person, but making friends will get easier the more you try. The Umii app is a great way to meet new people at uni, it connects you with fellow students who have similar interests or who are on similar courses. 60% of students said it helped them to make friends, so why not give it a try, whether you've just moved to uni or are looking to expand your social circle?
"Be more social"
The Winter chill makes it tempting to stay at home under the blankets, but if your resolution is to be more social this year, it's time to put the bed socks away.
There are lots of opportunities to be more social at university, especially as there are hundreds of events taking place at Salford throughout the year! Whether you're looking to see a show at the New Adelphi theatre, come along to one of Atmosphere's many social events or take part in a taster session with a society and take up a new hobby or sport, there's lots for you to get involved in. You can also head to the Student Hub to find upcoming social events at Salford.
"Get a job"
This was a popular resolution among our followers and it's an understandable one as you may need to earn some extra money to support yourself financially while you study, especially due to the rising cost of living.
We have teams at Salford that can help you find a part-time job, apply for placements alongside your studies or plan your future career while you're at university and well after you graduate too. Unitemps can help you find flexible temporary work or permanent contracts and provide you with the opportunity to earn while you learn in roles at the University and surrounding businesses. Our Careers & Enterprise service are a team of professional advisers who can help you to develop your employability skills and look at your future career options through 1-1 appointments or their drop-in service.
"Get organised"
Studying at university means not only do you have to remain organised in your personal life, but also in your academic life too. You may find it difficult at times to balance out both at the same time, especially as deadlines approach, but adding small changes to your routine can make a big impact as you head into the new Trimester.
Establishing a realistic routine and weekly schedule that you can stick to can help you manage your time, while coming up with exciting meal ideas and creating a meal plan will help you get organised in the kitchen. If you're looking to organise your finances in 2023, try our online Budget Management Tool. It can help you understand your spending habits, areas where you could make savings, and will give you personalised tips to help you feel more on top of your finances.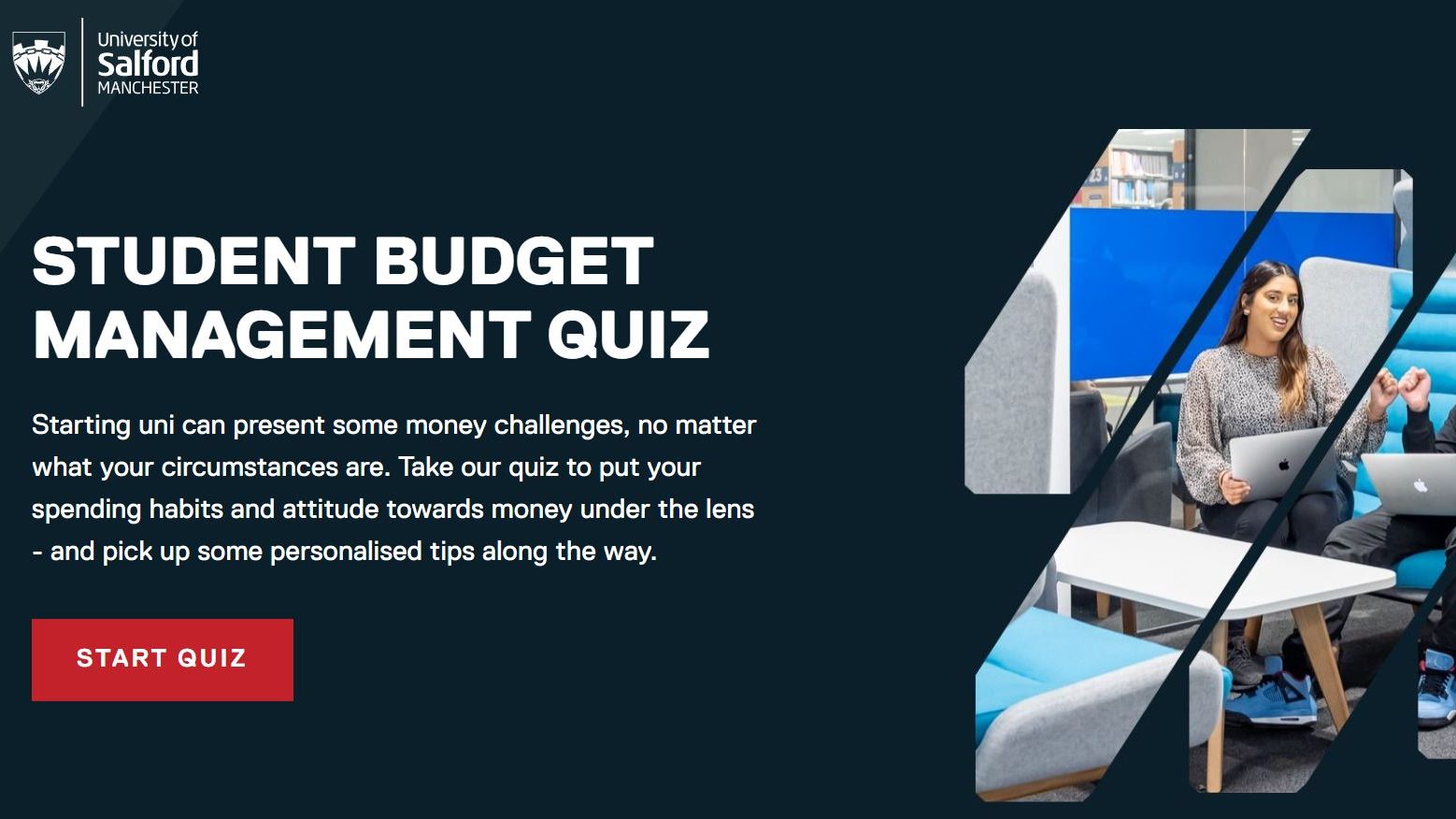 "Learn to ski"
This one might not be at the top of everyone's list for 2023, but it is for one of our followers! If you're looking to head for the slopes this year and don't know where to start, our Salford Snow society are the right people to help you. They run taster lessons for beginners, sessions for experienced pros and social events throughout the year. You can contact them via direct message on Instagram (@salfordsnow) to learn more.
If skiing isn't for you then don't fret, it isn't all downhill from here (pun intended!). Taking up a new hobby or learning a skill is a great goal for the year, and our Students' Union has over 50 student-led societies and sporting teams for you to choose from to help you get started. There's something for everyone, whether you're a keen crafter, budding musician or a sports fan.
We hope our followers have helped you find some inspiration and helped you to make a start on your new year's resolutions. As you head into the new Trimester, don't feel the need to set yourself an unrealistic resolution that feels overwhelming to accomplish – it could be something small like making your bed each morning. Alternatively, you don't have to set one at all! It is completely up to you. Whatever your goals for this year, we wish you all the best for 2023 – this is your year!