Durga from India came to study MA Public Relations and Digital Communications as part of the September 2022 intake. Using the skills gained in the course, Durga has ambitions to create his own NGO in India to help young people to achieve their career aspirations. We caught up with Durga to find out more about his experiences here in Salford so far.
HI DURGA! WHAT ATTRACTED YOU TO STUDY AT MA PUBLIC RELATIONS AND DIGITAL COMMUNICATIONS AT SALFORD?
I have always had ambitions to study in the UK and after a lot of research, I decided that the University of Salford would be the right choice for me. One of the things that attracted me to the course was the combination of PR with digital communications and I have not been disappointed! Even before the course started, I was learning new skills – as an introduction, I had to create a video presentation explaining why I wanted to complete this course.
My favourite module so far has been content creation, where we have learnt the power of storytelling in PR and digital communications. Learning how to use this tool has given me the confidence to step out of my comfort zone and connect with a new network of people across social media.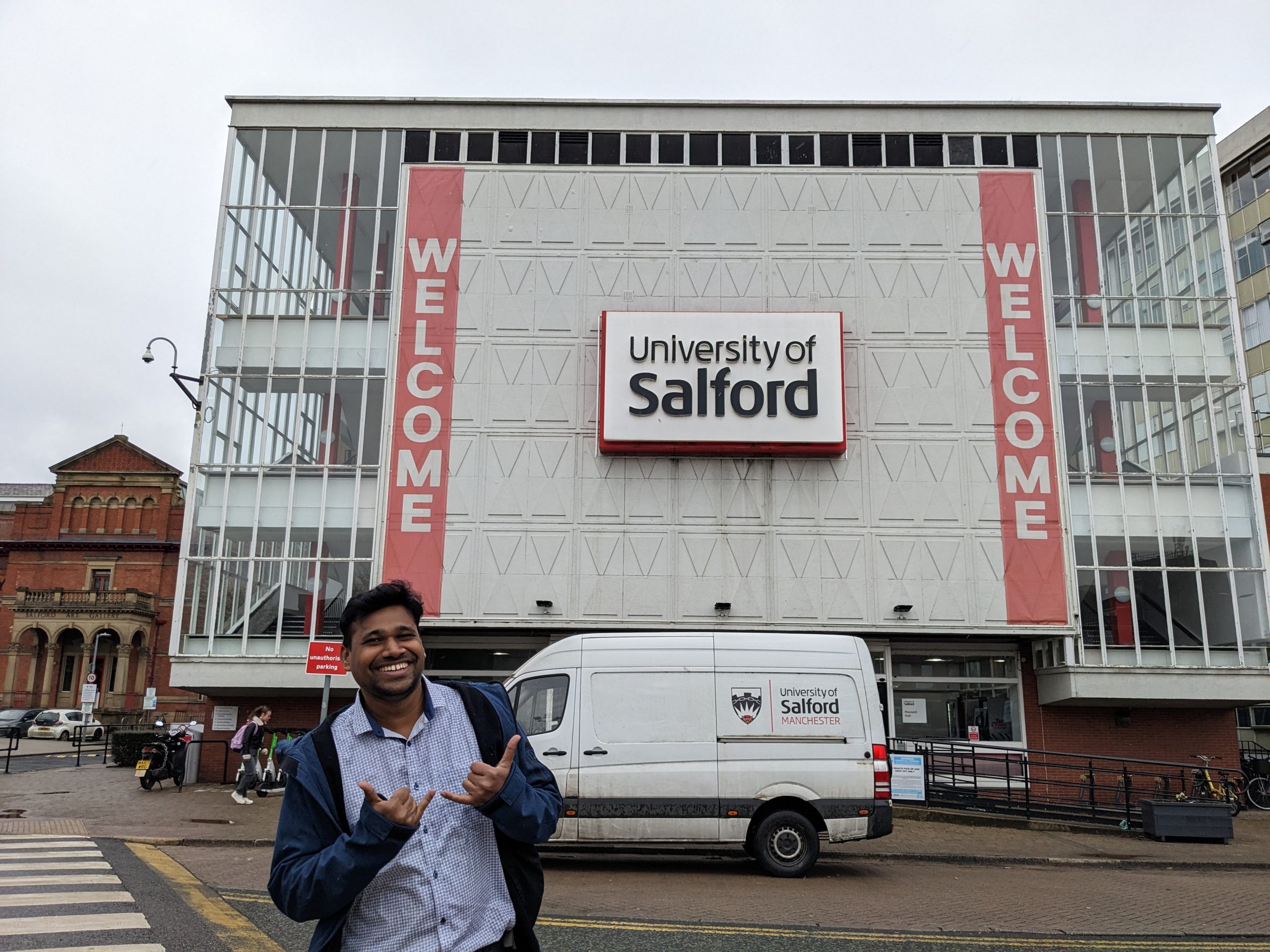 WHAT INDUSTRY EXPERIENCE HAVE YOU GAINED SO FAR?
The opportunity to learn from industry experts was another reason I was attracted to this course. The Programme Leader is Debbie Manley, an award-winning journalist who has worked for national publications including The Daily Mirror and Mail Online. Throughout the course, the lecturers are available and happy to answer any questions or help with problems, over email or on a video call. The professors have lots of industry connections and help to connect you with employers offering placements in the sector.
By the end of the first trimester, I was offered an internship working within the International Marketing Department at the University of Salford. The internship allowed me to put everything I had learnt in class into practice and gave me the opportunity to experience new challengeS. During the internship, I was taught how to write engaging blog posts and video scripts that would be used to help other international students considering studying at the University of Salford. I also got the opportunity to support during the filming for an upcoming video and source media contacts for news stories in India. This experience gave me an understanding of exactly what it is like working within the industry.
WHAT DO YOU THINK OF THE UNIVERSITY CAMPUS AND FACILITIES?
A really exciting part of this course is that it is taught at the university's MediaCity campus. Next to this campus is the BBC, ITV and lots of other radio and TV production and digital companies. Studying here allows students to be surrounded by companies within the field. The MediaCity campus is fully equipped with the latest technologies which all students on the course can use. Most of the work we do is very interactive and often completed in teams to give us an understanding of what it would be really like working in the sector.
As part of the course, our whole class was lucky enough to visit the BBC and have a tour of their facilities. It was a great opportunity to see how the BBC operates and what it is like to work within broadcasting. During many of our lectures, a guest speaker from the BBC or other companies around MediaCity comes to share their knowledge with us. This gives us the chance to learn from someone currently working within the sector and build a network of connections.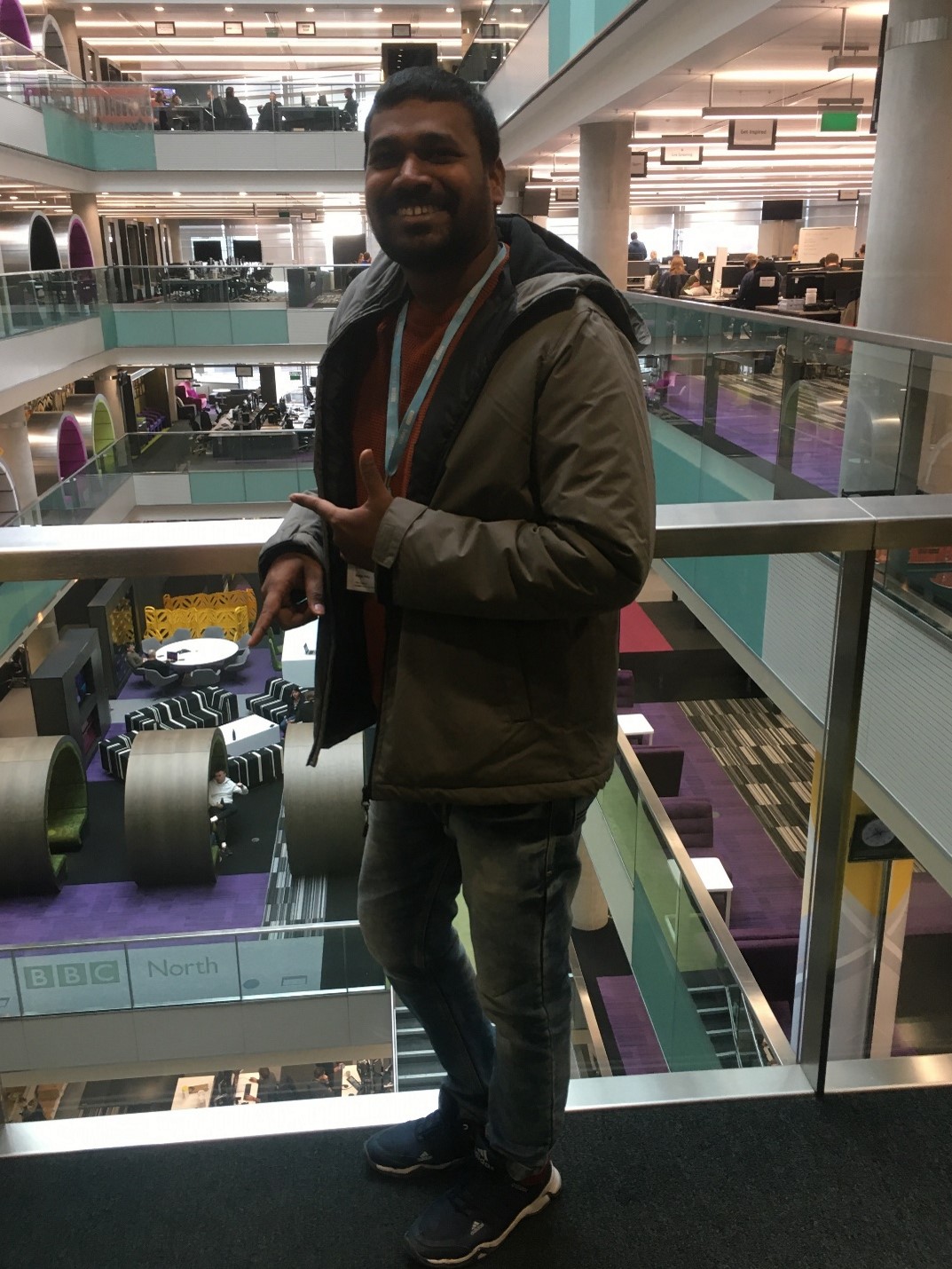 DO YOU ENJOY LIFE AS A STUDENT AT SALFORD?
The University of Salford is packed full of a diverse community of students from all over the world and as an international student arriving on campus, I instantly felt at home. Within a few hours, I made friends with people from all over the world, from Nigeria and Kenya to Pakistan and Bangladesh. The diversity of campus creates a friendly and welcoming atmosphere for all international students who leave their home country to study here.
One of the main concerns I had when leaving India was missing the food however any concerns I had quickly faded away! There are so many different tasty and healthy food options on campus from sandwiches to pasta and burgers. My favourite is the Subway outlet in the Maxwell Building for its fresh ingredients and tasty sandwiches. Having a range of options on campus saves so much time, which is particularly useful during exam season. Manchester and Salford also have amazing options for food, with dishes and ingredients from all around the world. My advice for any international students concerned about the food is not to worry, you will be spoilt for choice.
WHAT ARE YOUR FUTURE AMBITIONS?
I have always dreamt about setting up an NGO in India to help young people reach their career goals and ambitions. The skills I have learnt during my MA will be invaluable in helping me achieve this. This course has given me the confidence to speak in public without fear and the skills to engage with different groups. When I return home after graduation, I will have the experience needed to make the changes I want to see in my community.
Thanks for sharing your experiences with us, Durga, we hope you do well in your remaining projects! Discover how our MA Public Relations and Digital Communications is the next step in your journey.