Salford Business School's success with digital enterprise continued this week with winning the Little Chip Student Award 2014. It is one of the two Salford Business School's projects short-listed for the Big Chip 2014 Awards.
The Big Chips are far and away the biggest digital awards outside of London and the longest running in the UK in their 16th year. They are organised by trade association, Manchester Digital for all things digital – from mobile apps to social media, from animation to websites to digital brand.
Salford Business School's Centre for Digital Business submitted two projects, one a student Live Project and one a European research project. The two projects provide advice for Small and Medium Sized Enterprises (SMEs) and students about the use of social media for international business development.
Big Chip Awards 2014 winners: Little Chip Student Award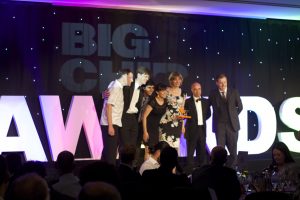 Image by Paul Delooze Pressed Media: Big Chip Little Chip Award 2014. More images can be seen on the Salford Business School facebook page.
The Little Chip Student Award winning project was developed by MSc Marketing students who created a MOOC (Massive Open Online Course) called Search and Social Media Marketing for International Business.
This free online course allows anyone interested in social media, to get advice and learn from academics and digital agencies.
The course was created and promoted by four MSc Marketing students; Rebecca Lee, Vanessa Van Huynh, Maria Camila Villa and Luis Santos as their Business Innovation Project to complete their Masters studies.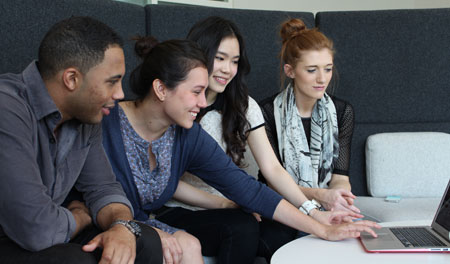 Pictured left to right: Luis Santos (from Portugal), Maria Camila Villa Jurado (from Colombia),Vanessa Van Huynh (from Vietnam) and Rebecca Lee (from the UK).
The purpose of live projects is to give students a real tangible situation and problem to work through.  This provides an excellent opportunity to enhance their CVs and ultimately, their employability.
The team excelled on the project by creating an innovative digital course using video, text, animation and designing the structure of the course itself.
Maria, the team leader for the MOOC project, said:
"As a team, we were lucky enough to work for the pilot MOOC live project.

The creation of the Search and Social Media Marketing for International Business MOOC was a challenge that was worth it and helped us to grow professionally."
The academic staff supervisor on the MOOC project and the Passport to Trade 2.0 project leader, Dr Aleksej Heinze said:
"We are really thrilled that the hard work of the students paid off. They had to organise 16 UK based professionals to speak about digital marketing as well as promotion of the project with an international team of five universities and three SMEs.

What they have created is an exceptional, free digital course of benefit to people globally – it is receiving an incredible amount of traffic to the website. I am very proud of their achievement".
This industry recognition shows the high quality of work by University of Salford students who were already recognised by the Salford Advantage team as the Placement Team of the Year 2014.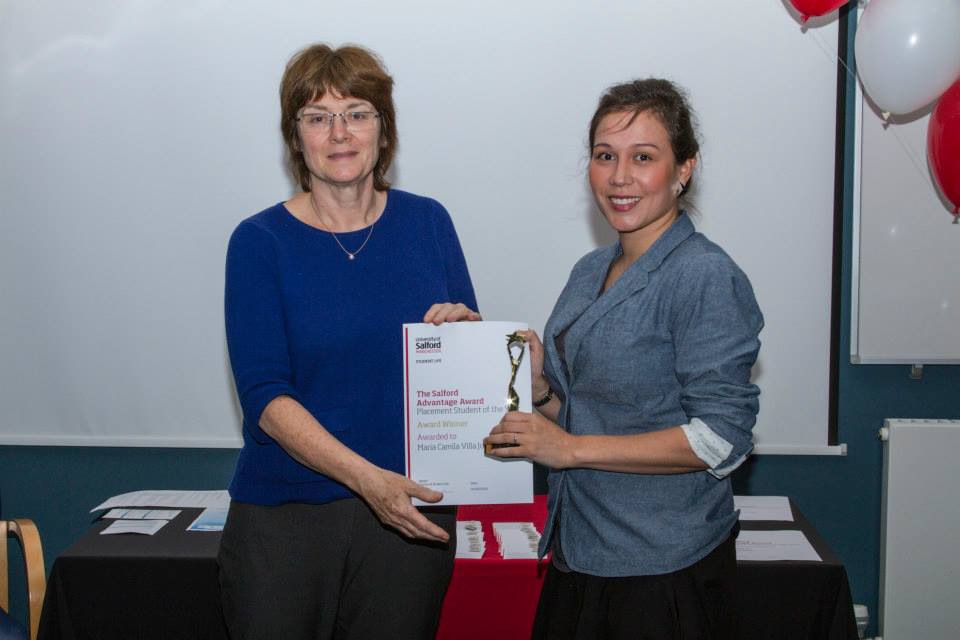 Image: Salford Advantage Awards 2014
A short video from the MOOC project launch event in September 2013
Video: MOOC launch event in September 2013, University of Salford, Salford Business School
Big Chip Awards 2014 short-list: Best Public Sector Project
The second project short listed by the Big Chips 2014 was the European project, Passport to Trade 2.0. This project developed a website which advises SMEs on international business culture in 31 European countries. This project recently won a prestigious European Search Award at a glittering ceremony in Reykjavik and is now being recognised in the Big Chip Awards shortlist category for Best Public Sector Project. Salford Business School led the Passport to Trade 2.0 project working with partners and organisations across Europe.
The project was supported by the European Commission and developed free online training materials to help European SMEs to expand their business abroad and to advise students seeking work and placements abroad.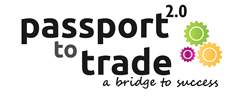 Alex Fenton led the technical development for the project and said:
"We're really thrilled to be short-listed for such a prestigious digital industry award. The team worked incredibly hard to produce excellent and valuable content that is now being viewed by well over 2000 people per day."
Elena Vasilieva, project manager for the Passport to Trade 2.0 project said:
"There were over 300 entries for the 2014 Big Chips and being short-listed for two awards is a fantastic achievement. Winning one of them is just the icing on the cake"
Thank You to all our collaborators and partners!
The projects are great examples of Salford Business School working with external partners.  The success of the projects would not be possible without such support. The 17 individuals who have helped the MOOC project are:
and the thirteen international partners who were part of the Passport to Trade 2.0 project:
URENIO research unit at Aristotle University of Thessaloniki (Greece)
TSE Entre, a research centre of Turku School of Economics, University of Turku (Finland)
Institute for Information Systems Research at University of Koblenz-Landau (Germany)
Petra Schubert
Verena Hausmann
Susan P. Williams
Valahia University of Targoviste (Romania)
and 3 SME international business support organisations representatives:
SPIN – (Italy)
Carmine Antonio Donato
Dorella De Tommaso
Technology Development and Innovation – TDI Ltd (Bulgaria)
Poradenství/Consultancy Tis Praha – (Czech Republic)
as well as the 48 strong international advisory board including students, SMEs and universities across Europe.
Why did Salford Business School win the Little Chip Student Award?

The judges said:
"Dedication and planning were the keys to this entry's success. The judges were impressed with the thinking behind the project, and the way the team allocated resources. They also gave a big thumbs-up to the original video content."
What do you think about the entry? Please do share your thoughts below.

Passport to Trade 2.0 – This project has been funded with support from the European Commission. This publication [communication] reflects the views only of the author, and the Commission cannot be held responsible for any use which may be made of the information contained therein.
1 Comment
---