In Malawi the field of digital marketing remains relatively underdeveloped and neglected. For me, someone who is passionate about digital marketing, this is a challenge to develop my career in this area.
The universities and educational opportunities in Malawi are likewise unable to help me to fulfil my career ambitions. In contrast to Malawi, the United Kingdom (UK) based businesses place a great emphasis on digital marketing. The marketing techniques are accordingly advanced and well-established and are taught well in business schools.
I am confident that having exhausted many of the training opportunities available in my country, the resources available at Salford Business School's MSc Marketing program are ideal for taking my career to the next level as a digital marketer.
Why did I choose Salford Business School to develop my digital marketing skills?
Digital Marketing at Salford Business School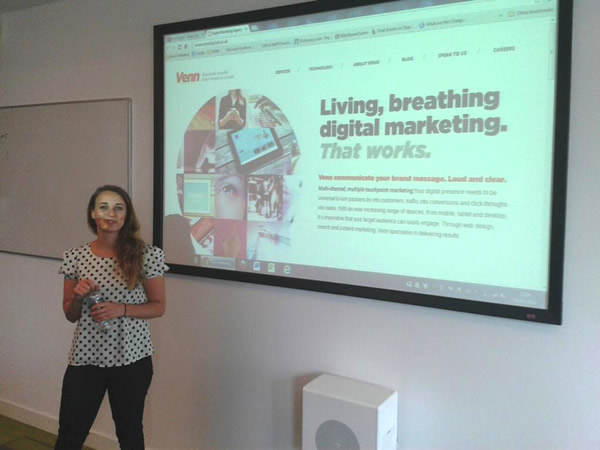 Image: Nicola Wheldrake, guest speaker on the MSc Marketing programme 15th July 2014
At Salford Business School I am being taught by highly respected academics who are experts in their field – examples of this expertise include external recognition at European Search Award 2014, Big Chip Award 2014 and the Digital Entrepreneur Awards 2014.
The MSc Marketing course has a wide range of digital marketing industry speakers who share their experience and offer advice.
The academic team teaching Search and Social Media Marketing are also closely involved in international research projects, projects developing Digital Marketing education at international level in close collaboration with the industry.
I also have an array of facilities at my disposal and access to the library which includes more than 600,000 books, 35000 e-journals and 400,000 e-books.
During my time at Salford Business School, I have gained independence and have all the support I need from the university's student union, which has 80 activities and sport groups, that help me develop my skills and confidence outside studying.
I have also learned how to use some of digital marketing tools such as:

creating videos
editing videos
audio recording
using social media to brand myself
search engine optimisation
How Salford business school helps me
Salford Business School has helped me choose a field of study which I am passionate about – Digital Marketing. This happened through a partnership of academic supervisors (lectures) and guest speakers from the digital marketing industry. I have been given the opportunity to acquire the skills, knowledge and innovative ideas that will enable me to move successfully in to the competitive professional world of digital marketing. I am confident that this knowledge will help me to positively differentiate myself from others.
My #SalfordAmbition

I have several concrete goals for my MSc experience at Salford Business School: I hope to learn the latest digital marketing techniques and theories, while also expanding my horizons and developing a broader, more international outlook. I am always excited to interact with students of different nationalities and diverse backgrounds, which will provide me with a deeper understanding of different cultures and mindsets.
From Salford I have learnt to:
Engage with complex, challenging, problems and real-world issues
Share knowledge and experience with fellow students and staff
Understand and communicate effectively with individuals from differing backgrounds and perspectives
To manage my individual and collaborative learning processes well
I have learnt the importance and how to use Search Engine Optimization (SEO) and Social Media Optimisation (SMO)
Learn how to optimize images and videos
Understand how to conduct keyword research and analysis
Conduct competitor analysis
Distinguish between different forms of social media marketing activity.
Develop creative innovative ideas
I have had an amazing experience at Salford Business School. I have developed friendships which are still growing stronger, am being developed and provided with the skills needed to progress in my career.
The school has also helped me push forward past my boundaries of knowledge which is making a big impact in my life.
Salford business school MediaCityUK campus
Salford business school is located in the heart of Manchester 15 minutes away from Manchester city centre. The University of Salford has one of their campus at MediaCityUK, next to BBC and ITV departments, based at Salford Quays.
There is always something to do at MediaCityUK, here is a sample of exciting events taking place. This is just for the one month in July 2014! MediaCityEvents July 2014
Would you like to study MSc in Marketing?
Look for more information on MSc Marketing and other business management courses. Share your thoughts in the comments section below and get in touch via LinkedIn.
18 Comments
---