I have been privileged to be a part of MSc Marketing at the University of Salford Business School and I am passionate about social media. Being an international student from Nigeria I feel that it is the right place to develop my passion into a career.
Social media is gradually emerging in Nigeria, although the adoption rate is not yet at the same level as it is in the UK.
Social media marketing is bringing about a drastic change in the way that organisations engage with their stakeholders. Salford Business School introduced me to the latest thinking in the use of social media.
Why do I think it was the right move?
My experience at Salford Business School
I have many reasons for undertaking my postgraduate study abroad at Salford Business School. For example, the high reputation of the University of Salford, the wealth of opportunities offered by Business School to learn so many new skills, and also studying with people from around the world.
Salford Business School has also helped me to rediscover a better version of myself by being more independent and having to develop my critical independent thinking. Here are some of my impressions of the two modules which are part of my degree:
International business module
I have taken part in the international business module which has positively affected my knowledge and awareness of various business cultures. It helped me with understanding of different ways to go about internationalisation in different markets and introduced me to the idea of owning my own business.
The group project on this module helped me to be a good team player,  I was able to work with a diverse group of people which has invariably increased my international marketing communications skills.
Search and social media marketing module
I am currently an employee in a social media department in Nigeria. During this time I have been trying to put a strategy in place to implement digital marketing communications but it has not very successful so far. Whilst undertaking the search and social media marketing module I had the opportunity to learn from highly skilled tutors. Additionally, Salford Business School makes provision for external guest speakers to speak to us about social media. Now understanding the theory and the tools that are needed I am much better placed to help my company and myself to maximise the use of search and social media techniques in business.
It has definitely improved my ways in managing my business as social media is very important for business awareness even in Nigeria. Search and social media marketing module is one of my greatest experiences so far.
Student Life
There is a long list of reasons as to why international students should not have second thoughts when considering studying abroad at Salford Business School. The employability hub at Salford Business School has an additional educational and cultural experience programme. This gives me opportunity to get practical experience in a number of areas that are not covered as part of the main course.
Furthermore, the student life team have helped me to enhanced my CV, and constantly offer opportunities to meet potential employers. The structure of information provided by the student channel and a personal tutor who gives you one to one support has all been part of my great experience to support me during my course.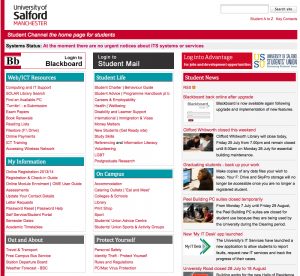 Image: Screenshot of the student channel web page
The institution that I studied at in Nigeria is different from the University of Salford. One of the key difference I found is that in Salford assignments tend to be more coursework and group work focused compared to the exams culture in Nigeria. For me exams are not as good as practical and coursework focused work. I find it easier to learn when I can apply my knowledge in practice and group in teams where I can learn from peers.
I have had the pleasure to learnt a lot about the different cultures and nations, because I had the chance to meet people from all around the world. Now I have friends from: Thailand, India, Italy, Venezuela, Germany, Korea, and Pakistan. The people I met here have become really good friends of mine and I hope I am going to stay in touch with them beyond my study time here. The international dimension has added a great deal to my experience at Salford Business School.
Media City UK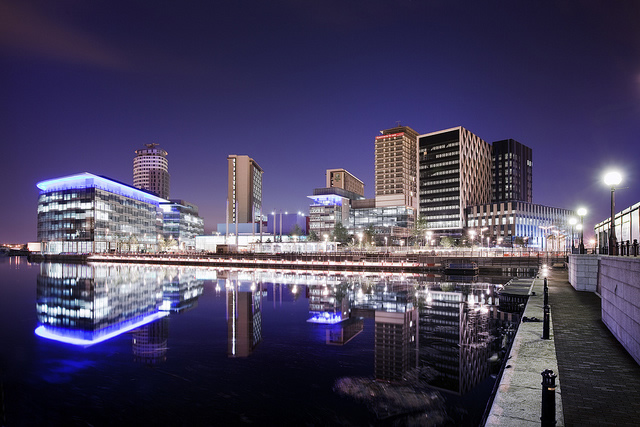 Image: MediaCityUK campus, University of Salford
Last but not least I do want to mention the location of the MediaCityUK campus. Salford Business School has the most amazing campus location surrounded by the BBC. Twenty six BBC departments including the BBC Sport and more than 500 ITV staff are also based at MediaCityUK.
MediaCityUK also houses one of the largest high definition studio facilities in Europe, featuring seven high definition television studios and two audio studios. The University of Salford presence at MediaCityUK, which is designed in conjunction with the BBC also equips students with the skills to help them access job opportunities on site, this makes the business school environment a safe and conductive learning environment.
I chose MSc Marketing because of Search and Social Media Module and I am now realising that there are so many other things that make it a great learning experience.
Is Salford Business School the best place to study?
If you are also a Nigerian student in Salford, please share your experience in the comments section below and do keep spreading the word as this is a place to be……
18 Comments
---