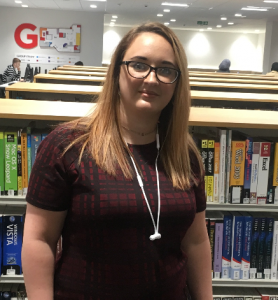 I'm Eve and I am a research assistant for Dr Gemma Taylor in the Salford Cognitive Development Lab. I am a 2nd year Undergraduate full honours Psychology student at the University of Salford and a mother of four children aged 4, 6, 9 & 11 years.
In my role as a Research Assistant in the Salford Cognitive Development Lab, I have a range of responsibilities. I work with Dr Taylor to develop the videos and toys that we use in our studies. I also communicate with parents and nurseries to explain our studies and run the studies with young children. We always make sure that everyone enjoys taking part in the studies. I am fascinated by the current research in the lab examining the role of digital media on children's development.
As a mature student, I have worked with children for many years across my career and have previously undertaken a Foundation degree in children's learning and development. It was from this work with children that my interest in Developmental Psychology was sparked. It fascinates me why children do things, how they learn the skills they have so quickly and how they interact with the world around them. One of my areas of interest specifically is how children are developing in this ever-changing world of digital technology. Modern children have more access to the digital world than ever before. Although children's digital media use is often portrayed negatively in the media, there may be a multitude of benefits that we have yet to discover. This is where my role within the Cognitive Development Lab begins to align with my interest in children's development. My experience as an undergraduate research assistant so far has already given me a great insight into what my career could be if I continue to aim down the path of a Developmental Psychology Researcher.
Follow Eve @mummyevie 
Leave a comment
---