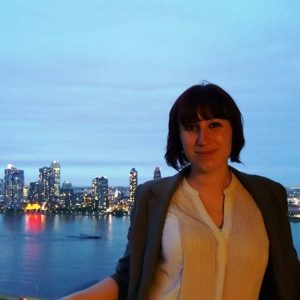 I received my MA in Psychology from Jagiellonian University (full 5-years programme) in 2013. In my thesis, I focused on attention functioning in Polish-English bilingual children living in the UK. Two years later I completed a BA in Portuguese language from the same university. In my BA project, I was interested in language switching in Portuguese speakers living in the UK.
Since then I have worked as a project coordinator and/or research assistant on several projects, investigating language and cognitive development in bilingual children, their narrative and phonological skills as well as functioning of memory and attention in teenage bilinguals. I have cooperated with different universities – Jagiellonian University, University of Warsaw, City, University of London and University of Reading. In my most recent position, at the ESRC International Centre for Language and Communicative Development (LuCiD) at University of Manchester, I have worked as a researcher on a project investigating how Polish, Finnish and Estonian children learn to use and understand nouns and verbs correctly. Contrary to English, in which nouns can have only one possible ending added to them (–s, to indicate plural nouns, e.g. table-tables), each noun in Polish, Finnish and Estonian can have many different endings that can be attach to it, depending on the context in which a speaker wants to use a given noun (for example 'table' in Polish would have a different ending attached to it in each of these contexts: "There is a cup on the table", "Look at the table!", "There is no table here", etc.). Because of the complexity of noun and verb systems in Polish, Finnish and Estonian, our research team was interested in how children are able to learn so many different rules and endings and become fluent speakers.
As part of my experience as a researcher on various projects, I have recruited and tested children aged 3 to 8 and teenagers, and tested them with language, memory and attention tasks; I have also designed experiments in forms of games, which measured children's language learning. I have always enjoyed public engagement activities supporting the impact agenda for the projects I have worked on – especially running workshops on language development for parents and practitioners.
I am currently finishing my PhD at the Department of Psychology, University of Warsaw. In my research, I am interested in the role of internal and external factors in fostering balanced language development in bilingual children.
I am very excited about starting a new research chapter in my career and being part of the ESRC funded project "Investigating the educational potential of touchscreen apps for children's early vocabulary acquisition" with Dr Gemma Taylor (University of Salford) and Professor Padraic Monaghan (Lancaster University). I am thrilled about the strong societal impact of the project; I believe that clear scientific evidence and guidelines for children's educational apps use would provide invaluable knowledge for parents, early years practitioners and app developers.
Leave a comment
---