At Salford, you have the opportunity to participate in a wide variety of volunteering roles throughout your studies. These roles are for students with all skillsets and interests. Volunteering is a great addition to your studies as the roles give you the opportunity to develop your personal and professional skills. Plus, they only require a few hours of your time each week.
Are you feeling a bit unsure about volunteering? Volunteering is a fantastic opportunity, and to prove it we've compiled a list of some of the benefits of volunteering.
You make a difference to the lives of others
No volunteering job is small. In fact, your contribution can make a huge difference to the lives of others or the growth of a company. Whether you're helping to provide vital resources, tackling social issues, or simply being a friend to somebody, your time as a volunteer has limitless potential to do good.
You help the environment
One of the fundamental benefits of environmentally focused volunteering is that your contribution directly helps our planet. You could join a litter picking or gardening team, or even help teach children how to be environmentally sustainable in Eco-Teams. What a rewarding way to spend some of your free time!
You become a valued member of a team
Volunteering is a great way to develop your team-working skills, as many roles involve working with others. You can also share your best and unique skills, which are often valued highly by other team members. Feeling valued within a team is a great self-esteem booster, giving you the confidence to go further and see what else you're capable of.
You get to take a break from uni work
Let's face it, being a uni student means you have lots of reading, writing, and study sessions to focus on. Although it's important to get your assignments completed, it's just as important to take study breaks, and give your eyes and mind a rest.
If you're someone who likes to be proactive with their time, volunteering is a great way to take a break from uni work whilst still growing in other ways. Volunteering gives you a new focus away from your course where you can meet others and develop a wider skillset.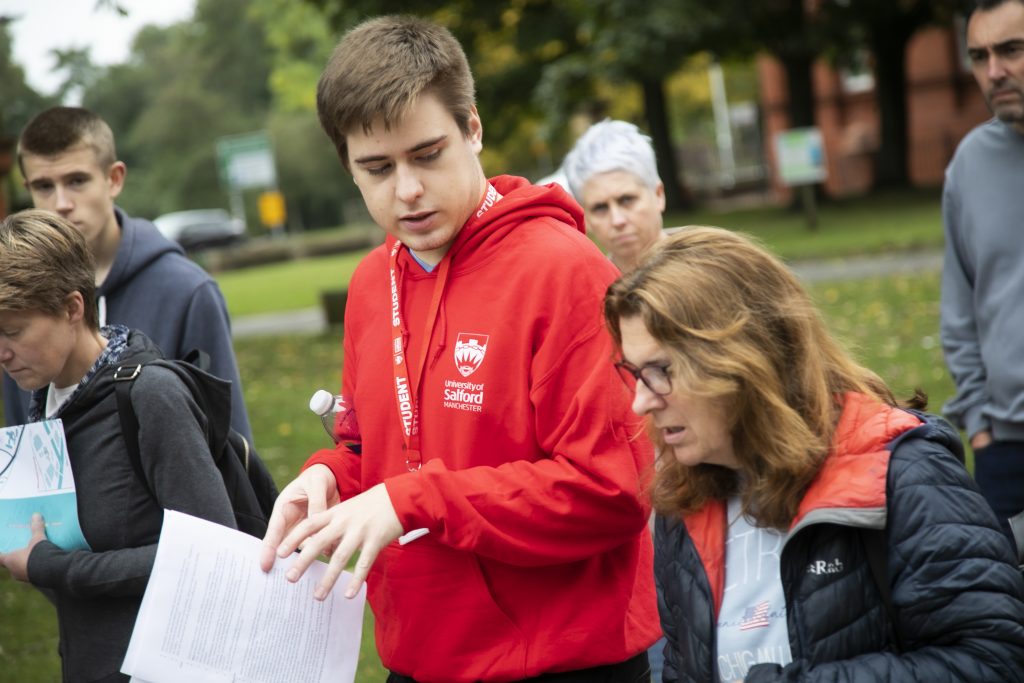 It's a new way to socialise with friends
We know you will want to spend your free time with friends but this time doesn't have to be spent sprawled out on a sofa – you can volunteer together instead! Many organisations offer multiple volunteer positions, allowing you and your friends to join together. Some positions might be the same while others may differ slightly to accommodate a range of interests.
You will still have time to socialise in other ways, as most volunteering roles require just a few hours of your time each week. But volunteering allows you to do something productive and rewarding together.
You get to know the local community
If you're new to Salford, it can feel a little daunting and nerve-racking to go explore your new home. However, it's important to get familiar with your new city, so you can feel settled and enjoy your time here. Volunteering is a great way to get to know the Salford community.
Many volunteer roles involve working in the city, which will enhance your understanding of the local area. It also helps you build your local network. You can develop friendships with the residents that have lived in the community for years or those who are new to the area. As volunteering usually has a strong community focus, you'll find that local people will take you in as one of their own, and soon Salford will become your second home.
It enhances your career prospects
Not only does volunteering grant all the benefits listed above, but it can also be a route to successful employment. You'll be doing new things and meeting new people, all of which help to enhance your employability skills.
Having your volunteering experience on your CV shows your commitment, passion and dedication. This can catch the eye of an employer. Volunteering is also a great way of sampling different career paths if you're someone who's not sure what they want to do when graduation arrives.
Now you've read all the benefits of volunteering, we bet you can't wait to get started! Head to the Students' Union opportunity finder to see what volunteer roles are currently available. 
If you want to chat with someone first, you can drop in to speak to the SU at the Careers Hub (dates and times on the website) or book a meeting with the SU.