Hello leaders of the future! I am Sivashankar from India, currently studying on the Salford MBA course at Salford Business School, University of Salford. In this Salford MBA review I have quite a lot to share with you – if you are aspiring to do one of the most prestigious post-graduate courses in business and management – Master of Business Administration (MBA).
An MBA is certainly not for the faint-hearted – you must have a minimum of three years full-time post study work experience with evidence of managerial responsibility. This is in addition to a good honours degree or equivalent in a business related subject. Once you managed these requirements you have to choose your pathways. For example, the Salford MBA offers you the option to specialise in Digital Business, Sports Business or just go for a generic MBA.
As a student who is mid-way through my MBA course, I took some time off to reflect on why I chose Salford Business School instead of other very strong options. This is my Salford MBA review of my experience so far.
Here are some of the reasons that led me choose this particular business school and you can decide whether I was right or wrong.
AMBA Accreditation- What does that mean?
When I was choosing business schools, two of the most important criteria that I had in my mind were 1) cost-effectiveness and 2) accreditation. They are not something that usually go together, but fortunately for me Salford Business School managed to provide quality education at an affordable price. AMBA (Association of MBAs) accreditation represents the highest standard of achievement in postgraduate business education and is earned only by the best MBA programmes in the world.
Salford Business School is accredited by AMBA. This accreditation means that its students are not only assured of quality education but are also afforded the opportunity to network with hundreds of other business schools and employers in over 110 countries. AMBA conducts numerous global events and provides many online learning resources, career advice, and access to employers, all of which are indispensable tools for business students. See AMBA web pages for more information.
Location – Where is it actually?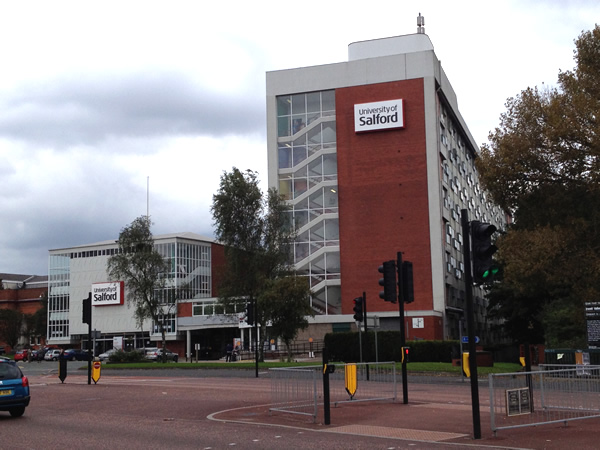 Image: University of Salford Peel Campus – Maxwell building
University of Salford is located in the city of Salford and is one of the four universities in Greater Manchester, UK. At the University of Salford you are never really far away from anything  – I mean anything that matters of course:
And guess what, the famous football stadium in Old Trafford is just 10 minutes away. That last piece of information is surely exciting for any Manchester United fan.
Due to the work of the Centre for Sports Business, Salford Business School has a number of interactions with Manchester United – for example Gary Neville and Ryan Giggs have degrees from the University of Salford.
Moreover, Manchester is less expensive and less crowded than London which makes it an ideal destination for international students in the UK.
Media City UK – Is it some marketing gimmick?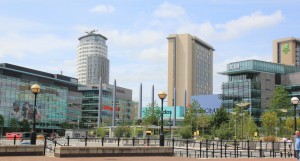 Image: Media City UK – University of Salford campus
What is Media City UK? I had this question when I first heard about it. So I decided to investigate. But the more I learnt about it, the more excited I became.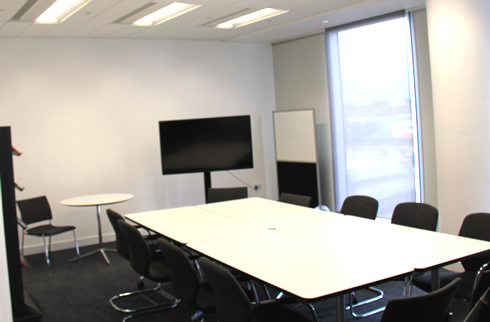 Image: One of the MBA classrooms at Media City UK
Media City UK is located in Salford Quays and is one of the important landmarks of Manchester, housing multiple international media organizations including the BBC.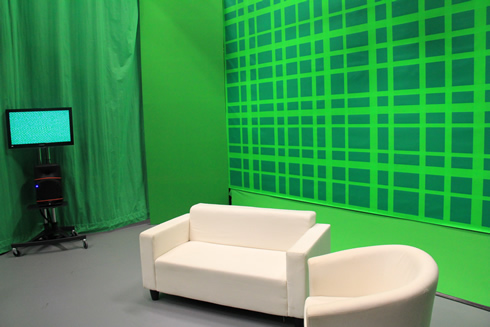 Image: Green Screen at Media City UK
Media City UK is the only place in the UK, other than London, to have studios for BBC and where many BBC programs are being filmed. How wonderful is that? And, the exciting part is yet to come…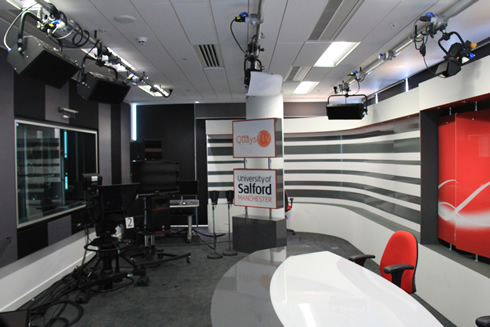 Image: News room – Media City UK – University of Salford building
We get to study "alongside" the BBC and "in" the Media City UK. This means that we get to use the state of the art facilities of Media City and enhance our skills to industry standards. Also, there is free transport service throughout the year from the University's Peel Park Campus to the Media City Campus, this ensures that we get uninterrupted access.
Learning how to use a video camera from a Media City staff the other day as part of  a project was such an amazing experience that I could not help sharing!
Social Media Marketing Studies – Is it just some fancy lingo?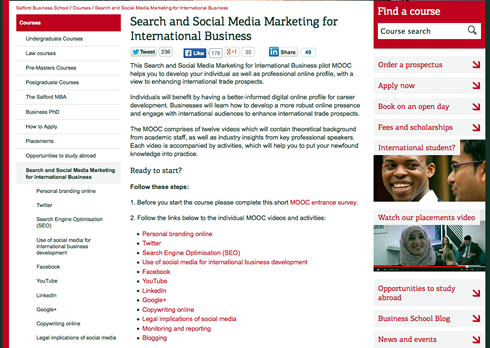 Image: #SSMMUoS course official website
Here is something different – Salford MBA has included in its curriculum Search and Social Media Marketing as one of its electives. For the uninitiated SSMM, as it is known, deals with marketing products/services online. Digital and Social media marketing has overtaken all traditional forms of marketing as the preferred medium by small and large enterprises. Statistics indicate that digital marketing is a booming field and there is currently a great demand for digital marketing professionals and more so in the coming years.
So, what better time to become an expert in this field that is growing in leaps and bounds? The SSMM module is offered to both MBA and PG Marketing students. For those of us who are interested in this area, you will be doing yourself a huge favour by signing up for this course. You can take my word for it – because I am already learning and applying some of the new skills that I acquired on my first assignment that actually mirrors a real-life project. How cool is that? Take a sneak-peak on the Search and Social Media Marketing for International business here – it is free!.
Salford MBA review: The verdict – Clean!
Taking all these favourable factors into consideration, Salford Business School is definitely the place to be to enhance my career opportunities and improve my chances of success. So what are you waiting for? Jump right in! Do you have any more questions? Please do use the comments section below to share your Salford MBA reviews.
Comments Off

on Is Salford Business School the ideal place to study Business? Let's look at the Salford MBA!
---