Do you need to join an online marketing course to get the right tools for your business? For anyone who grew up in the last twenty years or so, digital or online marketing is just another thing that happens. Yet for the rest of us (those with a few more wrinkles) it's still a major phenomenon that has changed the way businesses of all shapes and sizes go about publicising their goods and services to potential customers locally or in the wider world.
Despite online marketing having been around since the nineteen nineties (arguably earlier) there are still many small and medium sized companies that are out of touch with the digital world and who require guidance in order to make full use of advertising and selling online. Unsurprisingly this has seen the emergence of many new digital agencies specialising in online and wider forms of digital marketing, such as marketing through mobile phone apps and interactive media.
What is a digital marketing agency?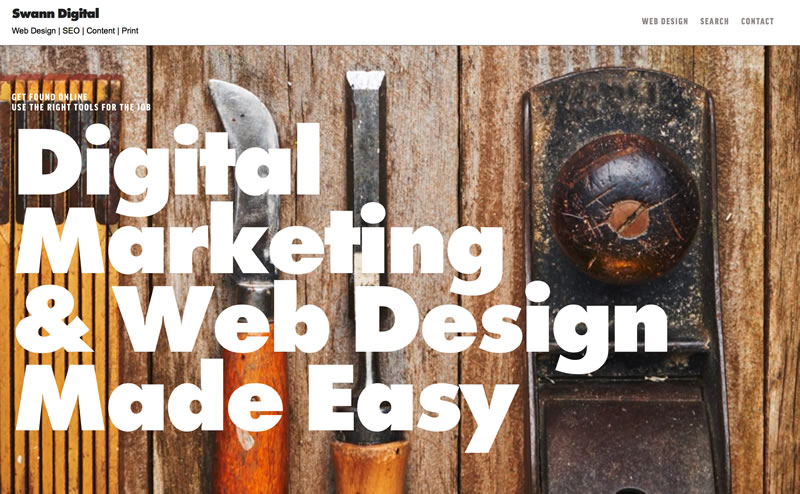 It sounds like a bit of an arbitrary catch-all term for some sort of 'creative' business but digital agencies are rapidly growing and new start ups in the industry are on the rise.
Digital agencies are the marketing companies of the twenty first century, often dealing in online channels such as
pay-per-click and other forms of paid online advertising,
content marketing and creation,
organic Search Engine Optimisation (SEO),
email marketing and
web design.
In truth, all of these disciplines are intertwined and co-reliant, like good marketing practice should be.
The right tools for the job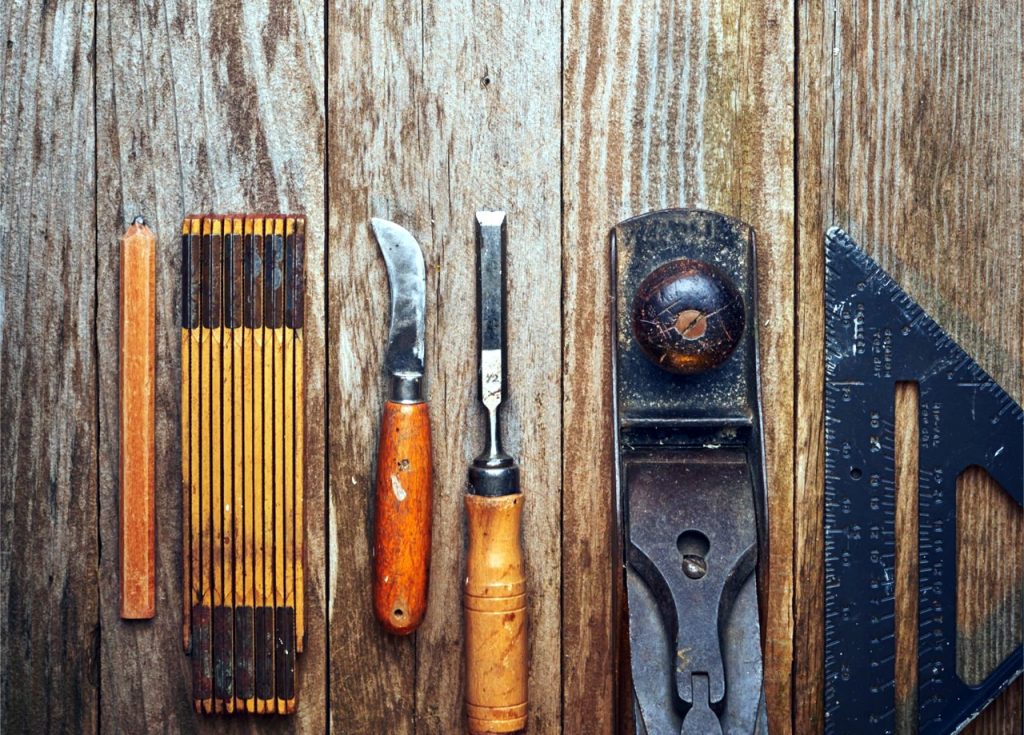 I'm not simply talking about the usual array of online and offline tools needed to undertake digital marketing – there is an inexhaustible number of these, enough to fill several dozen blog posts – but what are the personal and technical skills required for someone to undertake and succeed in a career in online marketing? As with any job, a great deal of determination, drive and the ability to seek out and acquire opportunities is required.
What are the common online marketing tools?
This list gives a very brief insight into the most fundamental of online tools required to succeed in internet marketing. But alone they are not enough to push your marketing activities forward.
Developing the right technical skills is also imperative as when working in anything related to online. You'll be expected to work alongside a range of people, such as business owners, developers, sales people and print designers. In the case of working alongside new businesses I've found that this is quite often the same person trying to spin lots of plates!
In this relatively new digital world, however, it can be difficult to know where to pick up those necessary skills. Such was my situation when I knew that I wanted to develop and reinforce what I'd already learnt throughout my working life, but struggled to see how and where I could do that.
Search and social media marketing course

Before attending The University of Salford's Search and Social Media Marketing Course in 2013 I had worked as an e-commerce manager, content manager and online marketer for several years. I have been developing an interest in social media marketing, Search Engine Optimisation (SEO), Hypertext Markup Language (HTML) and Cascading Style Sheets (CSS). It was quite clear just how much business was moving online and how it was becoming more dependent on good online communications and marketing.
Before setting out on this course I had deliberated over whether it was really necessary to go back into education. It takes time and money, of course, and I already had a background in design and (believe it or not) a degree in on and offline communications! But, once I'd researched the course along with several other training options I found that the facilities, course structure and material were exactly what was needed to give me that shove in the right direction.
As well as reinforcing some of what I had already pulled together through my work life, the course presented new ideas about online strategy and the technical skills I'd need to learn in order to progress.
Why Online Marketing course at Salford Business School?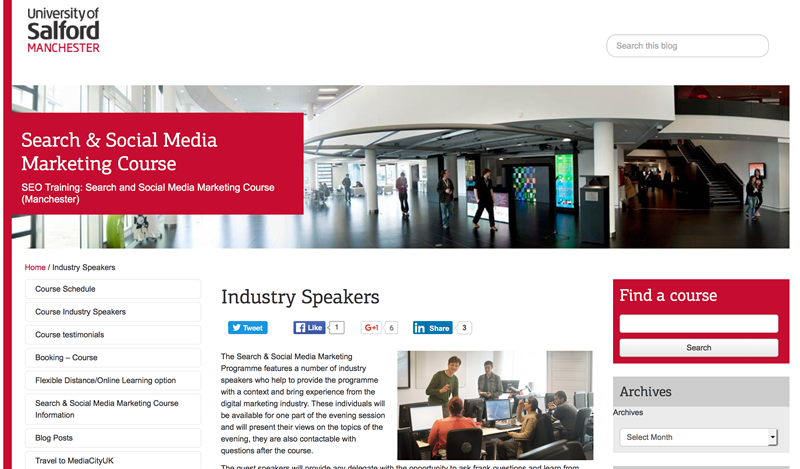 One of the greatest parts of the course, which I found particularly useful, was its outside digital marketing speakers. Individuals such as Rebecca Rae and Phil Wright came from prominent local online businesses.


Learning and networking with these individuals gives us an insight into the current industry trends, technology and skills of the time. Having these firsthand experiences to learn from was invaluable and their grounding in the real-world of business gave me that much more confidence when speaking to clients and undertaking projects.
Undertaking the Search and Social Media Marketing Course at Salford was undoubtedly the right thing to do in my pursuit of expanding my knowledge. It allowed me to not only learn from a valid, trusted academic source in an open and friendly environment, but to interact and share ideas with other industry experts and like-minded people from within the online marketing industry.
Given the confidence I gained here, I'd say that the great and extensive range of courses at The University of Salford will stand anyone in good stead to obtain a job or go it alone to make a living from working in the digital marketing world.
Thanks to the skills I gained via the course at Salford, I now run Swann Digital. We are a web design and Internet marketing company in Kendal in The Lake District. Between managing the business and sub-contracting as a consultant to other web design companies I can also sometimes be found teaching an introductory web design and online marketing course at Kendal College.
So, do you need to join an online marketing course to get the right tools for your business?
Comments Off

on Starting out in #online marketing?
---