Industry Speakers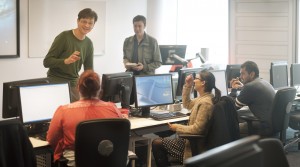 The Search & Social Media Marketing Programme features a number of industry speakers who help to provide the programme with a context and bring experience from the digital marketing industry. These individuals will be available for one part of the evening session and will present their views on the topics of the evening, they are also contactable with questions after the course.
The guest speakers will provide any delegate with the opportunity to ask frank questions and learn from their practical experience of working in the Search and Social Media Marketing industry. Some of the speakers are based in the Greater Manchester area, some are from the wider North West of England, but all have extensive experience and clients around the UK and many internationally. One common characteristic that all speakers share is a passion for Search Marketing and a willingness to share their experience and case studies with those attending the programme:
Alex Fenton – Foundation Course Leader at Salford Business School
Rich Dron – Professional Course Leader at Salford Business School
Industry guest speakers
Alex Fenton (BSc, MA, SFHEA) – Foundation Course Leader, Salford Business School, University of Salford
Alex works for Salford Business School and became interested in SEO during his BSc, graduating in 1997. Alex has worked in the field of web development, SEO, SEM, e-learning, web applications and digital journalism ever since. Alex runs a successful web and digital operation based at the University of Salford called EDinteractive and has worked as a senior technical developer for numerous successful digital projects.
Alex completed a Masters in Creative Technology in 2011 and is a member of the award winning Centre for Digital Business. Alex is a University lecturer in digital business, teaching digital literacy, web, search and social media marketing at MediaCityUK for Salford Business school. Alex has been a finalist and won several high profile digital awards, including being lead technical developer for Passport to Trade 2.0, which was a finalist for several high profile awards and won a European Search Award in 2014 for its use of Search & Social Media Marketing. Alex has also won several teaching awards, is a senior fellow of the Higher Education Academy (SFHEA) and is close to completing his  PhD in the area of digital marketing and football.
LinkedIn: Alex Fenton
Rich Dron (BA, MSc) – Professional Course Leader, Salford Business School, University of Salford
Rich Dron is a lecturer at Salford Business School. He works within Salford Business School where he teaches across the Business IT undergraduate portfolio of courses and MSc modules in relation to Information Systems, Information Management and Digital Marketing. He specialises in action research that delivers solutions to industry problems. Professionally, he has worked as a digital project manager encompassing solution architecture, web development and online social media presence.
He is also am a member of the award winning Centre for Digital Business within the school. His research and consultancy relates to enabling implementation of innovation, processes and technologies in SMEs.
LinkedIn: Rich Dron
Katrina Gallagher -Managing Director at Digitangle, Internet Marketing
With a BSc Computer Science and an MSc in Marketing, it looks like my path was planned. But I was just drawn in to Internet Marketing and have been loving it for the past 13 years.
I've worked in the corporate client side, and for two award winning agencies, and have been delighted to present at Brighton SEO at the majestic Brighton Dome, The Technology for Marketing & Advertising (TfM&A) conference at Earls Court and at various locations for the MDDA.
And in 2012 I made the leap to launch Digitangle, where I use the skills that I've developed over time. I have the pleasure of working with some great PR, marketing and web design agencies, where I consult, train or deliver to fill the gap between the technical, marketing, and human world.
Rebecca Rae-Evans, Digital Engagement Manager at Co-op for The Federation
A digital strategist with over 10 years experience in the digital sector specialising in digital that creates positive social or environmental change.
Named in the 'Top 30 women under 30 in digital' in The Drum 2012, Rebecca has been contributed to numerous award winning projects and spoken at conferences internationally. Previously Head of Strategy & Insight at Reason Digital and Head of Social Media for integrated creative agency 'Photolink'. (Now Seventy7) Rebecca now runs Tech for Good Live, an events series and monthly podcasts exploring how tech can be used to make a positive social impact and is Digital Engagement Manager at Co-op for The Federation,  a community of digital businesses and innovators in Manchester, built on co-operative values.
Charlotte Chadwick – Founder of Atlantis Digital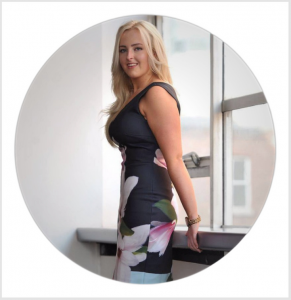 Charlotte is the founder of public relations and social media marketing consultancy 
Atlantis Digital. 
Charlotte founded her company straight out of university, having worked alongside her full-time degree as 'Head of Digital Media' for a boutique PR agency. What initially started as a Summer internship with the agency, turned into a full-time role after she established the digital marketing arm of the company, subsequently winning new business, growing the agency's offering, and even pitching to a national board of directors 3 days before her final year dissertation was due in, and ultimately winning the tender. 
Charlotte now works with a range of clients from small businesses and startups, to FTSE 250 companies and global agencies, across a variety of sectors, and has been featured in Stylist Magazine, The Telegraph, Greater Manchester Business Week, and listed as 30 Under 30 Inspirational UK Entrepreneurs.
Richard George, Managing Partner Organic Performance, MEC Global
An experienced digital marketer and focused leader with over ten years digital business experience working at senior management level up to Director. Working with an entrepreneurial thought process and a strategic approach, his success comes from making the businesses he works with a success. He has a passion for e-commerce and understanding how to engage with the customer in an ever-changing environment of opportunity.
Nikki Stasyszyn – Digital Marketing Manager,RR Donnelley
Nikki completed a degree at Loughborough University in Information Management and Business. Nikki has previously worked for a web design and online marketing agency in Oxfordshire and before that worked in house for 3M. Although specialising in onsite SEO across a range of sectors, Nikki also works on social media and pay per click campaigns. Nikki was Online learning team leader for SEO at PushON and Mobedia and is currently the Digital Marketing Manager forRR Donnelley.
LinkedIn: Nikki Stasyszyn
Paul Delaney, Head of Search – PushOn
With a background in web design and development, Paul has worked in SEO many years. Paul was an SEO Account Director for MEC Global, based in Manchester, he was head of natural search at Vizeum and now at PushOn. Paul has provided strategy and management for a number of large global clients in the finance, technology and travel sectors such as Nintendo and Lloyds Banking Group. Paul was previously responsible for the management, development and growth of Latitude Express with their SEO service to small/medium sized businesses.
LinkedIn: Paul Delaney
Aisha Choudhry – Head of Search, Fast Web Media,

Aisha has been working in Marketing for over 10 years with 6 years of experience in Search. Having gained an undergraduate degree in Consumer Marketing and an MSc in Marketing by Research from Manchester Metropolitan University, Aisha was passionate to pursue a career in marketing and followed on by becoming a Chartered Marketer. She started off working client side as a Marketing Executive for a mobile software development company with a focus on marketing communications, international events and internal marketing.
Moving across agency side in 2009 and focusing on a niche area of Digital Marketing, Aisha started off as a Search Executive working on Dutch accounts due to her native language skills and over the years worked her way up to Head of Search. Aisha leads the Search department overseeing strategy and ensuring the delivery of excellent Search services for global clients.
Aisha has a strong interest in PPC and keeps her skills up to date by doing PPC for some clients and is Google AdWords qualified.
You can connect with Aisha Choudhry on Linkedin, and read her articles on search marketing and analytics at Fast Web Media.
Tony Keen – SEO Account Director, MEC
Tony obtained a Masters postgraduate degree in 1999 and has worked in the fields of marketing, e-commerce and SEO for over a decade. Tony has held the positions of SEO Manager, Senior SEO Manager and SEO Account Director with MEC, one of the world's leading media agency networks. Tony works with major clients all over the world.
Alex Moss – Freelance SEO Consultant

Alex taught himself how to code in PHP using only Notepad and the online PHP manual when he was 17 and quickly started making sites in his year out before university. Studying Law and IT, he graduated in 2006 and worked in television production for a year before returning to web design and development and being introduced to SEO.
Alex is now Director at FireCask, a digital agency specialising in Search, creative content production and WordPress development. His combination of in-house, agency and freelance experience over the years gives Alex a rather different background to the rest of the industry speakers. Alex is also the Co-Founder of Peadig, a WordPress theme framework powered by Bootstrap, develops WordPress plugins, helps organise the MancSAS Meetup and contributes to industry blogs such as Huffington Post, The Guardian, Moz, Econsultancy, State of Search, Search Engine Watch and 123Reg.

Tom Smith – Director of Search, Fast Web Media

Tom is a highly experienced search marketing expert who has worked with global brands to deliver growth strategies across earned and paid media channels.
Tom joined the Fast Web Media team in 2008, after working client-side on paid search and affiliate management. Since starting at Fast Web Media, Tom and his team have developed many award-winning campaigns that have delivered strong returns for clients such as Carling, Cobra Beer, Bravissimo, and The NEC, along with many international clients.
Tom quickly progressed to the Director of Search role due to his excellent work and expertise. Recently, he spent 6 months in India establishing, guiding and leading a small team of search consultants that played a huge role in Fast Web Media's business development. Apart from his deep knowledge of search marketing, Tom is also is particularly interested in uncovering new trends in digital marketing, having recently taken an interest in multi-screening technology and researching undiscovered search marketing opportunities as well as product management and development.
You can connect with Tom Smith on LinkedIn, read his articles on search marketing and analytics at Fast Web Media and  .
Simon Wharton – Managing Director, PushON

Simon graduated from the University of Liverpool with an Honours Degree in Computer Science in 1988. From there he moved on to fulfilling his passion – working in music. Not a musician himself, he was content with management and promotion. Simon returned to the digital sector in the 90s, initially delivering technical support solutions for IBM then moving to IP Support where he built ISPs, delivered European VoIP solutions and provided the technical support services behind them. Since joining forces with his colleague Roy in 2002, and utilising the expertise they developed in online marketing, they started PushON and the rest as they say is history.
Simon is passionate about everything digital and regularly shares his findings see and
Simon is priding himself on being the 19th most followed tweeter in Manchester! Having sat for many years on the Manchester Digital board, he has positioned himself as one of the leading authorities on Online Marketing in the North West
Dave Nicoll – 

Social Media Manager at Run2

Dave is currently working with Run2 team having previously led the outreach at the Monocore, MediaCom and Carat. He also runs the blog 
In The Loose
 where he works on trialling and implementing new strategies for a rugby inspired audience.
Dave originally graduated from The University of Manchester with a degree in Business and Marketing before embarking on an additional year at Manchester Metropolitan University to achieve a Masters in International Creative Advertising. Dave combines the creative element of his education with the digital expertise picked up at working in some of Manchester's top media agencies to constantly deliver new and innovative campaigns for clients whilst continuing to test new and emerging industry trends to see how they can be effectively implemented on live campaigns.
Phil Wright – Head of Analytics, MediaCom i-Lab North
Phil has been working in the web and online marketing fields since 1998 and in that time has experienced the complete customer journey from Search, PPC, Analytics, web design, content and information design and social media. Phil brings strength in breadth and depth to the table. Phil has focused most recently on the education and recruitment markets giving him a variety of products and audiences to cater for.
Since 2010 Phil ran the digital dept at SMRS, working with a small team to deliver creative, smart and effective digital solutions across a range of channels and is now head of analtics at MEC global.
Phil is a very experienced trainer and expert in Search (PPC and SEO), Web analytics and data-driven testing, Website design and build, Social Media with extensive client-facing experience

LinkedIn: Phil Wright
Phil Morgan,Digital Marketing Manager at LEGO Education
Phil is now Digital Marketing Manager at Lego Education but was previously Head of Search at full service advertising agency Delineo. After graduating with a First Class Honours degree in Computing Multimedia Systems and then a Master's degree in Computer Science from Liverpool University in 2007, Phil has always held a keen interest in technology and in particular the world wide web.
In 2007, Phil started his career in search as the lone SEO in a fledgling agency, from this start Phil has since planned and executed search campaigns from both an in-house and agency stand-point. Phil has a real passion for search marketing, both organic and paid, creating integrated strategies for clients in both B2B and B2C environments.
Phil is particularly interested in search engine optimisation and is a real believer in creating digital campaigns focused on providing a solid return on investment. Phil likes nothing more than trying out the latest and greatest in SEO tools and software, has a keen interest in the increasing influence social is having on SEO and outside of work, has been known to grace the odd 5-a-side pitch.

Paul Spreadbury, SEO Account Director, MEC
With a strong technical background, Paul has worked in SEO for over 8 years.  Paul's day to day role as SEO account Director for MEC Global includes strategy and management of large clients in the finance sector, including Halifax and Lloyds Bank both part of the Lloyds Banking Group. Paul focuses on advanced link building and technical recommendations, and reviews the strategies and tools used throughout MEC's client base. Paul was previously head of SEO for Just Search helping to develop and grow their SEO service to more larger and corporate clients
Greg Ashton – Digital Strategist at Reason Digital
Greg earned his stripes working in the retail sector with companies such as JD Williams parent company of Simply Be & Jacamo.  He now works for the digital agency & social enterprise Reason Digital (www.reasondigital.com) as part of their Strategy & Insight team and acts as the main point of contact for a wide range of topics including SEO, social, PPC and analytics. His knowledge is also put to good use providing training on all these topics to clients such as Raleigh International, ARUK & the Media Trust.
LinkedIn: Greg Ashton
Paul Jasper- Senior Search Executive, Fast Web Media
Paul is the Senior Search Executive at Fast Web Media, after joining in April 2014 as a Search Executive. Before beginning agency life, Paul worked client side in a variety of different industries including law, charity and renewable energy.
Paul has an undergraduate degree in Media and Television Production from the University of Liverpool, and a Master's degree in Marketing Management from Glyndwr University. His work at Fast Web Media involves creating and optimising global paid search campaigns and producing marketing strategies across a number of industries, to name a couple.
Paul continues to update  account constantly with all the latest developments regarding search marketing and digital, with a constant flow of new industry followers, so feel free to check it out for yourself. Check out Fast Web Media blog for Paul's in depth search marketing articles.
Sean Bell- Search Executive, Fast Web Media
A Data Lover and Rugby Nut, Sean first discovered his love for computers through a fascination with installing Windows 98 from scratch at the age of 6, and since then has went on to champion his family through all manner of email set ups, office installations and software purchases. Sean first discovered a love of SEO through a family business, and after graduating with an honours degree in business, set about contacting every agency in the UK with his Google styled CV (with internal hyperlinks!) searching for his first opportunity.
Sean found a new home in London with the FWM team, and since then has developed strong skills in technical SEO, and has worked across a broad range of clients including B2B technology, a leading beer brand and a women's fashion brand.
Check out Sean's in depth search marketing guides on Fast Web Media blog and .

Chris Lever – Technical SEO, PushON
Chris started on his digital journey 15 years ago studying Multimedia and Web Development at Bolton Institute. The passion for SEO came a few years later, whilst learning how to attract visitors to the websites and online communities he managed.
Through the years Chris has a gained a wealth of knowledge and technical ability to develop, deploy and promote websites across many sectors. Picking up skills such as; server deployment and page speed optimisation, technical SEO, content creation, keyword research and link building. In 2011 Chris made the transition to full-time SEO Consultant, working freelance and agency side increasing online visibility for small/medium sized businesses. Chris is now part of the Marketing Team at PushON contributing to increase organic reach for established brands using Magento eCommerce Platform.
Twitter: https://twitter.com/sitebee
---