My greatest experience at University of Salford was my time spent within the Salford Business School.
An MSc – or Masters – is something I was considering doing for some time. I completed my BSc in Professional Broadcast Techniques and afterwards, in all honesty, felt somewhat lost. Something I feel many graduates may be able to relate to.
However, during my BSc I undertook a module in IPR (Intellectual Property Rights), which was taught within Salford Business School. It became clear to me on reflection of my time spent as a University of Salford undergraduate, where my strengths and weaknesses lie.
For example, I was far more interested in my research for IPR than I was in producing my honours video project. This honesty and clarification was a milestone for myself. Working in a call centre for a soul destroying three months after graduating, I definitely knew that a big change of direction was needed!
The experience of Salford Business School always stood out in my mind – the professionalism yet open and friendly nature of the tutors and staff, and the assuring feeling that you are being given invaluable information from knowledgable and experienced people – are just a couple of reasons why.
Although I was learning within the business school for a fairly short period of time, it made a lasting impression on me. Therefore when it came to choosing the right place to study for my MSc, University of Salford was not just an obvious choice, but a choice I felt I could trust.
Salford Business School offers unique and exciting opportunities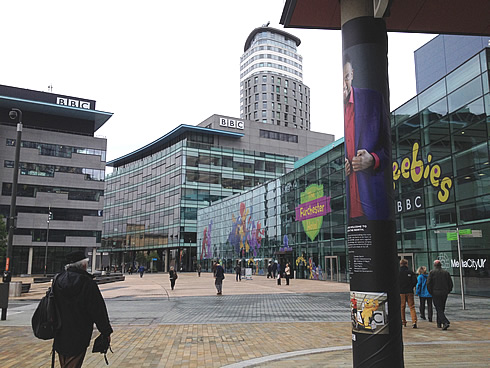 Image: MediaCityUK
I am studying MSc Marketing and for various modules I will be located within the University of Salford building at MediaCityUK. This is not only a beautiful place to learn and study, but the opportunity in itself is invaluable as you are surrounded by so many inspirational companies and organisations.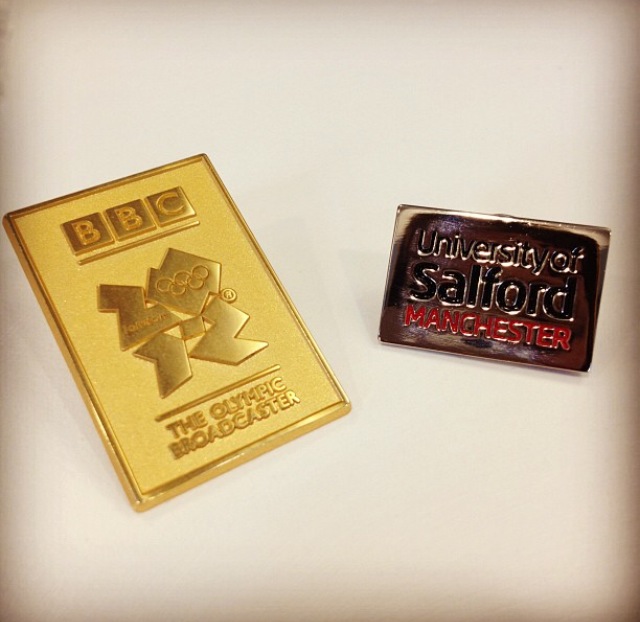 Image: London 2012 Summer Olympics and University of Salford graduate pins
I can personally vouch for how useful this is, as during the second and third year of my BSc, I completed both work experience and paid work for the BBC, even working as part of a team for the London 2012 Summer Olympics. I'm certain that the opportunities to do so would not have been so accessible if I was not 'in the right place, at the right time'. I am still contacted by the BBC today and I have met many brilliant people from working there.
You can further your career by studying for a postgraduate qualification at Salford Business School
Yes, you may be able to do this at other business schools, however, Salford Business School offers unique accreditations which help you to stand out from the crowd – something that I personally felt was very important – given that there is a lot of competition when applying for your chosen job. The postgraduate courses are accredited by the Chartered Institute of Purchasing & Supply (CIPS), Chartered Institute of Personnel Development (CIPD), the Chartered Institute of Marketing (CIM) and the Association of MBAs (AMBA).

There are also chances to further your education with extra learning opportunities – such as the Salford Advantage Award, which allows you to, 'network with new and exciting people', 'boost your career prospects' and 'improve your confidence, presentation skills and CV'.
Again, I think with job application processes being so extensive and competitive – it is so useful to be given extra opportunities to strengthen your skill set and set yourself apart from others. Completing extra curricular activities and choosing to study at a University with prestigious credentials could literally be adding personal selling points to your CV – allowing it to stand out from the hundreds of others.
Overall…
I am personally wanting to turn a subject that I am very passionate about, into a career – with my focus being Digital Marketing. Having so far only attended two and a half days of lectures for my Search and Social Media module, I already get the feeling that my course – MSc Marketing – is taught in a very practical and useful sense. I am already putting into practice what I have learnt, just one week after being taught the information.
Salford Business School offers unique learning opportunities and guides you through a process of personal development through education – this strong education gives you the ability to talk with confidence about your chosen subject and most importantly, this is what employers look for.
Is Salford Business School for you?


I would be more than happy to further discuss my ongoing experience at Salford Business School with you. Please connect with me on LinkedIn or follow me on Twitter.
8 Comments
---