Spending a bit of time at uni but your accommodation is a little far away to go home for a quick relaxation session? Well, we've got some brilliant spaces on our campuses to help you chill out, zone out, study or socialise. No need to go all the way back home!
Study areas
If you're on campus and need to crack on with some work you've got loads of options on all of our campuses.
Lady Hale Ground Floor (Peel Park campus)
Good for: studying, group work
As you walk through the entrance of Lady Hale, you'll see plenty of study spaces to your left. There are individual soundproof boxes for when you want to get away from distractions, large tables for when you want to work together with a few friends, and closed-off study pods.
Chapman Worker Bee Space (Peel Park campus)
Good for: studying, group work
With a view overlooking campus, the Worker Bee Space is the perfect area for a chilled-out study session. With desks for group work, booths for solo study and sofas for a more relaxed feel, the Worker Bee Space is perfect if you fancy a more open area than the Lady Hale Ground Floor.
Science, Engineering and Environment (SEE) Building (Peel Park campus)
Good for: studying, group work, reheating food
Our SEE building has spaces across all floors for you to study. There are collaborative areas set up with usable digital screens – perfect for group work, along with spaces for individual study. You'll be able to keep fuelled as you go, as there's a kitchen area on the top floor.
B'Hive (Frederick Road campus)
Good for: studying between classes, group work
Need a place to work in a group? Want a quiet space with a screen you can connect your laptop to? Look no further than the B'Hive in Allerton. There are booths and small tables for more casual catch-ups. Inside the breakaway rooms are perfect for practicing a presentation, working on a group project or just finding a quiet place to study.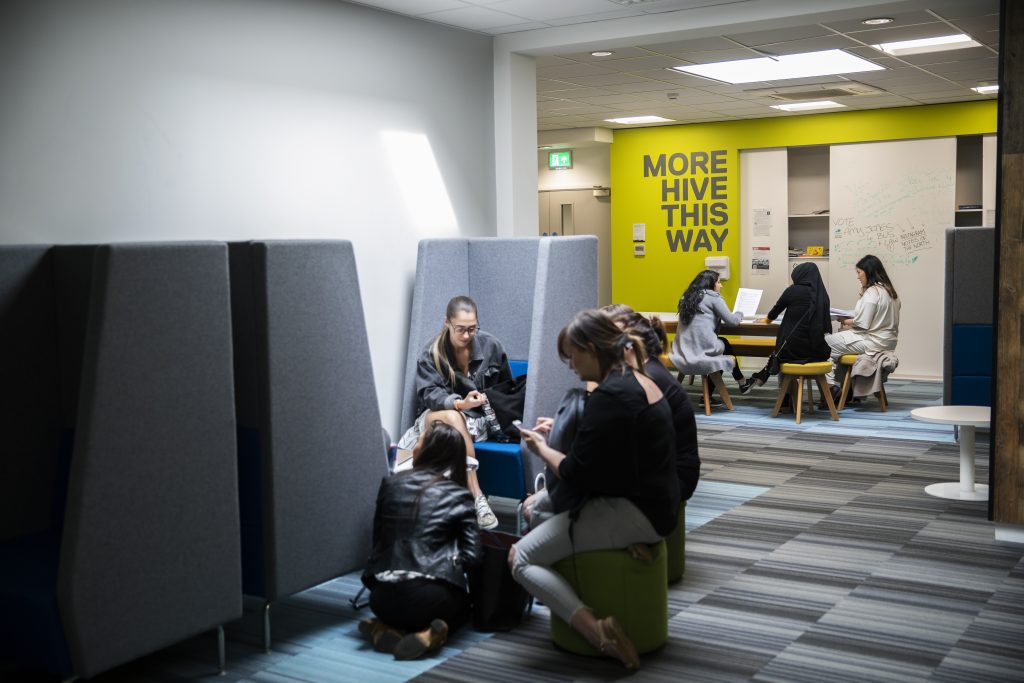 Allerton Learning Space (Frederick Road campus)
Good for: group study
Spread over two floors, the Allerton Learning Space is the perfect place to go when you've got a group project that you need to work out. There's loads of large desks, chairs and enough space for everyone in the group.
Hangout areas
If you're on campus and need a break from studying, we have loads of spaces where you can relax, have a chat, reheat some food and generally get away from it all. Many of these spaces still have facilities to study, meaning you can tackle assessments once you've had a well-deserved break.
North Side (Peel Park campus)
Good for: socialising, playing games
North Side is located in University House and is run by the Students' Union (USSU). This space can be used for hanging out and playing games like pool or ping pong. Some student events take place here, which you'll be able to join. You can also use the kitchenette when events aren't running.
There are two ways to access this room. You can go via the Peel Park entrance into University House or you can head down the stairs that sit below the askUS desks in University House. There are gender-neutral toilets on the same floor and there is lift access in the building. More questions? Contact the Students' Union.
The Common Rooms (Peel Park and Frederick Road campuses)
Good for: heating food, watching TV, storing bags
Our Common Rooms are student spaces in University House on Peel Park campus and in Allerton Building on the Frederick Road campus. The Common Rooms were created with commuter students in mind: they feature chill-out spaces, areas suitable for solo and group study, a lounge area with a TV, a kitchenette with microwaves, fridges and hot water, gender-neutral accessible toilets and lockers for commuter student use.
To access the Common Rooms you'll need to swipe your student ID card at the door. The Common Room in University House is on the ground floor and is accessed to the left of the main entrance. It's open during the same hours as the askUS helpdesk. The Common Room in Allerton is open during building hours of 8:00-18:00.
These spaces aren't bookable or created for events. This is to keep them accessible for all – consider the Common Rooms a chilled-out drop-in space.
The Cube (Peel Park campus)
Good for: reheating food, laptop hire, group work
The Cube is located on the first floor of Lady Hale and has got everything you could possibly need for a hangout/study space. Complete with a kitchen, breakaway rooms and laptop hire, it is the perfect place to meet up for a group session or to just relax after a lecture.
There are also private rooms with screens if you need to work together in a group.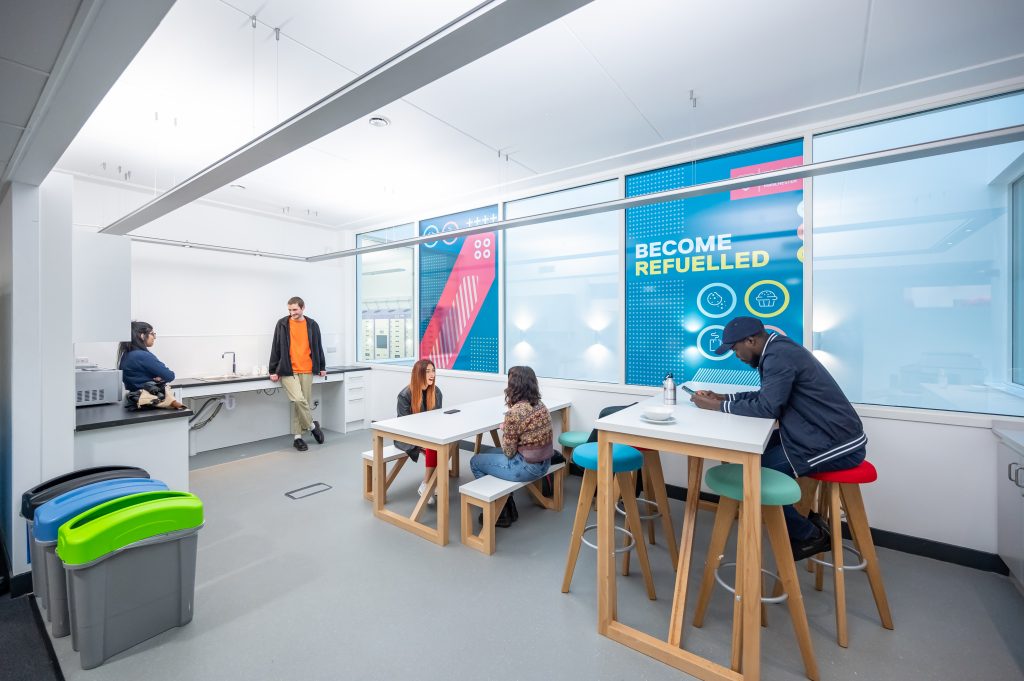 New Adelphi (Peel Park campus)
Good for: socialising, grabbing a bite to eat
There are loads of areas in New Adelphi to hang out and study. On the ground floor you can relax and refuel in the cafeteria. There are booths on each floor and on the third floor, there's a collaboration zone with several sofas overlooking the ground floor – perfect for if you're with a large group.
Newton touchdown (Peel Park campus)
Good for: socialising, getting away from it all, group work
This often-forgotten social space is a great area to go if you're waiting for your next class or meeting up with someone who just finished class. The comfy armchairs are perfect for when you want to sit back and get away from it all. The group desks have screens making it a great area for group project work – just connect your laptop and you're ready to go.
Maxwell (Peel Park campus)
Good for: socialising, reheating food, taking a screen break
On the sixth floor of Maxwell we've got a large school space complete with sofas to hang out on, small study pods to crack on with some work, and a large kitchen/dining area with a microwave, kettle and fridge. Everything you could need for a perfect lunchtime break. There's also a great view overlooking Manchester and Salford.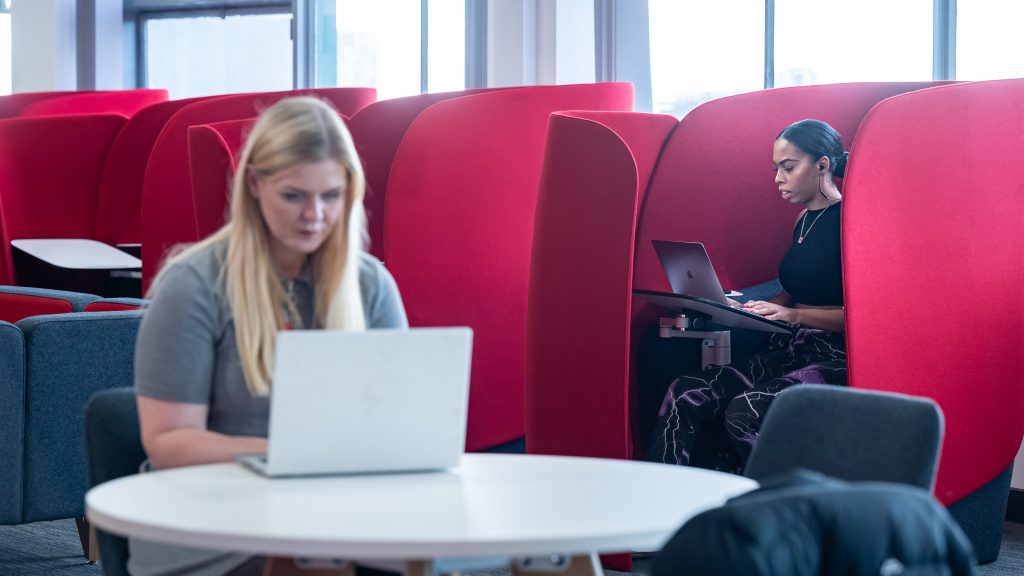 Maxwell Level 2 (Peel Park campus)
Good for: socialising, watching TV, brainstorming ideas
There are plenty of breakaway rooms in Maxwell that offer a great chance to get together and brainstorm some ideas on whiteboards (there in each room). Additionally, there is a larger social room with comfy chairs, desks and a TV. The perfect spot to go to if you're waiting for your next class to start but don't want to leave campus.
Clifford Whitworth Library
The Library is home to more than books; it also hosts great spaces that you can use to study, relax and complete group work. The foyer of the Library has plenty of seating and there are sofas located throughout the building. There's also the Refreshment Room – a social space with a kitchenette for you to heat up your food. Find a full list of spaces in the Library on our website.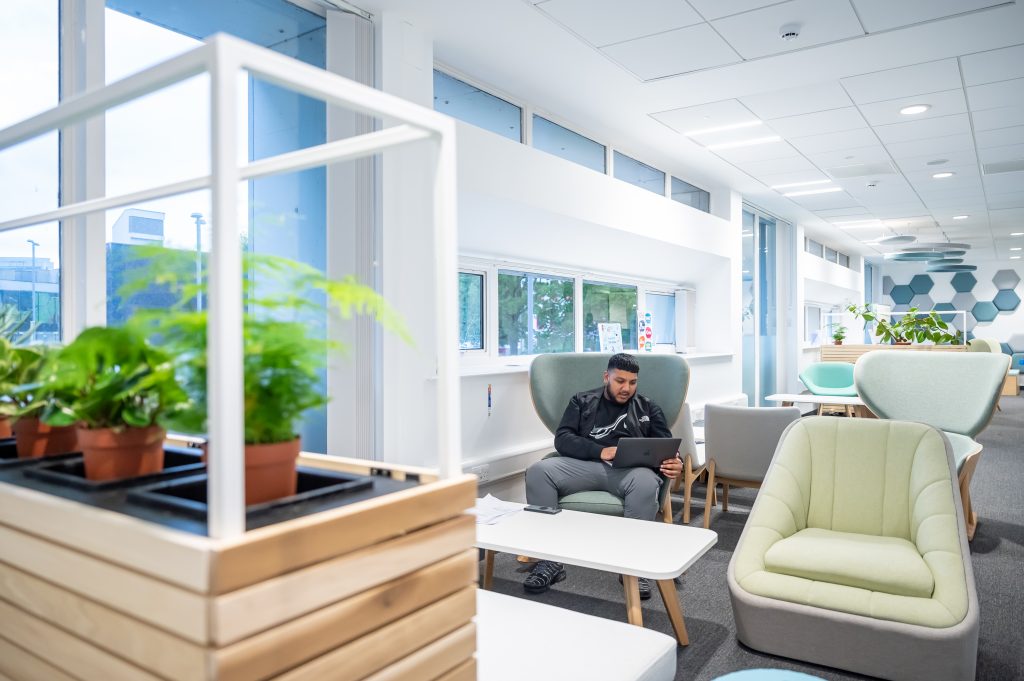 MediaCity
If you spend a lot of time on the MediaCity campus don't forget we have loads of booths and sofas on all the floors, the study space under the stairs on the first floor and the hangout area on the third floor outside room D3013/1 (3.10). If you've got some leftovers that need reheating, there's a kitchenette on the second floor behind the kit store.