1 May 2018
When I did my research as part of my Business Innovation Project at Salford Business School in 2014, I was not aware of the huge effect seasonality has in a brand or a business. While I was aware of the search trends and interests of the public, little I knew how much companies get affected by this matter.
Two of the brands I analysed in my research are affected by seasonal trends in a different way, and so, we have had to develop different seasonal marketing campaigns.
Let us drive you through a quick process to find out if your company, like ours, is more affected by seasonal trends than you had expected and figure out how what to do with these insights.
Step 1: Looking at seasonal trends
UKTights.com – While one may think tights are a seasonal product, a quick Google Trends search shows that the search of the term "tights" is quite constant along the year, with autumn clearly being the busiest time of the year for demand and late spring the less popular time for searching tights.
UKSwimwear.com – Swimwear is clearly more affected by seasonality. We may go indoor swimming all year round, but customers certainly tend to search (and, hence, buy) their swimwear in spring. Although still warm, August is actually the time of the year when the search for swimwear drops more significantly. The interest starts to gradually pick up in December to grow steadily until June, which is the peak time.
Although the graphic below represents worldwide trends in 2017, data does not differ much when you look at previous years or the United Kingdom area, as shown in the graphic below.
Thinking Ahead: Two Approaches To Seasonal Marketing Planning
When you are able to predict when people are looking for your products or services, this allows you to focus all your marketing efforts ahead of that period of time.
In the case of UK Tights, we have decided to maintain a constant marketing activity through the year, with more intensity in the coldest months of the year. As this is generally the time we have most of our new collections, it seems logical that we send more newsletters out and we intensify our Social Media activity.
What about Christmas, Valentines and other seasonal campaigns? For some brands, seasonal campaigns are vital to balance their books. Creating landing pages for every seasonal campaign is time-consuming. Even more when your SEO team has to work hard to try to make them rank for the right terms. Our approach to seasonal marketing campaigns has reduced the number of specific landing pages for very festive seasons, ie: Halloween or Valentine's day, and sale-related campaigns to a Sale section.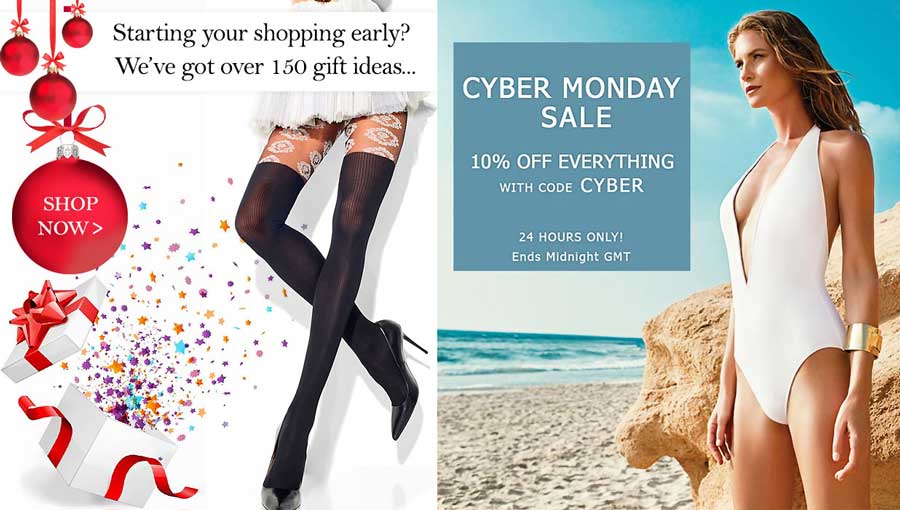 On the left, an example of a Christmas campaign by UK Tights. Banners pointed to a landing page with a selection of gift ideas. On the right, UK Swimwear's latest Cyber Monday campaign, which didn't have a specifically-created seasonal landing page.
The case of UK Swimwear
For UK Swimwear, we have taken a similar approach, but we have involved the whole team in the process. As we know in advance when people are looking for swimwear, we can focus all our marketing activities towards raking No.1 in for the selected keywords by the time most people are going to be looking for swimwear. Planning in advance helps us decide when to spend our budget for advertising, as well as when to focus our Social Media and PR activity.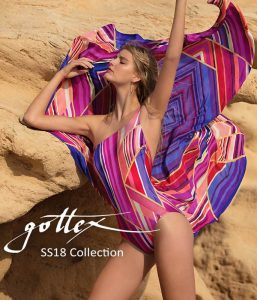 For SEO, this means establishing a link-building strategy that allows you be found when people really need it.
Or even better, to be found before your competitors can provide customers with the product or service you offer.
Fashion trends in fashion can change abruptly from one to the next season, even more, when you sell luxury and exclusive styles as we do. Hence, having a collection available before the high-street stores and our online competitors is vital for our company.
Due to the luxury nature of the products, UK Swimwear doesn't focus its activity on customers who swim in their local swimming pool.
Instead, the target audience is those women who like to wear something special they won't find in the high street stores… or they won't find in the person sat next to them by the pool when they are away on holiday.
On the picture above, you can see a banner used to promote the collection Gottex Cruise SS18, which is UK Swimwear's best-selling brand. This campaign was launched the first week of December 2017, right as the interest for swimwear grows.
Involving the Management team: 
For entrepreneurs and SMEs, knowing when is your peak time means you can manage your budget more efficiently. Marketing a tool for analysing and monitoring the health of your company, but also for innovation. You can get to know better when you are going to need more staff, for instance. If you work on several projects, seasonal marketing will tell you when you can "relax" and focus on other activities, too. Seasonal Marketing planning should involve the all management areas, as well as the marketing team: buyers, sellers, Human Resources, etc.
I hope this post makes you understand the importance of seasonal marketing planning. If you want to find out more about our latest campaigns or give us your thoughts about your post, follow UK Swimwear on Twitter or Facebook. We are always happy to exchange marketing ideas!