Industry Speakers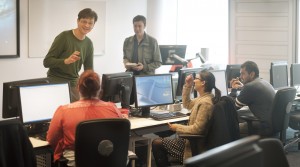 The Search & Social Media Marketing Programme features a number of industry speakers who help to provide the programme with a context and bring experience from the digital marketing industry. These individuals will be available for one part of the evening session and will present their views on the topics of the evening, they are also contactable with questions after the course.
The guest speakers will provide any delegate with the opportunity to ask frank questions and learn from their practical experience of working in the Search and Social Media Marketing industry. Some of the speakers are based in the Greater Manchester area, some are from the wider North West of England, but all have extensive experience and clients around the UK and many internationally. One common characteristic that all speakers share is a passion for Search Marketing and a willingness to share their experience and case studies with those attending the programme:
Alex Fenton – Foundation Course Leader, Salford Business School
Aleksej Heinze – Professional Course Leader, Salford Business School
Richard Gregory – Chief Operating Officer, Latitude Digital Marketing
Nikki Stasyszyn – SEO Executive, PushON
Rebecca Rae –

Digital Results Lead

, Reason Digital
Paul Delaney, SEO Account Director, MEC Global
Phil MacKechnie – Associate Director and Head of SEO, Carat
Aisha Choudhry – Senior Search Manager, FastWeb Media
Tony Keen, SEO Account Director, MEC
Ben McKay – Head of SEO, MoneySupermarket
Alex Moss – Freelance SEO Consultant
Tom Smith – Director of Search at Fast Web Media
David Towers – SEO Director, MEC Interaction
Simon Wharton – Managing Director at PushON
Peter Young – Regional head of SEO – UK and Ireland – Mediacom
David Nicoll – SEO Executive – Mediacom
Anjlee Bhatt – Social Media and digital strategy coach
Phil Wright – Digital, Search and Online Marketing Strategist, SMRS
Tom Mason – Social Media Campaign Manager, Delineo
Phil Morgan – Head of Search, Delineo
Paul Spreadbury – SEO Account Director, MEC
Alex Fenton – Foundation Course Leader, Salford Business School, University of Salford
Alex works for Salford Business School and became interested in SEO during his BSc, graduating in 1997. Alex has worked in the field of web development, SEO, SEM, e-learning, web applications and digital journalism ever since. Alex runs a successful web and digital operation based at the University of Salford called EDinteractive and has worked as a senior technical developer for numerous digital projects
Alex completed a Masters in Creative Technology in 2011 and is a member of the award winning Centre for Digital Business. Alex is a University lecturer in digital business, teaching digital literacy, web, search and social media marketing at MediaCityUK for Salford Business school. Alex has been a finalist and won several high profile digital awards, including being lead technical developer for Passport to Trade 2.0, which was a finalist for several high profile awards and won a European Search Award in 2014 for its use of Search & Social Media Marketing.  Alex is currently studying a PhD in the area of digital marketing and football and is head of the digital workflow for the University of Salford and Class of '92 partnership.
Twitter: @alexfenton
LinkedIn: Alex Fenton
Dr Aleksej Heinze – Professional Course Leader, Salford Business School, University of Salford
Dr Aleksej Heinze is a senior lecturer at Salford Business School, where he is a Social Media Champion and Co-Director for the award-winning Centre for Digital Business. He is also head of the advisory board to the Search Engine Marketing Trade Association (SEMTA) http://semta.eu.
His research and consultancy interests relate to digital marketing communications. He has a breadth of digital marketing experience from working on national and international projects – such as – Passport to Trade 2.0 – an award winning project that developed business culture guides, including Social Media Etiquette, across 31 European countries – http://businessculture.org. His current projects include the development of a Joint European Masters in Digital and Social Media Marketing http://mastersindigitalmarketing.org #passion4digital
Twitter: @AleksejHeinze
LinkedIn: Aleksej Heinze
Rebecca Rae,
Digital Results Lead

, Reason Digital

With a solid background in all aspects of digital marketing, content creation and PR, Rebecca now heads up the social media department at Reason Digital having previously been head of social media for integrated creative agency 'Photolink'.

Specialising in social strategy and creative content planning, Rebecca works with a team of community managers, SEO experts and content creators (videographers, writers, photographers, designers, developers). She has previously managed social media campaigns for Regis, Supercuts, Claire's accessories, Campo Retro and in-house owned online retailers Little Black Dress.

Named in the 'Top 30 women under 30 in digital' in The Drum 2012, Rebecca has been working in the digital industry for over 7 years. During that time she has contributed to numerous award winning projects including "Retail Campaign of the year" in the Northern Marketing Awards 2013 for social media's part in the brand positioning and multi-channel profile building for Regis Salon.

Personal Twitter @RebeccaWho
Richard Gregory – Chief Operating Officer, Latitude Digital Marketing
As Chief Operating Officer of leading digital marketing agency Latitude,
Richard is responsible for overseeing the successful delivery of industry leading digital marketing campaigns for all our clients including Which, Virgin Games and Bet 365.
In his seven years at Latitude he has held a wide variety of roles, including Head of Production, Head of Search and New Business Manager. Richard also took a leading role in setting up a partnership with BT that led to the creation of BT SearchSmart, a groundbreaking search product for the SME market.
Richard is currently Co-Chair of the SEMPO UK Working Group and has been an active contributor for over 5 years. As a thought leader in digital marketing since the beginning Richard, regularly speaks at industry events, including the Online Marketing Show, SES, SMX and Ad Tech. In 2010 Richard was co-founder of the SAScon event held in Manchester.
Revolution magazine recently said of Richard, he "knows more about search than most people would want to".
Twitter:
LinkedIn: Richard Gregory
Nikki Stasyszyn – Digital Marketing Manager, Mobedia
Nikki completed a degree at Loughborough University in Information Management and Business. Nikki has previously worked for a web design and online marketing agency in Oxfordshire and before that worked in house for 3M. Although specialising in onsite SEO across a range of sectors, Nikki also works on social media and pay per click campaigns. Nikki was Online learning team leader for SEO at PushON and is currently the Digital Marketing Manager for Mobedia in Alderley Edge.
Twitter:
LinkedIn: Nikki Stasyszyn
Paul Delaney, Head of Natural Search – Vizeum
With a background in web design and development, Paul has worked in SEO many years. Paul was an SEO Account Director for MEC Global, based in Manchester and is now head of natural search at Vizeum. Paul has provided strategy and management for a number of large global clients in the finance, technology and travel sectors such as Nintendo and Lloyds Banking Group. Paul was previously responsible for the management, development and growth of Latitude Express with their SEO service to small/medium sized businesses.
Twitter:@DelaneyPaul
LinkedIn: Paul Delaney
Phil MacKechnie – Associate Director and Head of SEO, Carat
As Head of SEO at Carat, Phil's motivation comes from developing world-class SEO and search campaigns that not only deliver results but create a sustainable and competitive advantage for his clients. Phil and his team of SEO professionals work across some of the world's leading brands and manage more than £2m in SEO spend annually.
Phil understands the need for a robust approach and processes in a discipline which involves literally billions of annual searches and tens of millions pounds worth of clients' marketing budgets. His passion lies in the integration of online and offline marketing channels where he feels currently there are few agencies who understand and deliver on this promise. Whilst some preach the virtues of "holistic search", traditionally SEO and PPC, few truly understand what it means to be integrated online and offline across all channels.
One of Phil's personal highlights while at Carat has been in getting clients to share his enthusiasm for reporting and the benefits of gaining intelligence through data by migrating clients onto Carat's bespoke campaign management and reporting platform, Insight.
Before joining Carat in August 2011, Phil worked in various roles at digital specialist agency, Latitude where he worked for 4 years establishing the agencies SEO team presence in their London office amongst delivering innovation and successful SEO campaigns to the agencies top clients across a myriad of sectors including retail, travel, finance and B2B.
Outside of Carat, Phil relaxes by playing golf, hiking, and snowboarding although notes that his physical activities are limited by his growing family and by a degree of injury proneness bettered only by Dan Carter!
Twitter:
LinkedIn: Phil MacKechnie
Aisha Choudhry
Senior Search Manager,
With extensive experience in Marketing and Search, Aisha is a Chartered Marketer specialising in strategy and PPC. Aisha in bi-lingual (English & Dutch) with experience working in search in both languages.
Tony Keen, SEO Account Director, MEC
Tony obtained a Masters postgraduate degree in 1999 and has worked in the fields of marketing, e-commerce and SEO for over a decade. Tony has held the positions of SEO Manager, Senior SEO Manager and SEO Account Director with MEC, one of the world's leading media agency networks. Tony works with major clients all over the world.
LinkedIn: Tony Keen
Ben McKay – Head of SEO, MoneySupermarket
Ben McKay is Head of SEO for the UK's number one comparison site – MoneySupermarket and TravelSupermarket. He manages a team of 20, and growing! The team is responsible for top rankings across a range of financial and travel sectors including Insurance, Money, Holidays, and Shopping & Vouchers.
Ben is an avid reader and writer on search and social marketing topics, blogging about his life as an SEO consultant, and on a number of other websites including a 'Search Biz' column for Search Engine Journal and SEO Scoop.
As a co-founder of SAScon, he made contact with the team at the University of Salford to help develop their Search and Social Media Marketing course – sharing resources and understanding from SEO Academy's he has worked to support and set-up previously. Ben is naturally passionate about training and developing people who are interested in SEO and related disciplines in order to promote clarity in what SEO can deliver to marketers, and of course its return on investment for the wider business.
Other key interests in search and social marketing include: search technology (he's a real SEO geek), link-building, SEO's integration with other channels (TV, PPC, CRM), on-site optimisation, the promotion of link-worthy content (linkbait) and his latest project, an SEO jobs site.
He's a sociable chap, so make sure you say hello to Ben McKay on LinkedIn or .
Alex Moss – Freelance SEO Consultant

Alex taught himself how to code in PHP using only Notepad and the online PHP manual when he was 17 and quickly started making sites in his year out before university. Studying Law and IT, he graduated in 2006 and worked in television production for a year before returning to web design and development and being introduced to SEO.
Alex is now Director at FireCask, a digital agency specialising in Search, creative content production and WordPress development. His combination of in-house, agency and freelance experience over the years gives Alex a rather different background to the rest of the industry speakers. Alex is also the Co-Founder of Peadig, a WordPress theme framework powered by Bootstrap, develops WordPress plugins, helps organise the MancSAS Meetup and contributes to industry blogs such as Huffington Post, The Guardian, Moz, Econsultancy, State of Search, Search Engine Watch and 123Reg.
Tom Smith – Director of Search, Fast Web Media
Tom is a highly experienced search strategist and consultant who has worked with a wide range of high-profile clients in a range of niches.
An over-zealous interest in the internet in the 1990s led Tom to publish all kinds of "retro" (poorly-designed) sites throughout his teens, and eventually he went on to study Business with e-Commerce, a course from which he graduated in 2006.
Tom joined the Fast Web Media team in 2008, after working client-side on paid search and affiliate management. Since starting at Fast Web Media, Tom and his team have developed many award-winning campaigns that have delivered strong returns for clients such as the Premier League, Carling, Cobra Beer, Bravissimo, along with international clients, mainly in the Netherlands and Greece.
Particular areas of interest include: analytics, attribution, search/social integration with TV, and link-building innovation.
You can connect with Tom on .

David is the Head of SEO at MEC (a GroupM/WPP company), co-leading a team of 25 full-time SEOs across Manchester and London. Since joining MEC, David has helped increase SEO revenue to over £2 million and quadrupled the client base. David leads the SEO across a number of accounts including: Lloyds Banking Group, Paramount, HomeServe and Nintendo. When not working at MEC, David writes about online marketing at GoodWebPractices, consults for a number of charities and is on the advisory board of icould.
David has always had a keen interest in technology and put his first website online in 2000. In 2005, David was awarded the 'Most Enterprising Student in the Greater Manchester Region' by the Shell Technology Enterprise Programme following an internship with a local SME, where he created and implemented a market entry strategy to the US.
David graduated with a Bachelor's degree from the University of Birmingham and a Masters with distinction in International Business from Grenoble Graduate School of Business. Following graduation, David joined Schneider Electric at their headquarters in France. Working within the central Marketing Innovation team, he helped develop their online marketing strategy (web development, SEO and PPC) and created resources which were deployed across EMEA.
David left Schneider Electric to freelance through GoodWebPractices with several UK and US based SMEs in SEO and web development. Moving back to England in 2008, he joined MEC as the SEO and Social Media Manager tasked with growing the SEO and Social Media business in Manchester. David helped structure the SEO and Social Media offer, dramatically increasing the client base and growing revenue to over ten times what it was when he joined. In the light of these achievements, David was promoted to the position of SEO Director and subsequently Head of SEO and appointed to the Ops Board of MEC Manchester. In July 2010 he was the only SEO in the UK to be selected in MediaWeek's '30 under 30′ award and in 2011, was shortlisted for in MediaWeek's 'Agency rising star' category and won Silver.
You can connect with David Towers on LinkedIn, read his articles on web development and online marketing at GoodWebPractices and follow .
Simon Wharton – Managing Director, PushON

Simon graduated from the University of Liverpool with an Honours Degree in Computer Science in 1988. From there he moved on to fulfilling his passion – working in music. Not a musician himself, he was content with management and promotion. Simon returned to the digital sector in the 90s, initially delivering technical support solutions for IBM then moving to IP Support where he built ISPs, delivered European VoIP solutions and provided the technical support services behind them. Since joining forces with his colleague Roy in 2002, and utilising the expertise they developed in online marketing, they started PushON and the rest as they say is history.
Simon is passionate about everything digital and regularly shares his findings via
Simon is priding himself on being the 19th most followed tweeter in Manchester! Having sat for many years on the Manchester Digital board, he has positioned himself as one of the leading authorities on Online Marketing in the North West.

Peter could be considered a veteran within the SEO industry having been involved in SEO since around 2002 both client and agency side. Having developed hugely successful SEO operations at both Amaze and more recenty at Mediavest in Manchester (the most recent a +1 Million turnover business working with the likes of Selfridges, Barratt Homes, BUPA and Thomas Cook), Peter was Head of SEO at Brilliant Media and now head of SEO for MediaCom UK and Ireland.
Having graduated from Manchester Met with a degree in Information and Communications Technologies, Peter started his working life as a programmer for a web development agency in Wigan – working on clients such as JJB and Ladbrokes. However, Peter soon moved his attentions to the art of SEO.
Peter is passionate about search (both paid and organic) and runs the successful Holistic Search Marketing blog, which regularly features on sites such as Search Engine Journal and Search Engine Land. Peter also blogs for European Search blog State of Search and Search News Central.
Further to this Peter can increasingly be found on the UK search conference circuit, and will be speaking at SES in February 2011. He is also Co-Founder of the Manchester based SASCon conference and was responsible for the hugely successful Manchester SEO Mini Conferences held at the Hive In October
2010.
Twitter:
LinkedIn: Peter Young

Dave is currently working with the Monocore digital team having previously led the outreach departments at MediaCom and Carat. He also runs the blog 
In The Loose
 where he works on trialling and implementing new strategies for a rugby inspired audience.
Dave originally graduated from The University of Manchester with a degree in Business and Marketing before embarking on an additional year at Manchester Metropolitan University to achieve a Masters in International Creative Advertising. Dave combines the creative element of his education with the digital expertise picked up at working in some of Manchester's top media agencies to constantly deliver new and innovative campaigns for clients whilst continuing to test new and emerging industry trends to see how they can be effectively implemented on live campaigns.
You can find Dave on Twitter or LinkedIn.
Anjlee Bhatt – Social Media and digital strategy coach
Anjlee is a freelancer specialising in social media coaching, social presence setup and digital strategy services. She comes from a strong academic and research background having graduated from Birmingham City University (formerly the University of Central England in Birmingham) in 1999 with a Master's in Library and Information Science and followed a career path in Digital Libraries until moving to Canada in 2003.
After completing a Master's in Business Administration from Saint Mary's University in Nova Scotia in 2010, Anjlee decided to make the move into freelancing full-time and relocate back to the UK. She arrived back in the UK in September 2011 and completed the Search and Social Media Marketing at Salford University, as a means of making connections and rounding out the knowledge and skills she already possessed.
Anjlee is an avid content curator and spends most of her spare time online, reading and sharing useful articles and posts related to social media, as well as contributing to projects like Digital Sunrise Europe <http://www.digitalagendastrategy.eu/>.
Twitter:
LinkedIn: http://uk.linkedin.com/in/anjleebhatt
XeeMe: http://www.xeeme.com/anjlee
Phil Wright – Head of Analytics, MediaCom i-Lab North
Phil has been working in the web and online marketing fields since 1998 and in that time has experienced the complete customer journey from Search, PPC, Analytics, web design, content and information design and social media. Phil brings strength in breadth and depth to the table. Phil has focused most recently on the education and recruitment markets giving him a variety of products and audiences to cater for.
Since 2010 Phil ran the digital dept at SMRS, working with a small team to deliver creative, smart and effective digital solutions across a range of channels and is now head of analtics at MEC global.
Phil is a very experienced trainer and expert in Search (PPC and SEO), Web analytics and data-driven testing, Website design and build, Social Media with extensive client-facing experience
Twitter: @transparenceweb LinkedIn: Phil Wright
Tom Mason, Head of Social Media, Delineo
Tom is the social media campaign manager at Delineo, a full-service advertising agency based in Manchester. He is responsible for the overall strategy and implementation of all social media campaigns to come out of the agency and, in 2011, his work was nominated for three national digital awards.
Tom graduated from the University of Manchester in 2006 with an Honours Degree in English Language and Literature before pursuing a career in journalism. He eventually found his way to an agency as a senior SEO copywriter, before turning his attention to social media.
Tom is passionate about social media and is a strong advocate of integrated marketing campaigns; advertising which utilises social media to achieve specific marketing objectives. He's a fervent blogger, running his own website at 330 Words and, unsurprisingly, uses social media heavily in his personal life.
You can follow him on Twitter @totmac and LinkedIn.
Phil Morgan, Head of Search, Delineo
Phil is Head of Search at full service advertising agency Delineo. After graduating with a First Class Honours degree in Computing Multimedia Systems and then a Master's degree in Computer Science from Liverpool University in 2007, Phil has always held a keen interest in technology and in particular the world wide web.
In 2007, Phil started his career in search as the lone SEO in a fledgling agency, from this start Phil has since planned and executed search campaigns from both an in-house and agency stand-point. Phil has a real passion for search marketing, both organic and paid, creating integrated strategies for clients in both B2B and B2C environments.
Phil is particularly interested in search engine optimisation and is a real believer in creating digital campaigns focused on providing a solid return on investment. Phil likes nothing more than trying out the latest and greatest in SEO tools and software, has a keen interest in the increasing influence social is having on SEO and outside of Delineo has been known to grace the odd 5-a-side pitch.
Twitter: @philipmorgan and Linkedin

Paul Spreadbury, SEO Account Director, MEC
With a strong technical background, Paul has worked in SEO for over 8 years.  Paul's day to day role as SEO account Director for MEC Global includes strategy and management of large clients in the finance sector, including Halifax and Lloyds Bank both part of the Lloyds Banking Group. Paul focuses on advanced link building and technical recommendations, and reviews the strategies and tools used throughout MEC's client base. Paul was previously head of SEO for Just Search helping to develop and grow their SEO service to more larger and corporate clients
---