IVA Advice and IVA Debt Advice SEO
Company introduction
X-debt is a debt company dealing mainly IVAs (Individual Voluntary Arrangements) a form of debt management and IVA debt advice . The company relies on introducers of new business which can be expensive. The aim of this SEO work is to try increase the amount of business through the company website www.x-debt.co.uk and improving the google rankings will help with this.
Starting Point
We started off with a website that wasn't creating any search traffic so decided to redevelop the whole site adding in 2 new main pages and changing the whole design and layout of it.
The website had a lot of links so the new website was simplified with the main links to the top and other links in the footer.
Old Website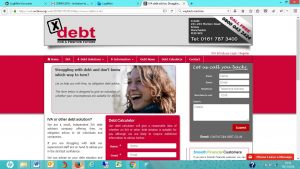 As you can see in this screenshot the old website was very dated and had far too much text on it as well as too many links which made it hard for visitors to get where they needed to be or make an inquiry.
New Website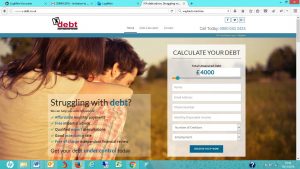 The new website was designed with a modern feel with the prominent telephone number and debt calculator on all pages so there is a 'Call to action' which is easy to see.
Only 3 main links were added to the top  main menu so it was easy for visitors to find their way to the main pages.
All other links were included in the footer as seen in the screen shot below.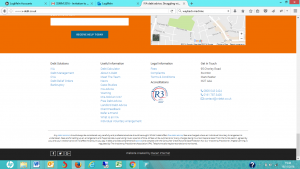 The website and home page was optimised for phrases such as 'IVA debt advice' and 'IVA Advice' among many other phrases. All the pages were optimised to improve the MOZ  score . The debt management page was optimised for 'debt management' and the IVA calculator page for 'IVA calculator'. 'IVA calculator' was changed from 'Debt Calculator' as 'debt calculator' was seeing far fewer searches at this time.
At the beginning of the campaign the rankings were as follows with data from Google Analytics:
IVA advice – #45
IVA debt advice – #27
Local 'Manchester' searches for these phrases ranked in the first page but generated no traffic.
Although we were not receiving any traffic for these phrases, they were seeing impressions with 'IVA advice' showing 859 for the previous month. If we could improve the rankings then the impressions should increase and that would begin to generate traffic.
Other phrases were generating impressions also and these rankings could be improved upon:
Free debt management – 549 impressions – 0 clicks – Ave position 32
Iva debt management – 483 impressions – 0 clicks – Ave position 39
Iva calculator – 398 impressions – 0 clicks – Ave position 35
Individual voluntary arrangements – 342 impressions – 0 clicks – Ave position 220
Debt Management Company – 302 impressions – 0 clicks – Ave position 120
The single keyword 'IVA' along with 'Individual voluntary arrangement' and 'debt management' are the highest searched phrases but the competition to achieve a good ranking is very high. So we aimed for phrases with lesser competition but still had a good number of searches.
It was decided to continue with 'IVA debt advice' and 'iva advice' as the main phrases and as these improved it would help increase the rankings for 'IVA'.
Action Plan
All of the pages of the new site were optimised for the relevant phrases and we checked the score using the Moz SEO tool and results came out around 96 – 98% for most pages.
New phrases were also identified – 'What is an IVA' and 'Individual voluntary arrangement' so new pages were created for these. Google Analytics was used to see how many searches these phrases were getting, locally and nationally, and as there were a high amount of searches we thought that it would be beneficial and create more traffic to the site if we add those pages.
We also looked at introducing new phrases through the new Case studies , Client feedback, and News pages.
All news posts to the above pages were automatically set to post to the X Debt Facebook  and Twitter profiles.
A Google+ page was utilised further with posts added linking to any new pages or news posts. We will attempt to gain new Google Plus reviews over the coming weeks and months.
Improvements seen
From a Google Analytics comparison for the 30 days before the SEO work to the last 30 days we can see the changes in the screenshot below.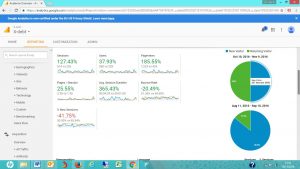 We can see that there is an overall improvement.  Sessions are up by 127% which is a big increase and the average session duration has massively increased by 365% so that shows that people are spending more time on the website. Users have increased by 37% which is good and it shows the changes that have been made have generated a lot more traffic to the website.
Clicks and Impressions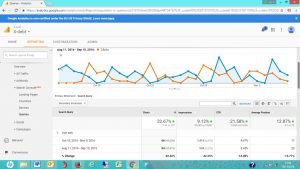 From the above screenshot we can see that both clicks and impressions have increased during this time. This shows that the changes made and the new pages added have generated more traffic to the website.
We then analysed the main key phrases that we have been targeting.
The main phrases were 'IVA advice' and  ' IVA debt advice' as well as monitoring 'iva' and ' debt management' although these were high competition phrases.
We also monitored the additional phrases such as 'iva calculator', 'individual voluntary arrangement', 'what is an IVA' along with the other phrases.
Although we have found that these phrases aren't generating any traffic yet, the number of impressions is increasing along with the rankings. Therefore we are moving in the right direction.
Rankings today are as follows along with impressions over the last 30 days:
IVA debt advice – ranking 23 up from 27 – impressions up by 13%, 232 up from 204
IVA advice – Ranking 39 up from 45 – impressions up by 25%, 1037 up from 827
IVA calculator – Ranking 29 up from 37 – Impressions up by 8%, 393 up from 362
Individual voluntary arrangement – Ranking 160 up from 210 – Impressions down by 23%, 131 down from 170
What is an IVA? – Ranking 99 up from 110 – Impressions down by 58%, 26 down from 62
IVA – Ranking 110 up from 130 – Impressions down by 17%, 190 down from 229
Debt Management – Ranking 150 up from 210 – Impressions up by 4500%, 90 up from 2
*Where there is an improvement in rankings but a drop in impressions this is likely to be due to a drop in search volume for that phrase.
We are also seeing a big increase for other phrases that we haven't had before:
Free debt management – Ranking 27 up from 33 – Impressions up by 16%, 618 up from 529
Struggling with debt – Ranking 33 up from 35 – Impressions up by 213%, 326 up from 104
As there has been an increase in search traffic over this period we then looked at those phrases generating clicks. Most traffic is coming from 'X debt' or similar searches. However, we are now seeing a small amount of traffic from phrases including 'iva companies manchester', 'debt management companies in uk', 'debt management manchester' and 'free iva calculator'. None of these phrases had received traffic in the previous period.
Recent Actions
To improve on page SEO hyperlinks were added to some mentions of 'IVA Advice' and 'IVA debt advice' phrases on internal pages back to the home page.
MOZ was showing some 404 errors so 301 redirects were applied to these pages.
An Article submission was performed at http://www.isnare.com/?aid=1959417&ca=Finances . This article is distributed to a number of article website. It is hoped this will help improve the back links and Domain Authority.
Additionally, as there is little search engine traffic at present a facebook advertising campaign was started.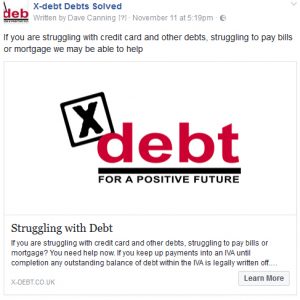 This generated additional traffic as shown here: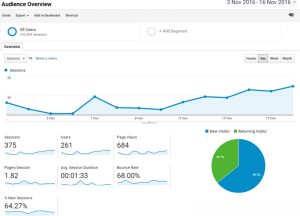 Different Facebook adverts are currently being tested to see which achieves the better results.
Google Plus
Google + posts will continue on https://plus.google.com/+X-debtUk. New posts are added when a new page is created or new blog post published.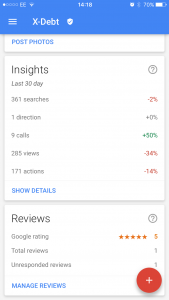 Google+ insights show recent increases in the number of people clicking the telephone link with the page also showing in 361 searches.
Next Steps
Analyse keyword and search data to identify new phrases. Create new pages / blog posts targeting these phrases from Google keyword tool and google suggestions.
New posts and pages posted to Social Media. Boost facebook posts.
Identify debt forums or blogs and post articles,  comment on other posts and respond to any comments
Identify linking opportunities to improve Domain Authority
Acquire customer feedback and add new case studies
Focus more on Social Media
Test different Google Ads
Focus on local search
Try to get more Google+ reviews
---