Understanding your goals and achieving a return on investment (R.O.I.) is crucial when embarking on a social media campaigns. There are so many different perceptions of "success" when it comes to social media that you could easily invest a large budget into a campaign and fail to achieve your goals – We did and we were left feeling pretty stupid!!
So, what are your social media campaign GOALS?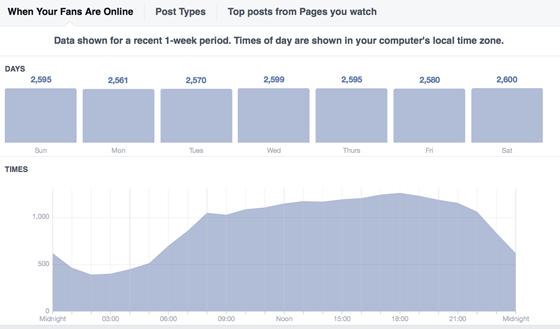 You can run digital marketing campaigns and in particular those on social meida for a number of reasons:-
Brand awareness
To increase your likes / followers
To target a specific audience
To sell products
To engage an audience
We are a new e-commerce business launched in 2015 selling funny Christmas Jumpers so our main objective was, SIMPLY – to "sell jumpers". Yes, brand awareness is important, as is engaging an audience, but our season is short (8 weeks of the whole year) so sales are critical – Our main priority.
You might have your own digital marketing team? Or maybe you're doing it yourself? Or do as we did – and engage a digital marketing agency. Which ever it is – define your main priorities from the outset and communicate this with great emphasis to whoever is running your social media campaigns. Set specific Key Performance Indicators (KPI's) and agree on how you intend to achieve these. Otherwise you risk getting lost in the social media posting cycle and ultimately not getting what you wanted out of the giant that is – social media.
Succeed or fail?
So, how do you define success? And how do you prepare your campaign to ensure you achieve your end goal? The post below achieved:
140,511 people reached and had 
160 shares
  – would you class this as "
successful"?
Too rude for Facebook! Get a first look at our hilarious Christmas jumpers here –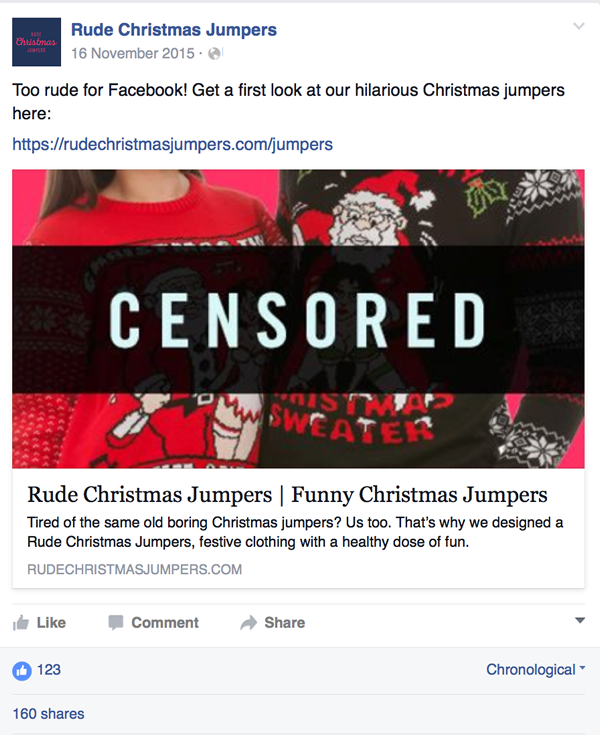 We thought this was amazing! 140,000+ people reached. 123 new page likes / followers just from one post.
We also ran a competition to win two of our jumpers: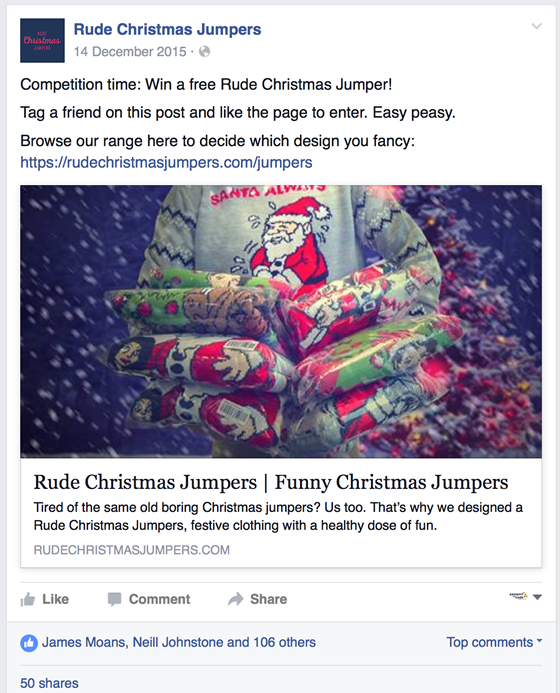 This was shared over 720 times! Amazing – you'd think?
But how many sales did this convert to?
Not many! Our agency assured us that it was too early in the campaign to see immediate sales – consistency would apparently lead to more sales. What do you think?
Our Facebook page now in April 2016 – 733 likes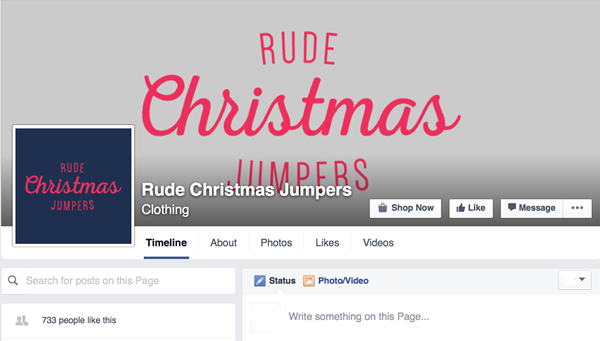 So, what didn't we do right? 
There is no clear "Call to action" in our posts.  What is a call to action (CTA)? By definition, in marketing, a call-to-action (CTA) is an instruction to the audience to provoke an immediate response, usually using an imperative verb such as "tell us what you think?", "call now", "find out more," or "visit a store today."
Is our post linked to our website? Social Media does the link building for you so don't miss out on something that can be incredibly beneficial to your website.
We didn't re-engage with people that shared our posts? Our BEST-SELLING-JUMPER sold by the hundreds on Amazon & eBay but we failed to capitalise on this via our Social Media platforms. Push your products! If a product sells well anywhere – there is a reason! It is likely that it would generate interest & awareness on Social Media – so use it!
We didn't plan our campaign. We naively put out several posts which we thought were funny and engaging. This isn't enough people!! Work out a plan of action. Set yourself sales targets. Plan your posts to achieve certain results. If they work – great! If they don't – change them.
Ultimately, if you're an e-commerce business it goes without saying that you're there to sell products. Social Media is a marketing giant and it's FREE! But it can easily turn out to be a big waste of time & effort – since your time does cost money it can make your use of social media very expensive!
Take some time to learn the basics – maybe go on a course – I have done now and this year's Christmas season will be a very different experience for us! 
HAVE FUN!!!!
---