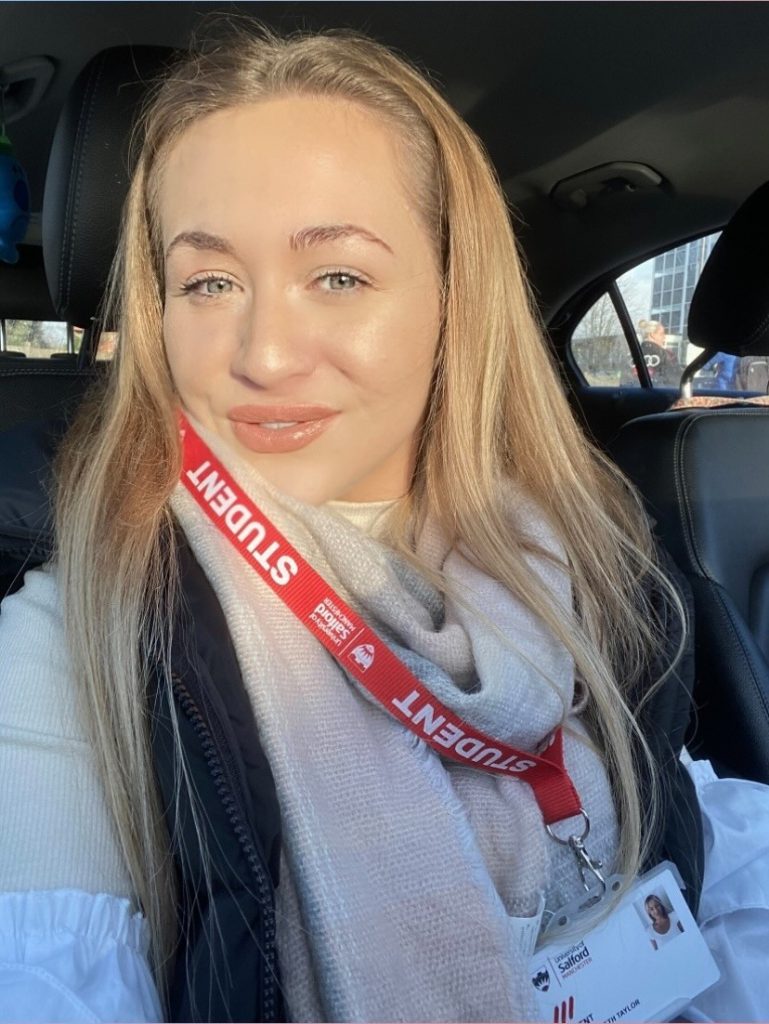 Jade, a BSc (Hons) Human Biology and Infectious Diseases student, was awarded the MLG Women in STEM Scholarship in November 2021, in recognition of her hard work and determination.
The Women in STEM Scholarship is generously funded by the donor community of the University of Salford who are striving to help improve the number of women studying across STEM subjects, and will provide invaluable, non-repayable support for the duration of an undergraduate degree.
We caught up with Jade to find out how she's found her first year at Salford:
Why did you choose the University of Salford?
Location was important to me as I am a single mum; I needed to commute an easy distance to be close by in case of emergencies, and to keep a well-structured routine.
What is your favourite thing about Salford?
The University offers a great place to study when you want peace and quiet, and I have taken advantage of the sports facilities, in particular swimming and my three-year-old daughter loves it as well! Transport links are also great, and I sometimes meet my cousin who is in his final year of Graphic Design.
Have you participated in any extra-curricular activities at Salford?
I engage in sports, including volleyball, which was a love of mine back in School – I was thrilled to be able to play it after eight years.
I entered the Biomedicine Art Competition which I thought sounded like fun! It attracted me because I could accommodate all the aspects of what I learn on my course in a piece of art; I was lucky enough to make the final selection.
I am also hoping to attend many conferences and extra-curricular activities along my journey as a student as I am excited to take advantage of what the University has to offer.
Can you tell us more about the Biomedicine Art Competition?
My artwork describes the pain in which people all over the world suffered through the Covid-19 pandemic. Many deaths occurred through Covid-19, which is upsetting for family, friends, and strangers watching the news on TV. If this wasn't devastating enough, the relatives of those lives weren't allowed to attend the funeral due to the restrictions that were in place during the lockdowns that started in 2020.
During lockdown, every person in the world was made to separate, isolate, and quarantine; this caused families to become distanced, grandparents couldn't meet their grandchildren for the first time and mental health suffered a considerable amount across all ages.
Another issue raised way before Covid-19 is the lack of hospital beds. Patients are forced to be left on corridors, even in serious conditions. Patient dignity is lost, care is diminished, and staff are exhausted.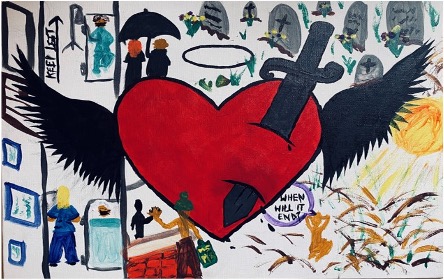 Have you faced any challenges on your journey to university?
I am a slightly more mature student and that initially made me wonder how I would manage to fit in socially; after not being in education for over five years, I was nervous of the whole new experience of life at Salford. All my fears disappeared in the first week when I was made to feel right at home and picked up the art of learning and study quicker than I thought possible.
Are there any significant milestones from your time at Salford so far?
The comments and mark of my first paper gave me the confidence I needed to excel. Managing my time between domestic duties and studies has worked out well and the Scholarship has benefitted me enormously in this respect, to ease my worries financially and allow me to concentrate fully on my studies and duties as a Mum, with a balance I can manage.
I have recently moved into a beautiful home which makes me feel like my ambitions are slowly being achieved. Being in a nicer area means a better choice of primary schools which has eased my anxieties – this reduces stress levels and therefore improves my studying.
 To find out more about the ways you can support vital scholarships at the University of Salford, visit Giving To Salford.