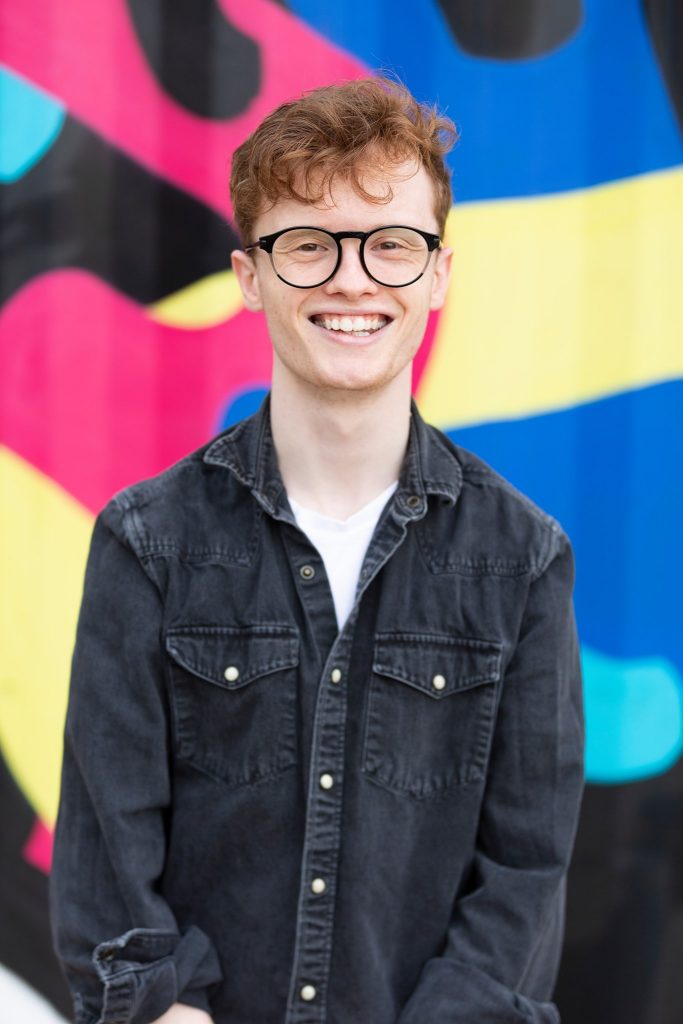 Joe, a BA (Hons) Comedy Writing and Performance graduate, secured the Performance Graduate Scholarship in the summer of 2021, in recognition of the outstanding potential they displayed as a student at the University of Salford.
The Performance Graduate Scholarship is kindly funded by the University's donor community, and was created to support our recent graduates during their first year after graduation as they strive to establish themselves in the creative industry.
We caught up with Joe to find out how he's found the first year post-Salford:
Hello everybody,
The year post-graduation has been very strange for many reasons. First of all, it's the first time I've been out of education for about 18 years. Getting used to those changes has been tricky, after three years of spending every day looking at and creating comedy, to then have to get a full-time job and other work commitments. I've found myself having to fight a lot more for time or energy to focus on it which has taken some getting used to.
When I discovered that I had been awarded the Scholarship, I felt a great sense of pride and relief. Pride because it felt great to have people say, "we think your work is good enough to have financial backing and we want you to develop it further," and I also felt relief because it meant that I had a set project for the next year to focus on. I also knew that I would have a deadline that I was going to have to work towards, which was one of my big fears after graduating, not having any deadlines to do work and, subsequently, not getting anything made.
The biggest difference that the Scholarship has made to me is that it has allowed me to have a deadline, which helped to keep me motivated when coming out of university. It has also given me the benefit to research topics, the ability to do different classes, and see different shows, which wouldn't have been possible without the award. It has also given me the ability to properly pay people for their work, helping me to become a more genuine writer, not having to cut corners for budgetary reasons.
My biggest challenge has been finding the time and energy, as in my current job my hours are extremely irregular and I only find out which hours I'm working a couple of days in advance, meaning there's no way I can have a consistent writing pattern to fall into. I have to be extremely proactive and think about how I'm spending my time and choose my moments very carefully. Over this past year, I've learned a lot about how I best work, and it's usually outside of my flat somewhere, like a cafe or library where there aren't as many distractions.
Moving on from the Scholarship and looking toward the future, I'm going to apply for an online MA at Falmouth University to study Comedy Writing, to further help me expand my skillset and get more knowledge on how the industry works. Hopefully, after this, I can start to get my foot in the door. Comedy Producer, Simon Nicholls, leads the course, so I'm looking forward to getting an even better understanding of the industry.
I've also started doing more stand-up comedy, which has been lovely as I do enjoy it, and it's even lovelier to discover that, despite my sporadic attempts over the last year, I haven't lost 'it'. I'm looking into doing more comedy collaborations with people, which after spending a year working on this project all by myself has been refreshing, to be able to speak to people about different ideas has helped remind me why I have chosen this for my life.
Thank you so much for your support. Without you, there is no way that I would have been able to do half the things I've done this year, in regards to my work and also for the networking opportunities it has provided me. It has also allowed me to try different approaches to work and to see what different approaches could be, without the fear. It has allowed me to experiment.
So, thank you once again for helping me and the other Scholarship students in a very uncertain year coming out of Covid-19 to have a bit more stability.
 To find out more about the ways you can support vital scholarships at the University of Salford, visit Giving To Salford.