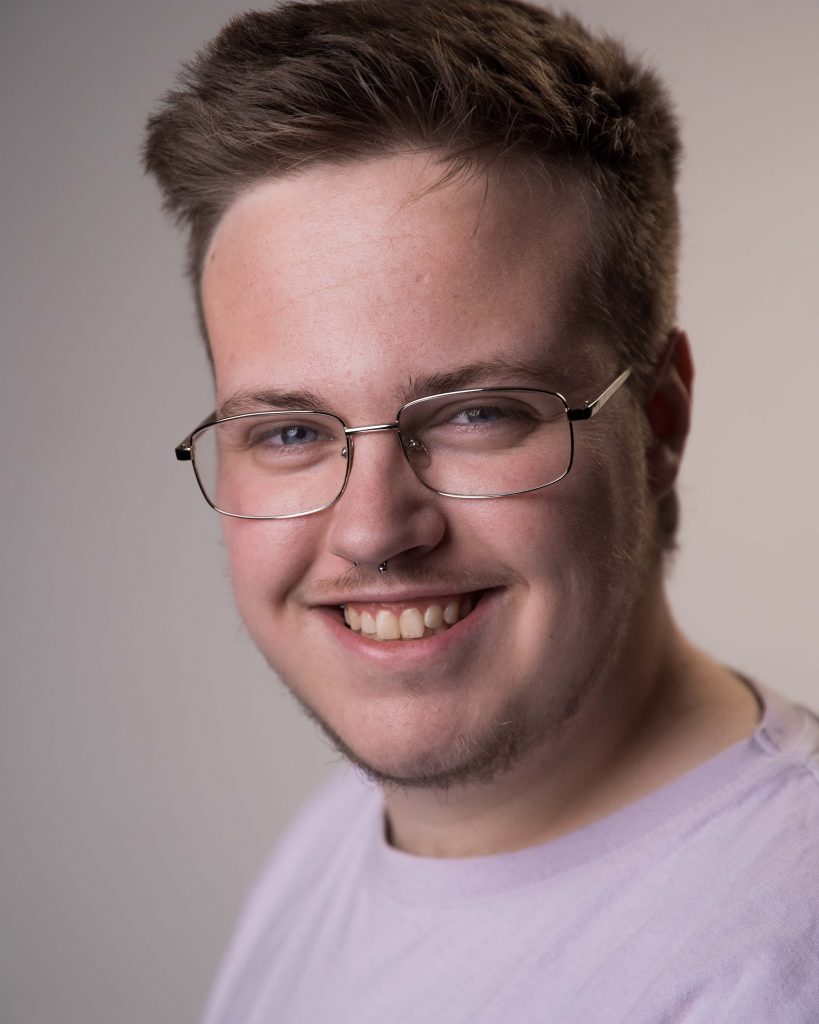 Ben, BA (Hons) Media and Performance graduate, was awarded the AR Performance Graduate Scholarship in the summer of 2021, in recognition of the exceptional promise they demonstrated as a student at the University of Salford.
The AR Performance Graduate Scholarship is kindly funded by an anonymous donor to support three creative, recent Salford graduates as they transition into employment.
We caught up with Ben to find out how the's found his first year as a graduate:
How have you found the first year post-graduation?
I've been surprised at how great my first year after uni has been, honestly! I've been lucky that I've had my first few professional acting roles at Hope Mill Theatre and the Liverpool Playhouse; I've also had a few paid presenting jobs and have been able to progress with my stand-up comedy. I've been so lucky that things have been progressing for me. I'm always busy!
How did you feel when you learnt the Scholarship had been awarded to you?
I was really excited! I feel that I hadn't done as much theatre as I would've liked during my course, so I was really excited to receive this to really explore theatre and how I can create my own semi-autobiographical show. I thought quite a bit about what I wanted to do and going through the process of turning that idea into a reality has been super cool!
What have you been able to do because of the Scholarship?
There's a lot that the Scholarship has allowed me to do. It's given me an opportunity to explore the creative industries that exist in Manchester and surrounding areas, and has really given me the chance to explore different possibilities that can come through theatre.
I'm now in a research stage of my piece, interviewing other transmasculine people and the Scholarship fund has meant that I can use some of it to compensate them for their time and telling their stories. It's also allowed me to get other transmasculine creatives on board to give feedback on my script and I am currently working with a transmasculine dramaturg, who is really helping me shape so much of what I want to do.
Have there been any particular milestones over the last year?
I have become an Associate Theatre Maker with Blue Stockings on their new show ROBOT; I have gotten my first few paid acting/presenting jobs; my stand up is progressing; and I have my first gig on a pro line-up later this year. I have an agent, been granted two different film commissions for LGBTQ+ documentaries, made contacts with other creative transmasc people around Manchester, and my love for theatre has been greatly enhanced!
Have you experienced any challenges?
One big challenge I had fairly recently was needing to change the direction of my show. I spent a while thinking about a new stimulus and motive for my piece; I mentioned it to a friend, and we had a discussion around our experiences of masculinity, his as a cisgender male and mine as a transman. We discovered so much about our experiences that it made me want to look at the piece in a way that investigates and questions masculinity for transmasculine people and how the expectations of masculinity affect us, especially when we are often raised with a feminine focus. I definitely feel that this realignment really helped to revive my love for this piece and the wide variety of possibilities it can present.
What are your plans for the future?
As mentioned, I am currently working with a dramaturg who is guiding me through the Arts Council England funding process. I am hoping that I can use this year as a big research and development year for the piece, and then develop it further with ACE funding so that it can eventually be previewed or shown.
I am also exploring the possibility of using interviews given as part of the research stage within a short documentary that shows the real reactions and feelings we have for masculinity.
I also do a bit in my show where I talk about Yorkie's misogynistic campaign from the earl 2000's, but how it helped me validate a part of my identity during that time even when it was quite damaging. I would like to re-film the advertisements they used to put out on TV through a queer, transmasc lens to re-contextualise the 'only men can eat Yorkie' concepts.
Is there anything you would like to say to the donor?
The industry is notoriously difficult, and many young creatives leave university or drama school or training feeling lost, not having the resources to create and find their theatrical flow. What you have given us through your generous donation is a springboard, an opportunity to really discover ourselves as creatives and to just discover what our place in this world looks like. Thank you for giving us this, it is truly a privilege to have access to such tremendous support whilst so fresh in my career!
 To find out more about the ways you can support vital scholarships at the University of Salford, visit Giving To Salford.