Although I'm a content writer I'm also expected to lead Soap Media's social media marketing campaigns and, naturally, I'm Copywriting for SEO – page rankings are always in mind. Some established Copywriters lament the new generation and complain about where the talent's gone, but Copywriting with Google's algorithms in mind is now the way of things, and content is primarily about SEO, keywords, and Call to Action (CTA) buttons.
It's a complex time, and this is what I've learnt after four years of SEO, and following two months of The University of Salford's Search and Social Media Marketing (SSMM) course…
 Discovering A Social Community
Getting a social campaign moving requires relevant and concise types of content, driven along by CTA practices and entertaining copy (this is my read of it, anyway). Social media marketing, I've noticed, has no real set formula for success. As with content marketing, there's no guarantee anything will draw in traffic – all you can do is take part and enjoy the results, however large or small.
I hadn't been working for the agency for long when I noticed an article about The Manchester Duck Race in the Manchester Evening News (MEN). The annual event is organised by Spinningfields and The Manchester Duck Race team for the children's charity Brainwave. Along with the good cause, Soap's homepage has a prominent picture of a duck on it, which was rather apt.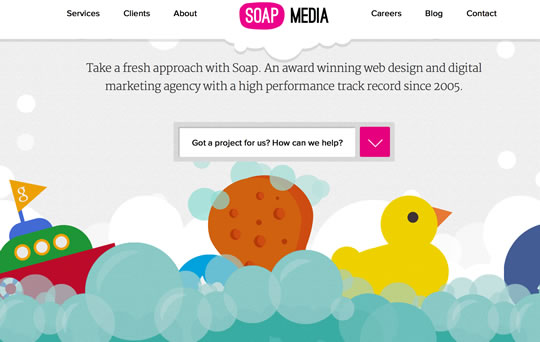 We soon entered the Corporate Duck event to provide a design for the Best Dressed Duck competition, as well as to enter the race down the River Irwell.
 Acquiring A Duck And A Design
Social media marketing sometimes involves legwork and I would, four times in all, traipse across Manchester city centre carrying a giant duck. Asides from the unusual looks I received the end result was always going to be impressive – a horde of ducks floating down the River Irwell in the name of charity.
One of our PPC experts soon suggested a Duck Family design, with the general manager suggesting a Golden Mother Duck concept. We subsequently bought eight smaller ducks to design along with "Big Duck" (as Spinningfields described it).
We individually designed the smaller ducks, producing Batduck, Spiderduck, Robber Duck, Where's Wally? Duck, Hulk Duck, and Bumble Duck. Upon Tweeting these images, and posting them on Instagram, we received social shares from some big names in Manchester.
The Event and End Results
On April 3rd the event took place in Spinningfields, with the Corporate Ducks let loose onto the River Irwell. We lost. However, the family event produced dramatic moments for our social accounts.
Charity events such as these can liven up predictable social accounts, build business rapport, and promote your brand. We were able to fill our Instagram, Pinterest, and Twitter feeds with vibrant pictures of colourfully comical ducks, whilst supporting the Brainwave charity.
We won quite a lot of social media interest, with Spinningfields following us on Twitter, as well as retweeting us in front of their 30k+ followers. It also led to this blog post, attention on Pinterest, Facebook, and the certainty we'll be back in 2016 for the seventh annual event.
 Copywriting and SEO
It doesn't seem like there was an era when Copywriting existed without Google's algorithms. I'm presuming NLP was the tactic of the past, along with taglines such as "A Mars a day" or "Always Coca-Cola", and whilst success in the past was tested by sales, these days it's ever detailed, analytically driven data.
Now it's all intricately monitored through analytics tools, and getting SEO right is a key part to how copywriting works. As I've recently learnt, there's also on-site optimisation, link building, content marketing, White Hat tactics, and adhering to Google's algorithms, and all this has to be monitored through Google Analytics, Moz, and the likes of Sprout Social.
 Developing Authority Through Content
Social media hijinks aside, my SEO appreciation now moves beyond keywords. It's about the constructive application of them, going creating a detailed world on websites where on-site optimisation, link building, blogger outreach campaigns, and social media strategies are helped along by White Hat tactics, PPC, and getting all of this to work in tandem.
Developing industry authority is now a key goal, and apparently Content Is King (although there's no update on who's The Queen – perhaps it's SEO). Getting the copy to work on the search engine optimisation front, and developing brand presence online with social media campaigns and content outreach, can help launch a business up SERPs. It just has to be done in a methodical, creative, and entertaining manner. Thank you to the SSMM lecturers for making me aware of this!
---