Over the past 5 weeks on the Salford Uni course we've listened to our tutor and 5 industry speakers share more than 300 slides of the latest digital marketing goodness. Question is, how do we use these tools in the real world of limited time, people and budgets?  To investigate, I've done a digital marketing strategy audit.
My client Trafford Builders is a growing family business. They do home extensions, loft conversions and open plan living. My challenge is to use digital marketing gracefully to help them build their brand and win new customers through enhanced word of mouth.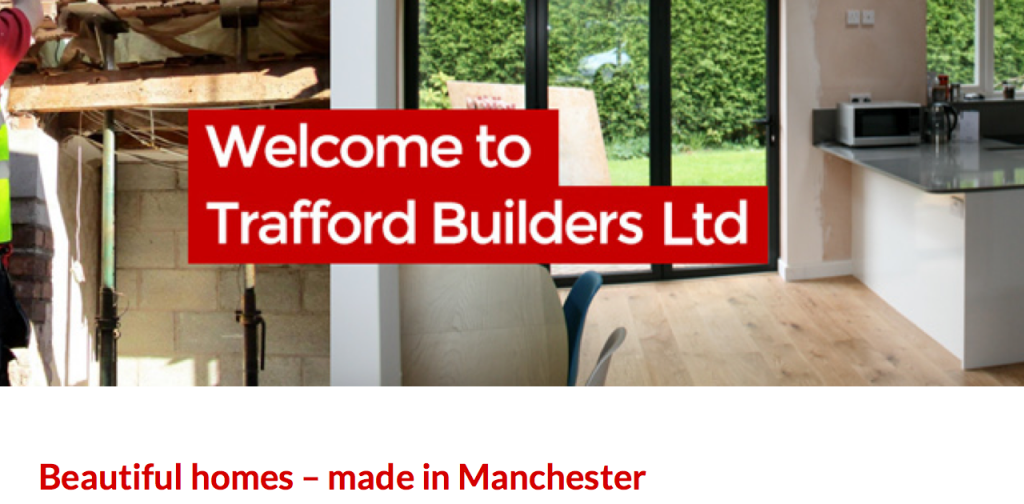 And here's the rub –  I've only got at most an afternoon a week to achieve results. Here comes my digital marketing strategy audit.
Before you implement your digital marketing strategy you need to look at what's worked and what hasn't. So I've analysed Trafford Builders' digital presence for strengths, weaknesses and opportunities. I'm not seeing too much in the way of threats at the moment, since competitors are not that digitally savvy.
When the workload calms down in December, we will use this analysis to review marketing progress and plan for 2016. This digital marketing strategy audit is also helping me digest what I've learnt from the course, and which parts to revisit.
Digital marketing strategy audit – capitalise on your strengths
1. Highly findable on Google for company name
The company is highly findable if you are searching for the brand name or builders in Trafford. It's number 1 in the list for "Trafford builder" and number 3 for "builders Trafford".
2. Credible brand and website content
I've been working with the guys on the web text so it reflects their personality and ethos, and this is starting to pay off. Strong sales leads have been coming in through the website, and would-be apprentices have been beating down the guys' doors to join the firm – after interacting through Facebook and the website.
3. Switched-on directors making good use of Facebook
In the year they'd been in business before I joined, the two directors had been regularly posting photos and video clips to Facebook. And they'd built up a loyal band of followers. The 20 videos include shots of tidy brickwork and cranes winching big pieces of steel into position – some people clearly love it:
477 likes, 65% from men –as of 5 November 2015
Engagement per post –  ranging from 7 clicks and 6 likes/comments/ shares up to 59 clicks and 50 likes /comments / shares
16 reviews, averaging at 4.9 stars out of 5
2 sales inquiries a month
4. Other social media accounts set up and seeded
Trafford Builders is on Twitter, LinkedIn, Google Plus and YouTube. The LinkedIn profile is active, receiving invites to connect from useful people in construction.
Digital marketing – the weaknesses
1. Lack of digital marketing strategy and forward planning
Trafford Builders' marketing has been done on the hoof, and mostly this has paid off. But there are some drawbacks:
Google key words not strategic – it was optimised for very local small jobs, e.g. "Stretford bricklayer" and "Stretford plasterer". This is where the guys started out. But now they're getting bigger jobs in richer areas.
Website usability – the WordPress theme chosen is non-responsive, so it is a real pain to make it look good on all types of devices.
Social media activity is confined to Facebook – because there's no software to link up the various accounts to post the same content across multiple platforms.
Facebook content is self-focused – mostly about jobs in progress. There is little curating of useful content for people preparing to have their home worked on.
Facebook activity is sporadic – the latest post was nearly 6 weeks ago. In quiet weeks engagement is low, eg 1 like and 1 comment per week. There is no content plan or software for setting up posts to go live.
2. Old-school approach to SEO
I ran the Trafford Builders site through Found SEO Tool, which showed up some weaknesses:
Very low status domain. The overall domain authority is 1 / 100, compared with 24/ 100 for a London-based competitor we aspire to emulate: BuildTeam.com. Part of this maybe because Trafford Builders has very few inbound links.
Robots.txt does not contain sitemap location – this may make new pages harder for Google to find. I searched Google for "site:http://traffordbuilders.co.uk", which showed 65 pages. Some of these are redundant or half built, and need removing or finishing.
 0% of outbound links are no-follow links – In Google's eyes when we big another site up, we automatically put ourselves down. Unless you insert a "no follow" tag in your link, you lose credibility or "link juice" to the other site.
Two other SEO points I noticed:
Keyword stuffing remnants – the heading tags and other tags on some pages repeat the company name and its localities a lot, to optimise for Google. This repetition turns people off, and we can find better ways to optimise the site. Google may penalise a site for too much repetition, also known as keyword stuffing.
Meta tag text is not engaging  – here is the Google listing people see before they decide whether to click through to the website. The problem is it's boring with no call to action.
<snip>

traffordbuilders.co.uk/
Trafford Builders, working in and around the Trafford area. … areas: Altrincham, Bowdon, Chorlton, Davyhulme, Didsbury, Hale, Sale, Stretford and Urmston.

</snip>
Opportunities – know your customer
Preparing customer personas seems the obvious place to start.  Personas are mini character sketches of ideal customers – their lives, situation and  wants and needs. By empathising with dream customers, we can more effectively draw them to the website, and inspire them to take action, such as joining the newsletter or requesting a quote. Knowing the customer will help us set Google keywords strategy, and map out ideas for content for social media and the website.
Here are some other steps to implementing a strong digital marketing strategy:
Optimise keywords to attract homeowners from the richer parts of Trafford
Create web content for localities, e.g. in-depth case studies
Create a content plan – content marketing can increase credibility and therefore search engine rankings through useful blog posts YouTube videos, audio, and text guides. Plan to include guest blogging on influential websites.
Elicit reviews –  incentivise clients to post online reviews, e.g. on TrustMark, Google Plus
Pinterest – create and share clients' collections used to plan for beautiful home conversions. this is about making past customers look cool, creating social capital.
What's the verdict?
There is still a lot to do and perhaps time saving tools could help. Having done the digital marketing strategy audit, the crucial next step has to be creating customer profiles.
What do you think? What else would you do in this audit? I'd love to hear your comments and ideas here… 
Kath Burke runs Kath Burke's Marketing Works, which helps small businesses grow through digital marketing.
---