Tapping the Social Media apps on my phone has become more of a habit than a conscious decision. Whether it's to check out the persistent notifications for a picture I clicked 'like' on days ago; or to answer a private group message about a friend's birthday meal. I no longer need to simply wonder how an old friend is doing, as their profile picture and status updates will tell the story of their relationships, hobbies and interests. Status updates can be akin to a diary extract; often telling us a lot more than we care to know.
Pew Internet's research has shown that, "As of January 2014, 74% of online adults use social networking sites." Whilst we live our private lives in the public eye, it's important to consider that a respective new employer is able to scope us out before that life changing job interview. They will have already have made an opinion based on our online public persona. Perhaps due to this 'social' nature of Social Media, some companies aren't taking it seriously enough and are reluctant to use it.
If you choose to use it to your advantage, you could be just one social media campaign away from beating your competitor to the number one spot in Google rankings. You will be better connected to your customer base, promoting your business to a wider audience all whilst being inspired and quite possibly entertained.
Choose Life, choose a Social Media platform
Consider the strengths within your company and use them to your advantage, but firstly…
Who are your target audience?
What's your unique selling point?
What objective are you trying to achieve?
Once you have established all of the above, you will be able to determine the correct Social Media platforms to use. Here are some of the usual suspects:
Facebook is still, far and away, the most popular social media platform. According to Statista.com, 'As of the third quarter of 2014, Facebook had 1.35 billion monthly active users'.  It speaks volumes really. You can set up your company and wait for the 'likes' to come in, or if you have the capital, use pay per click adverts that work on pay per interaction rather than pay per impression. This is a real advantage over some of the more traditional online advertising techniques, where Return on Investment (ROI) can be low.
Despite being, arguably, the second-most recognized platform out there, Twitter is fourth in usage. The ultimate, real-time conversational micro-blogging platform; perfect if you like to keep your posts short, sweet and less than 140 characters.
If you are an 'image heavy' company this is an excellent medium to use. It's fun, requires little management, just maintain a good level of high quality images.
Hosting some 188 million blogs, Barack Obama took to the 'micro-blogging' platform to discuss issues such as national security, instantly dispelling previous perceptions that the site was little more than a hub for playground discussions between teenageers. Tumblr gives you 'gofollow' results, which is SEO GOLD! You can also use Google Analytics to track key metrics.
You can use ALL of the above, or just one, depending on how much time you available to dedicate. If you can spare at least half an hour a day to Social Media, make sure you use the platform that will create the most engagement. You can use a Social Media dashboard, such as Hootsuite to put out the same content  all the platforms at once, you can even schedule a suitable time in the day; reaching your audience in the USA when they are drinking their morning coffee. This will save you from setting your alarm for the middle of the night to send a Tweet.
To rank at the top of Google, you need to have a fresh unique website which is updated on a regular basis. A neglected page will make you drop off the first page on Google faster than you can say, 'sneezing panda'. Set time aside each week to update the website. Try adding blog posts from guest bloggers, who have their own suitably engaged followers who can link back to your site.
Here's a stinky statistic for you; according to Mashable, "There are 6.8 billion people on the planet. 5.1 billion of them own a cell phone, but only 4.2 billion own a toothbrush". This shows how imperative it is to have a mobile friendly website, we are all using our mobiles to view Social Media.
Be a Smarty Pants
One of the many fun things about Social Media is you can be a bit of a smart ass. There are so many things you can do, beyond basic tweeting and using the correct hashtags. Google trends is an excellent way of engaging with your desired audience, this will help to stay on top of trends relating to your business. It will inspire you to write a tweet at the perfect time. The best timed tweet I ever did was for my DJ collective project, Dance Lady Dance, (shameless promo) during the World Cup which got us 52 new followers. Thank you Miley!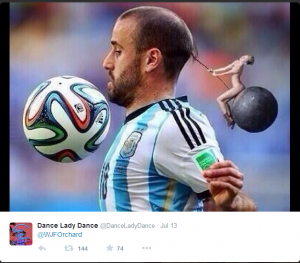 Albeit, more football fans than music fans followed us…. which swiftly leads me to my next point:
Find the right audience 
Buying Twitter followers, or going on a follow-frenzy, is not going to be beneficial to your company. Locate your audience, who do they follow? This may be your competitor; if so 'follow' their followers, they may soon follow you back. Use an appropriate hashtag # that relates to your business and follow the latest followers who are tweeting about related topics. You'll soon have a relevant audience who are ready to interact with you.
The best Social Media Marketers are creative thinkers who take risks. SEO and Social Media Marketing is ever changing, so there really is no guidebook on how to do this; its trial and error. Youtube hosts countless videos on unsuccessful marketing campaigns. Only the very best campaigns will go viral via Social Media (or ones with cats playing instruments).
You are ready!
Remember that your profile picture and cover photo is the first thing your audience will see, you have about five seconds to win them over, so make it count. Use something that represents your company and what you have to offer; always have a link to your website in your profile.
Follow the steps, keep your content updated and you'll soon find that people will follow you whenever you go.
Connect with me @louloupembers
---