7 May 2014
Cones as you may have realised aren't interesting, they're not funny, sexy, or appealing in any way, how then do you market one to the general public?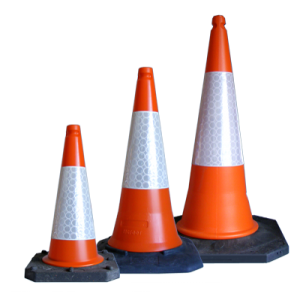 As a manufacturer of traffic management products we're not exactly on trend, or in high demand. Basically cones are boring, and as a business to business company we didn't think social media would benefit us in any way. After starting the Search and Social Media Marketing course though I thought why not try setting up a twitter and see where it gets us.
Before I set up the account I looked into other social media campaigns for boring products. The most successful one I could think of was Will It Blend?If you haven't seen the videos, they're advertising blenders but instead of just blending food or showing you a picture of a blender, they blend tablets, phones, toys, marbles, and a big mac, almost anything you can think of to show the power of the blender.  The campaign really took off and the guy behind it all became somewhat of a minor celebrity in America. There's also the Got Milk? campaign, Milk has got to be the most boring product imaginable but the campaign was so successful that it has been running for over 20 years, there's been celebrity endorsements and even merchandise, who knew an advert for milk could be so successful!
Another really good social media campaign is that of Vitamin Water, they asked people to tweet them with what's currently boring them, then Vitamin Water would come back with a response to make it brilliant. They even went to a town In Oregon called Boring and put on loads of events and gigs, the whole thing went viral and there followers on twitter went up 100%.
There was more of online presence in our field that originally thought, so we set up our twitter account, @MelbaSwintex, designed the page around our theme from the website, followed the relevant people and waited for a miracle, but as we quickly realised, planning needed to go into running a social media platform.
We currently have three people with access to our twitter, a designer, a sales rep and me, so a wide variety of people, luckily we all have our own personal twitter accounts, so we knew the basics, we just didn't know what to tweet about! Firstly we laid down the rules of what can and can't be tweeted, we decided to discuss tweets before we posted them so we didn't get any repeat tweets and so that non of the tweets were offensive, spelt wrong, or incorrect.  For us humour seemed to be the best way to go with, nobody wants to follow someone on twitter who blurts out facts about the first road cone or how to properly lay your road cone on the road. After only a couple of tweets we had a council ring us up and want to start a 2 year contract with us, just because I'd followed them on twitter, which is very encouraging.
Currently we're tweeting about new products that we have coming soon, innovative design ideas that we are pursuing, particular tools that people can use on our website, and re-tweeting local news. We've currently got 31 followers, which doesn't seem like many but to be fair it is a twitter account about cones.  According to our Google analytic's profile, the twitter account is already generating more views to our website. Hopefully this will generate more interest in us as a company!
Thanks for reading and if you need any cones Melba Swintex is the place you need to call!